2014-2015 ITH season preview: Wisconsin Badgers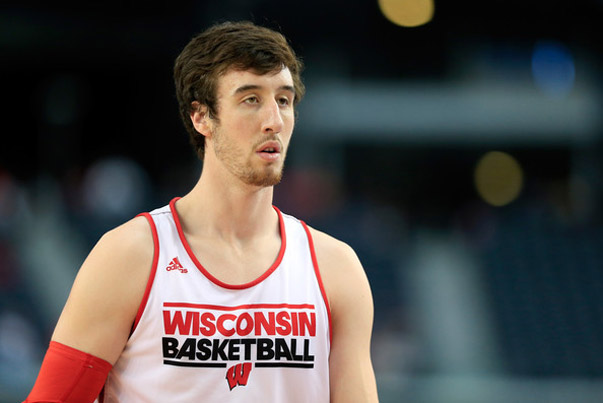 With the start of college basketball season on the horizon, we'll be taking a long look at the conference at large as well as Indiana's roster over the next month. Today, we wrap up our look at the Big Ten with the Wisconsin Badgers. Our player-by-player look at the IU roster begins on Monday.
There's an overwhelming favorite in the Big Ten this season and with good reason. Wisconsin, which finished last season 30-8 and narrowly lost to Kentucky in the Final Four, is as big of a favorite as the league has seen in several seasons.
The Badgers welcome back four of five starters and besides Ben Brust, every notable contributor from a team that was a few plays away from the national championship game. Most notable of the returnees are Frank Kaminsky and Sam Dekker, who have both received numerous preseason accolades and should be in any conversation for preseason Big Ten player of the year.
Kaminsky was arguably the country's biggest surprise last season as he emerged from a role player into a first team All-Big Ten performer. As noted in our list of the league's top 25 players, the 7-footer hit 58 percent of his 2s and 38 percent of his 3s a season ago and was also among the league's best rebounders and shot blockers. Kaminsky is a difficult player to contain because he can score on the block, facing up, in the pick-and-pop and also from behind the 3-point line.
Dekker has a chance to develop into a lottery pick with a strong junior season and has reportedly grown another inch this offseason. He's now listed at 6-foot-9. As a sophomore, he made 55 percent of his 2s and only turned it over on 10.2 percent of his possessions, the fourth best mark among returning Big Ten players.
The Badgers have a third frontcourt piece, Nigel Hayes, who should be the league's best sixth man. Hayes used 27 percent of his team's possessions when on the floor as a freshman and drew 7.3 fouls per 40 minutes. With his size, footwork and ability to finish inside and also step out, Hayes should be a major part of the Wisconsin rotation once again. Senior Duje Dukan will provide depth and experience behind Hayes and Kaminsky and 6-foot-8 sophomore Vitto Brown could also get a chance to play spot minutes.
The Wisconsin backcourt is full of experience as Ryan welcomes back a pair of seniors in Traevon Jackson and Josh Gasser to go along with sophomore Bronson Koenig, who should take over for Brust. Both Jackson (55.9 free throw rate) and Gasser (70.1 free throw rate) are excellent at getting to the foul line. Jackson is one of the league's best distributors (25.9 assist rate) and hit 38 percent of his 3s as a junior, which was a nine percent improvement over his sophomore season.
Gasser hit 43.1 percent of his 3s as a redshirt junior and is a perfect compliment to the players around him because he takes care of the ball and makes the simple plays. Koenig was outstanding in Wisconsin's loss to Kentucky, scoring 11 points in 20 minutes. He's much more aggressive off the dribble than Brust was and is more athletic, but more mistake prone and not as good of a perimeter shooter.
Bottom Line: Wisconsin is a legitimate top five team nationally and deserves all of the preseason accolades it is receiving. Ryan has built a team with five strong upperclassmen and two very talented sophomores that will be hungry for a return trip to the Final Four. The Badgers have the league's best frontcourt and one of the top backcourts and unlike several Wisconsin teams in the past that came up short in March, this team has the firepower to win games with its offense.
Quotable: "We've got four guys who have been around and been through an awful lot. So the personality of this team will be the four seniors and the effect that they have on the younger guys." – Ryan to UWBadgers.com.
Previously: Rutgers, Penn State, Northwestern, Purdue, Iowa, Maryland, Minnesota, Illinois, Michigan State, Ohio State, Nebraska, Michigan
Photo credit: Getty Images
Filed to: 2014-2015 Big Ten preview, Wisconsin Badgers