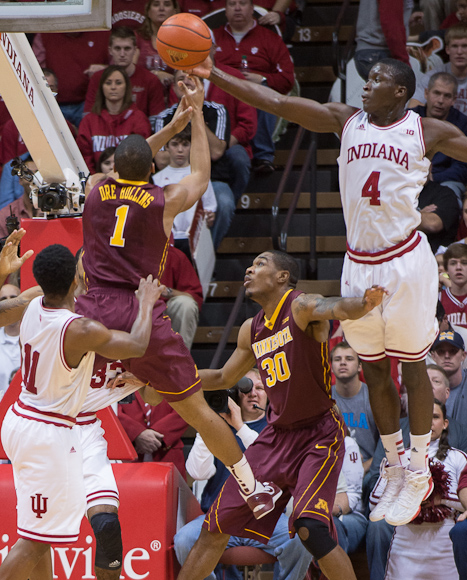 Welcome to "That's A Wrap," our recap of the 2012-2013 Indiana Hoosiers. Today, the final installment: Indiana's defense.
Final stats (36 games): 62.1 ppg, 43.2 FG %, 44.0 eFG %, 30.4 3P FG%, 27.0 % FTR.
As the 2011-12 college hoops season wrapped and many national pundits ranked the Hoosiers No. 1 heading into this past season — a ranking that eventually carried over to the official AP preseason Top 25 — there was one black mark on Indiana's resumé: its defense.
"Indiana may well be the proper pick as the best team in the land, but I think if you locked people in a room in late March and made each individual figure it out on his or her own, it wouldn't have been nearly as obvious that a team with a suspect defense last season should be the best team in the land this season, and at least a few people would have struggled to put them in the top five," wrote Stats Lord Ken Pomeroy in late October.
ESPN's Blog Star Eamonn Brennan on the same day: "As the Hoosiers themselves will readily admit, they were not a good defensive team last season. It is rare for a team with a defense so mediocre — they finished ranked No. 64 in adjusted defensive efficiency — to seriously contend for a national title the next season."
All true and fair. But Indiana quickly shed such a reputation once the ball tipped on the season. It would finish the year No. 13 in adjusted defensive efficiency and show tremendous improvement across the board. The biggest change? Its communication and commitment to team defense. They understood when to switch, when to rotate, when to help and when to stay home. They held each other accountable. They realized good defense could turn into a quick transition bucket, that a turnover or long rebound often meant a dunk or 3-pointer on the other end.
The numbers bear it out. Where Indiana in seasons past struggled to defend the 3-point line — remember games like this or this or this? — they held opponents to a 30.4 percent mark from distance in 2012-2013, 30th best in the nation. An opponent 2-point percentage mark of 43.2 (No. 32) and eFG percentage of 44.0 (No. 15) also had them among the top teams in the nation.
Fouling was another key improvement for Indiana. In 2010-11, their opponent free throw rate (FTA/FGA) of 50.2 ranked 333rd out of 345 Division I teams. Not good. In 2011-12, that mark improved (34.3, No. 130) but still kept the Hoosiers well outside the nation's best. In 2012-13, the Hoosiers ranked No. 17 in the nation with a mark of 27.0. The talent level and maturation of its players improved along the way, but it's still an incredible rise out of the cellar nonetheless.
Individually, Victor Oladipo continued to be an elite wing defender. Will Sheehey and Remy Abell were agitators as well. Yogi Ferrell, despite playing zone in high school and despite his size, showed he could be a pest on the ball. Indiana did win the outright conference crown, but its defense in conference (1.06 points per possession) ranked just seventh. The Hoosiers also weren't much of a shotblocking crew — block percentage of 9.3 (No. 162) — but Christian Watford and Cody Zeller did hold their own down low in most contests.
Bottom Line: Indiana proved it could defend at a high level this season and it helped them remain at or near the top of the polls all season. And remember: Indiana's defense against Syracuse was good enough for them to advance to the Elite Eight. It was their offense that slumped and kept them from reaching Atlanta. The Hoosiers' defense figures to take a dip as the team brings in a batch of newcomers and loses a lot of experience, but the length and athleticism of its incoming freshman class has the tools to once again defend at an high level as they develop and learn the college game.
Previously: Hanner Mosquera-Perea, Peter Jurkin, Yogi Ferrell, Jeremy Hollowell, Cody Zeller, Remy Abell, Will Sheehey, Victor Oladipo, Maurice Creek, Derek Elston, Jordan Hulls, Christian Watford, Tom Crean, Offense 
Filed to: Christian Watford, Cody Zeller, Remy Abell, Victor Oladipo, Will Sheehey