That's A Wrap: Jordan Hulls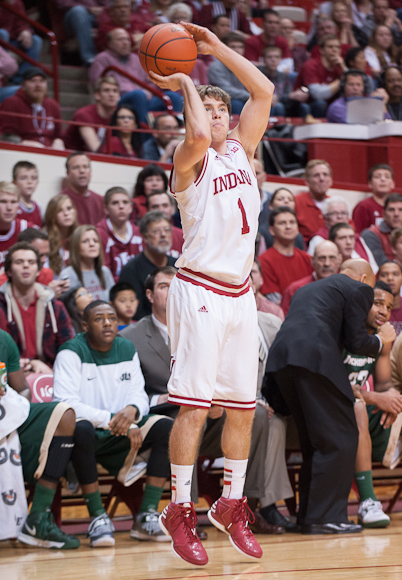 Welcome to "That's A Wrap," our player-by-player recap of the 2012-2013 Indiana Hoosiers. Today: Jordan Hulls.
Hulls (36 games): 9.7 points, 2.9 assists, 2.4 rebounds, 0.8 steals, 44.6% FG, 44.7% 3PFG, 77.6% FT in 28.8 minutes per game.
Jordan Hulls began his Indiana career in the fall of 2009 hopeful that he and classmates like Christian Watford, Derek Elston and Maurice Creek could bring a storied program back from the bottom of college basketball.
Four years, 78 wins, two Sweet Sixteen appearances and an outright Big Ten championship later, it's safe to say Indiana is back to national relevancy.
His career also started with doubters who believed that he, despite a state championship and a Mr. Basketball award at Bloomington South, didn't have the size or physical makeup to lead a winning program in the Big Ten.
The final tally of Hulls' numbers while at Indiana say those doubts were unfounded. The Bloomington native leaves as the school's career leader in games played (135) and with 1,318 career points.
But beyond those numbers and his efficient shooting, Hulls also had a major impact as a guy who was willing to get in the gym and get better on a daily basis, a trait that eventually rubbed off on his Hoosier teammates.
Prior to IU's home game with Iowa this past season, his father, J.C., told a story about a family vacation where the plan was to take a break from basketball for a week. According to J.C., the break was short lived before Jordan found a court outdoors and got back to work on his game. That work ethic became contagious inside the IU program as guys like Victor Oladipo and Will Sheehey joined Hulls in Assembly Hall and Cook Hall and saw their respective games take major leaps forward as a result.
The leadership of Hulls inside the program also became more apparent as his career moved along. The first sign that he had emerged as a leader came in August of 2011, when Elston told reporters that Hulls had kicked a couple of guys out of conditioning. "He is a lot more vocal," Elston said. "He's one of those guys that starts screaming now. Conditioning days, if you're not making it, Jordy's the first one to tell you. And whether you like the way he's saying it or not, he's going to say it. If that doesn't motivate you, then he'll get you off the floor."
That was, of course, just months before Indiana began a two-year run of success that included a memorable win over No. 1 Kentucky at Assembly Hall and also a long reign this past season as the nation's No. 1 team and a Big Ten title. Both seasons seemed out of reach after what transpired over Hulls' first two seasons, but his leadership and improved play on both ends of the floor were big pieces of the turnaround.
The final month of Hulls' IU career is likely one that will take him a while to get over as he shot just 28 percent from behind the 3-point line and in a season-ending loss against Syracuse, had difficultly with the size of the Orange. A separated shoulder suffered in a round of 32 win over Temple hampered him significantly over his final two games.
Bottom Line: The dip in his shooting numbers over the season's final month put a dent in his final tallies for the season, but Hulls put together another stellar offensive season and became a better defender in his last collegiate season. He leaves as one of the best shooters to ever wear an IU uniform and as a major reason the program is back in the discussion as one of the nation's best.
Previously: Hanner Mosquera-Perea, Peter Jurkin, Yogi Ferrell, Jeremy Hollowell, Cody Zeller, Remy Abell, Will Sheehey, Victor Oladipo, Maurice Creek, Derek Elston
Filed to: Jordan Hulls