That's A Wrap: Cody Zeller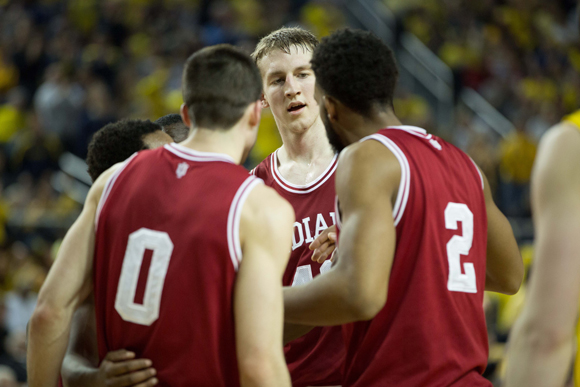 Welcome to "That's A Wrap," our player-by-player recap of the 2012-2013 Indiana Hoosiers. Today: Cody Zeller.
Zeller (36 games): 16.5 ppg, 8.1 rpg, 1.3 apg, 1.3 bpg, 1.0 spg, 56.2% FG, 75.7% FT in 29.5 minutes per game.
Few players in college basketball this season were discussed and dissected as much as Cody Zeller. Coming into a year where Indiana was the nation's preseason No. 1 team, Zeller was showered with various accolades and preseason player of the year awards. If the Hoosiers were to make a run into late March and early April, the belief was that Zeller would be the guy leading the way.
Indiana's run ended in Washington D.C. in the Sweet Sixteen, and, viewed through a lens of such lofty expectations, Zeller's season was unfairly characterized by some as a disappointment in part because he was overshadowed at times by a teammate, Victor Oladipo, and didn't play well against Syracuse.
The truth is, it was far from a disappointment.
Whether Zeller opts for the NBA Draft or returns for his junior season, he's already established himself as one of the best big men to ever play at Indiana. His sophomore season was once again efficient as he shot better than 56 percent from the field, posted a free throw rate (FTA/FGA) of 73.2 percent and was the best transition big man in the country. His shooting percentage took a dip from his freshman season, but he also used more possessions as the focal point as one of the nation's best offenses. When that offense was operating at its best, it was playing through Zeller first, which created opportunities for others on the floor.
Zeller also showed improvement as a rebounder, increasing his per-game average by 1.5 and bolstering his offensive and defensive rebounding percentages. He had 11 games with 10 or more rebounds, up from five as a freshman.
But beyond the statistics, there were moments where Zeller stepped up and made plays when Indiana needed him the most.
Most notably, his six points in the final 52 seconds of a 72-71 win at Michigan on March 10 lifted the Hoosiers to an outright Big Ten title for the first time in 20 years. He also took a key charge late in a win at home over Michigan State and chased down a pivotal loose ball rebound in front of the IU bench in a win over the Wolverines at Assembly Hall. In five games against teams ranked in the top 10, IU finished 5-0 and Zeller averaged 20.6 points and 7.8 rebounds.
Those performances and his season as a whole should define Zeller's campaign more than the NCAA Tournament loss to Syracuse, where he finished with 10 points and 10 rebounds, but struggled with the length of Syracuse and had five of his shots blocked. That game, viewed under a microscope on the March Madness stage, opened the door for criticism of Zeller's ability to finish against athleticism and questions about his future at the next level.
Bottom line: Ultimately, it's hard to overstate the impact Zeller has had on the Indiana program. His recruitment was a major turning point and his play backed up much of the hype that built him up as a savior for IU basketball. Projected as a lottery pick for the second straight year, that opportunity to further his career at the NBA level might be too much to pass up. Regardless of what he decides, Indiana basketball owes much of its rebirth over the past two seasons to Zeller.
Previously: Hanner Mosquera-Perea, Peter Jurkin, Yogi Ferrell, Jeremy Hollowell
Filed to: Cody Zeller