That's A Wrap: Jeremy Hollowell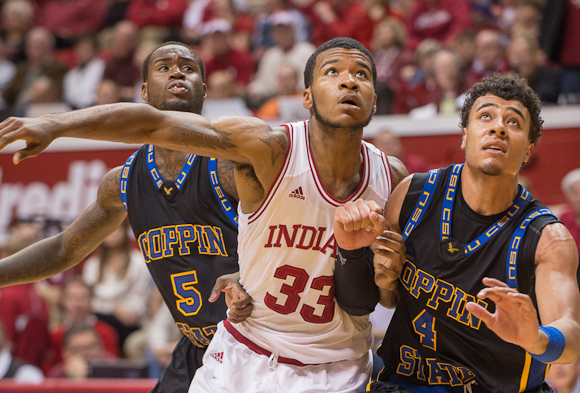 Welcome to "That's A Wrap," our player-by-player recap of the 2012-2013 Indiana Hoosiers. Today: Jeremy Hollowell.
Hollowell (33 games): 2.8 ppg, 2.1 rpg, 0.3 apg, 40.3% FG, 63.2% FT in 9.7 minutes per game.
Jeremy Hollowell's 2012-13 campaign was one of a stereotypical freshman: some good, some bad and plenty more to learn as he continues to assimilate to the college game.
The Lawrence Central product showed flashes of promise as both a scorer and defender. He netted over 10 points twice in a row to start the season (12 against Bryant in the season opener, 14 against North Dakota State three days later). Hollowell isn't the quickest defender, but he showed a knack for swatting shots on occasion. He recorded three blocks against Michigan on Feb. 2 and two against both Iowa (Dec. 31) and Purdue (Jan. 30). He gained enough trust from Tom Crean to get run in every game he was eligible for this season and average almost 10 minutes in them. (Remember: Hollowell sat out three games in December amidst some self-reported violations by his family.)
But Hollowell was inconsistent. His high in scoring during the Big Ten season was just six points (Feb. 7 against Illinois). And at times his shooting from distance resulted in him entirely missing the rim. He finished the year shooting just 23.3 percent from beyond the arc. Hollowell also could stand some improvement at the charity stripe (63.2 percent).
The freshman had a little early Christian Watford in him  as well — a laid-back personality that resulted in him not always bringing an edge to the court. Dan Dakich made note during broadcasts later in the season that Hollowell came to Bloomington not quite used to the work ethic needed to succeed in Tom Crean's program, but that he was finally coming around to it all as the season matured.
The good news for Hollowell is that if he takes that drive into the summer, he'll be well suited, like wings Will Sheehey and Victor Oladipo before him under the development tutelage of Crean, to take a leap heading into his sophomore year. With Indiana likely to lose a lot of scoring, Hollowell may step into the starting lineup next season and he'll be counted upon to deliver more than he did in his freshman campaign.
Bottom line: While "The Movement" didn't materialize as promised, Hollowell's 2012-13 is one to build upon. It wasn't a rousing success, but a veteran-laden Hoosier squad didn't need it to be. He lacks elite athleticism, but his size and length make him a candidate to be a strong wing defender going forward. And a summer in Cook Hall getting up shots could help improve his shooting numbers. With Troy Williams, Stanford Robinson and Noah Vonleh coming to Bloomington this summer, too, there will be competition for minutes.
The talent is there. But whether Hollowell grows and develops it to stay ahead of his incoming teammates remains to be seen.
Previously: Hanner Mosquera-Perea, Peter Jurkin, Yogi Ferrell
Filed to: Jeremy Hollowell