That's A Wrap: Hanner Mosquera-Perea, Peter Jurkin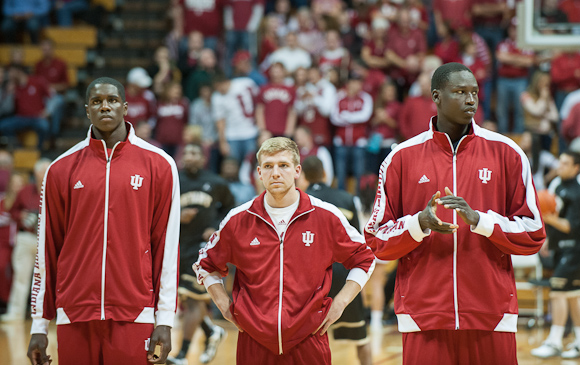 Welcome to "That's A Wrap," our player-by-player recap of the 2012-2013 Indiana Hoosiers. Today: Hanner Mosquera-Perea and Peter Jurkin.
Mosquera-Perea (20 games): 0.9 ppg, 1.5 rpg, 38.5% FG, 41.2% FT in 5.7 minutes per game.
Jurkin (3 games): No stats recorded in seven total minutes.
A major storyline early in Indiana's season was the eligibility status of freshmen Hanner Mosquera-Perea and Peter Jurkin. Both players ultimately were suspended for nine games for accepting benefits from their AAU coach, Mark Adams, who was later deemed to be an IU booster by the NCAA because of varsity club bumper stickers he purchased before either player was born.
The NCAA's ruling, when it was made public in early November, was so unbelievable that it angered many fans and fueled discussion from commentators like Jay Bilas on just how out of touch the organization based in Indianapolis had become.
And for Mosquera-Perea and Jurkin, neither of whom understood at the time why the NCAA had reached its decision to keep them sidelined, it was the beginning of a season that would never get on track. By the time both players became eligible on Dec. 15 for Indiana's game with Butler at Bankers Life Fieldhouse, valuable game time in the early non-conference season had already been missed.
Jurkin played sparingly in three games — Florida Atlantic, Jacksonville and Penn State — before being shut down with an undisclosed foot injury. By the end of the season, he wasn't even dressing and was wearing a boot. And Mosquera-Perea, who had an ankle issue in the fall and into the early season, never played more than eight minutes in a game after Big Ten play tipped off.
Coming into the season, Indiana's depth was viewed by many as a strength and both players (Mosquera-Perea to a greater extent) figured to be a part of a frontline that could spell Cody Zeller when the All-American needed a break. That never materialized. Moving into next season, it's hard to take inventory and come up with a good idea of the role either player will fill in the program moving forward.
Mosquera-Perea, who was once rated a five-star recruit by several recruiting services, still possesses the athletic ability and raw power around the basket to become a regular contributor and perhaps a very good player one day. Tom Crean had faith to play Mosquera-Perea minutes against Syracuse and several key late season games. But his game is unrefined at this point and the primary recipe for that is repetition and getting into the gym for long hours all summer.
Jurkin is more of a mystery because he was rarely on the court and his foot problems have now claimed two of his last three seasons of basketball. ESPN.com analyst Dave Telep once told me that Jurkin would be well-served to develop into the role of Baye Keita has at Syracuse, essentially serving as a rim protector first and foremost. Currently he's a long way from that, so getting healthy and getting into the gym loom large for Jurkin during the offseason.
Bottom line: Once heralded as major pieces in a top ten recruiting class, neither Jurkin or Mosquera-Perea played much of a factor in IU's Big Ten championship season. Both players have considerable work to do to become regular rotation players moving forward, but the player development present in Bloomington makes that a reasonable possibility.
Filed to: Hanner Mosquera-Perea, Peter Jurkin