That's A Wrap: Victor Oladipo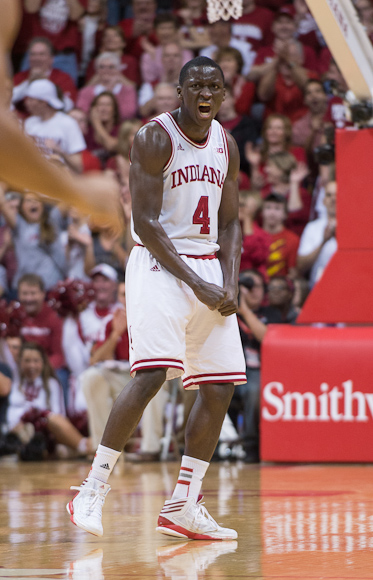 Welcome to "That's A Wrap," our player-by-player recap of the 2012-2013 Indiana Hoosiers. Today: Victor Oladipo.
Oladipo (36 games): 13.6 ppg, 6.3 rpg, 2.1 apg, 0.8 blocks, 2.2 steals, 59.9% FG, 44.1% 3PFG, 74.6% FT in 28.4 minutes per game.
God gives us all talents, but it's up to us what to do with them. Some waste them and die wondering What Might Have Been. Others do enough to get by; they coast. Some work hard and grow them, and the ordinary becomes extraordinary over time.
And on rare occasions, that hard work, the hours, the relentless drive and dedication to the talents and the craft when no one's watching makes people blossom into a special flower quicker than anyone thought, and maybe beyond even what they, or anyone else, ever imagined.
This was Victor Oladipo's 2012-13 campaign — an impossible rise from a defense-first DMV kid with potential second round sniffs to a complete package Top 10 pick, a man, in but a few months time.
"In all my years of covering the draft, I've never seen a player improve as much as I've seen him improve in such a small period of time," ESPN's Chad Ford wrote in February.
"I could coach another 30 years and never see a guy improve from one end a year ago to where he was this year," said Tom Crean at Oladipo's press conference earlier this week.
The soon-to-be graduate had his moments of excellence during his freshman and sophomore seasons in the cream and crimson. But the must-see, big time moments grew in number this year. The incredible amount of deflections against Coppin State. The ridiculous near alley-oop against Michigan. His work in the final minutes against MSU in East Lansing to turn defeat to victory. The 360 to end Illinois in the Big Ten Tournament. The 3-pointer to lift the Hoosiers over Temple.
Oladipo flashed improved skill around the rim. His ability to shift and shape and duck around and under for high-efficiency looks coupled with some NBA-caliber drives off the perimeter with his wiry, athletic frame started drawing him comparisons to a college Michael Jordan as the season progressed and it was becoming clear something special was in the works.
National Player of the Year buzz followed. He would earn the nod from Sporting News and also land on the AP's All-American first team.
As Alex documented Wednesday, Oladipo came into this season saying his outside shot was better — a weak spot in his game previously — and he proved it on the court. His 3-point shooting vastly improved (20.8 percent as a sophomore to 44.1 as a junior) and it was clear from the beginning that his mechanics and form were better. He was confident in what he was doing and it showed all season long. Oladipo never hunted or heat checked the 3-ball. He took them when they were there with great efficiency.
His ability to impact the game on defense continued. Through innate skill, but also through his preparation in studying game film, Oladipo recorded four or more steals eight times. He was a thief. He guarded all the Big Ten's best and turned Brandon Paul into a whiny mess during a 2-of-13 performance at the United Center. He averaged almost a block a game. He was a strong offensive rebounder and often kept key possessions alive for the Hoosiers.
Like many of his teammates, Oladipo's shooting sputtered a bit down the stretch, but his complete body of work simply can't be ignored. It was a sensational season on both sides of the ball, a result of a young man with a dying thirst for excellence on the hardwood.
Bottom line: Oladipo's 2012-13 season goes down as one of the best ever by an Indiana Hoosier. He evolved from an elite defender to a two-way player and established himself as one of the best players in the nation. The NBA awaits and Oladipo should be able to make his mark because at the very least, he can be used as a wing defender off the bench in an energy role.
Previously: Hanner Mosquera-Perea, Peter Jurkin, Yogi Ferrell, Jeremy Hollowell, Cody Zeller, Remy Abell, Will Sheehey
Filed to: Victor Oladipo