Impact of Oladipo, Zeller doesn't end now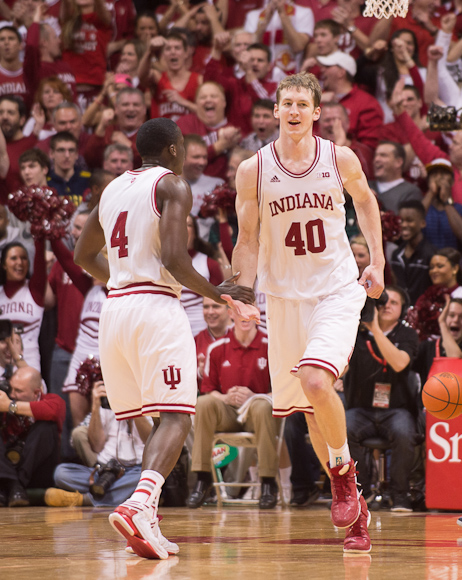 For IU fans, the immediate reaction to the news that sophomore Cody Zeller and junior Victor Oladipo will both enter the 2013 NBA Draft is one of a bittersweet nature.
On one hand, it's hard to escape the thought of what next season could have looked like had the two All-Americans opted to return for another crack at a national championship. It's been 26 years since the last national title in Bloomington and the thirst for a sixth banner is undeniable.
But there's also a sense of pride in knowing that two of the best ambassadors the program has ever seen will get a chance to continue doing what they love and make a living out of it. Both players are expected to be lottery picks and that's an opportunity that must be taken advantage of when it arises. Oladipo will leave with a degree and Zeller will finish his in short order.
As we move into a new chapter of Indiana basketball that begins now, it's important to examine the role both Oladipo and Zeller had in the revival and how their early departures, as difficult as they'll be to overcome next season, are a positive for the long term health of the program.
When Zeller signed his Letter of Intent in November of 2010, he was instantly anointed as the savior. The fact that he spurned North Carolina, a program that at the time was coming off two national championships in the last six years, was significant. It validated what Tom Crean was building in Bloomington with an elite recruit, even if the on court results had yet to materialize. And maybe more importantly, he paved the way for other kids from the state to follow him to IU.
By the time Indiana tipped off the 2011-2012 season, the enormous expectations placed upon Zeller would have been enough to crack most 18-year olds. This wasn't a batch of McDonald's All-Americans arriving in Bloomington. It was one McDonald's All-American who wasn't going to be able to ease his way into fray of the nation's most physical conference. Indiana had to win and win big. And it did, largely because Zeller didn't play like a freshman. He didn't feel the expectations or the pressure. He just played and did so brilliantly.
Equally important to Zeller's arrival was the continued development of Oladipo, who made a meteoric rise from a fringe NBA player after last season to a lock for the lottery. At the media challenge back in October, Oladipo told reporters his shooting would be different this season. I was admittedly skeptical, given that Oladipo was coming off a season in which his 3-point field goal percentage was 20.8.
Victor was right and I was wrong. He shot 44.1 percent from distance as a junior and combined with better ball handling and a knack for finishing around the rim, transformed him into a national player of the year candidate and like Zeller, a cover boy for Sports Illustrated. Oladipo's continued improvement and subsequent rise up the draft charts validated Crean's reputation as a player developer if the proper work is put in.
His development was a large feather in the cap for Crean, who can show future recruits the significant progress Oladipo made in his three years in Bloomington.
The two were a perfect combination for Indiana both on and off the court. In an era of college basketball where some schools don't even require players to unpack their bags before sending them off to the NBA, Oladipo and Zeller are proof that when the NCAA uses the term "student-athlete," the words can actually carry meaning.
So while it may be easy to look at both guys as having unfinished business at the collegiate level because of how IU's season ended, their early departures are validation that Indiana is striking the right balance between preparing players for the next level and also life beyond basketball. Both players will ultimately have degrees and also be lottery picks, which often can't be said.
Indiana won't be able to replace Oladipo and Zeller, but the path both have traveled will pave the way for the program to attract future recruits with similar goals and aspirations.
And for that, Indiana is lucky to have had both guys.
Filed to: Cody Zeller, Victor Oladipo