That's A Wrap: Remy Abell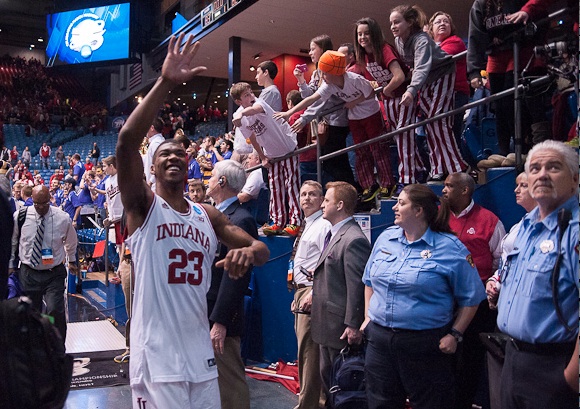 Welcome to "That's A Wrap," our player-by-player recap of the 2012-2013 Indiana Hoosiers. Today: Remy Abell.
Abell (36 games): 4.0 ppg, 1.5 rpg, 0.9 apg, 46.9% FG, 48.5% 3PFG, 75.0% FT in 12.5 minutes per game.
What a start to the season for Remy Abell.
In the Hoosiers' exhibition win against Indiana Wesleyan, he posted a line of seven points, three rebounds, three assists and a steal in just 13 minutes.
"We've gotta get Remy to go from flashes to consistency," Crean said after the game. "He's one of the most well-loved guys in that locker room. He's a great kid, great personality, incredibly hard-working student. And I don't think he's scratching the surface of how good he can be when he's out on the court. And that's what we need from him."
The Louisville Eastern product kept things going. He made all seven of his field goal attempts in wins against Bryant and North Dakota State — which included five from distance. Add in a 7-of-8 effort from the line and the sophomore posted back-to-back double-digit scoring efforts (12 points, 14 points) in Indiana's first two games of the year. By November's end, Abell was shooting a crisp 58.3 percent from the field. Abell posted two more perfect efforts from the field in December (4-of-4 against Coppin St.,  5-of-5 against Mount St. Mary's) and his shooting through the first two months of the season remained pretty steady (53.8 percent). He was hitting 57.8 percent from distance.
It seemed as if Abell had only built upon his increased playing time and confidence in the absence of Verdell Jones III during last season's NCAA Tournament run, and was primed to give Indiana a nice lift off the bench heading into the Big Ten season.
But things changed.
Abell's shooting slumped. In a January stretch against Minnesota, Wisconsin, Northwestern and Penn State, he went 0-for-9. He made just two 3-point attempts all Big Ten season (2-of-8, 25 percent) and just 11 total baskets. And after seeing double-digit minutes in every single non-conference game, his minutes decreased as did, it seemed, his confidence. Abell played just two minutes in Indiana's loss to Illinois and just five a few days later against the Buckeyes in Columbus.
But as the postseason hit, Abell shook off the cobwebs a bit.  His shooting came back around and his play on the other side of the ball — particularly against Wisconsin in the Big Ten tournament — warranted him more playing time. In Indiana's five postseason games, Abell came full circle on his season, hitting 50.0 percent from the field (6-of-12) and 50 percent from 3-point range (3-of-6).
Bottom line: It was an uneven season for Abell, but he still finished the year hitting on 48.5 percent from distance and 46.9 percent from the field — both improvements over his freshman campaign. Abell's length also made him a quality defender for the Hoosiers this season. With Jordan Hulls gone next year, Abell could snag a starting gig in the Hoosiers' backcourt heading into the 2013-14 season. The more likely scenario, however, is Abell continuing to provide minutes off the bench for the Hoosiers.
Previously: Hanner Mosquera-Perea, Peter Jurkin, Yogi Ferrell, Jeremy Hollowell, Cody Zeller
Filed to: Remy Abell