That's A Wrap: Derek Elston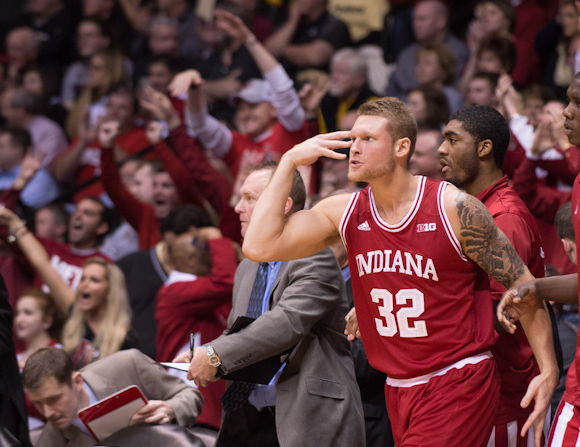 Welcome to "That's A Wrap," our player-by-player recap of the 2012-2013 Indiana Hoosiers. Today: Derek Elston.
Elston (19 games): 1.1 ppg, 0.8 rpg, 28.6% FG, 22.2% 3PFG, 70.0% FT in 6.3 minutes per game.
When Derek Elston looks back at his senior season at Indiana, he will likely feel a bit unfulfilled. There's no doubt his final year in Bloomington turned out to be an opportunity missed.
Elston tore his meniscus before the season began, and he was never completely healthy again. It was a disappointing and frustrating year for Elston because he could have played an important role for the Hoosiers. He played well at times during his junior season and was looking forward to the opportunity to play on the perimeter more this season.
Elston played sparingly, and when he did get in, he struggled to knock down his open shots. He wanted to be part of it so much that he sometimes seemed to press and could never get in any real rhythm. He was much more important off the court for the Hoosiers this season and did what he could to help Hanner Mosquera-Perea and Peter Jurkin learn the Indiana system and the college game.
Elston did not play in the Big Ten Tournament and played a total of only three minutes in Indiana's final two NCAA Tournament games. It's hard to watch Elston go out like that because his struggles came because of reasons out of his control.
Bottom line: Even though Elston struggled and didn't have much of an on-court impact for the Hoosiers in his senior season, he will still be remembered for being part of the class that stuck it out and brought Indiana back. It doesn't seem fair that Elston's career ended the way it did, but he should be commended for persevering and sticking it through the good times and the bad.
Previously: Hanner Mosquera-Perea, Peter Jurkin, Yogi Ferrell, Jeremy Hollowell, Cody Zeller, Remy Abell, Will Sheehey, Victor Oladipo, Maurice Creek
Filed to: Derek Elston