Film Session: Gatens from beyond the arc
Matt Gatens hit a career-high seven 3-pointers in Iowa's 78-66 win against Indiana on Sunday night. Gatens connected on four in a row during a crucial stretch in the second half, which put the game out of reach and extended Iowa's lead from 10 to 19 points with 4:35 to go. Gatens was able to break free on three of these looks later in the shot clock due to screens Indiana was unable to effectively counter.
Here's a look at all four 3-pointers in the latest edition of Film Session.
THE FIRST
After the 8-minute media timeout, Iowa had a baseline inbounds and a fresh 35. The Hawkeyes run the clock down to 18 as Roy Marble has the ball up top. Gatens, marked by Will Sheehey, has moved from the left block to the right: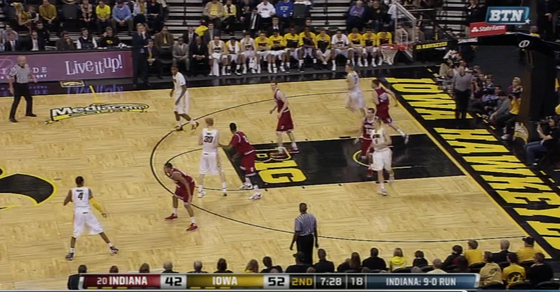 Marble comes to the right wing as Gatens sets a pick on Cody Zeller in the paint: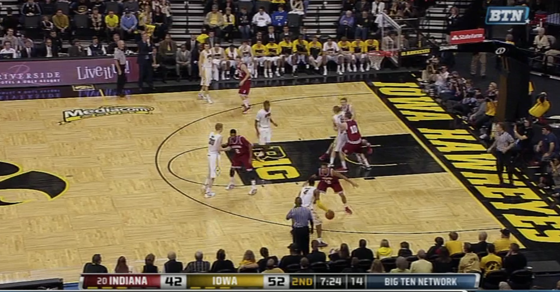 Marble looks inside as Gatens begins to cut up to the top of the key: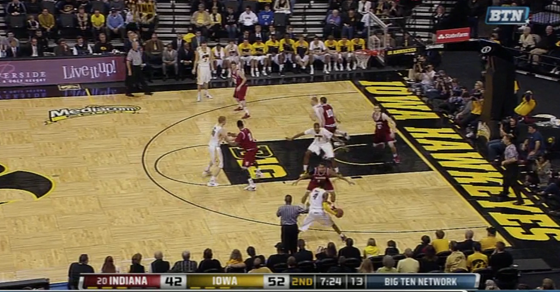 Andrew Brommer sets a pick on Sheehey, one he seems to run right into as he was looking at Marble with the ball: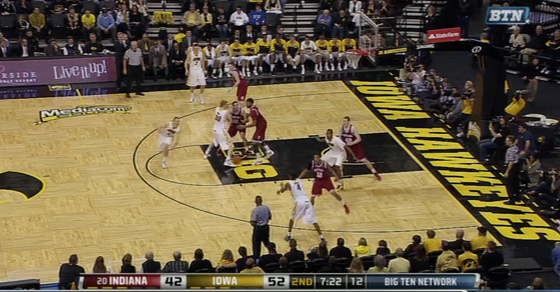 Gatens receives and hits: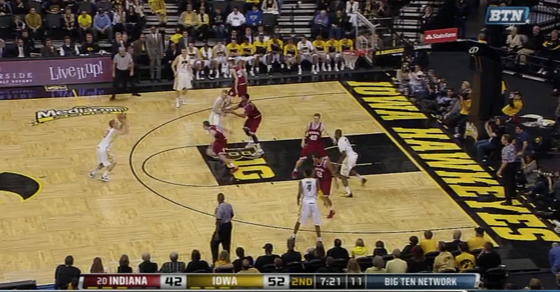 VIDEO:
THE SECOND
Indiana doesn't allow much for Iowa, and there are just nine seconds left on the shot clock as Gatens receives the ball near the left wing: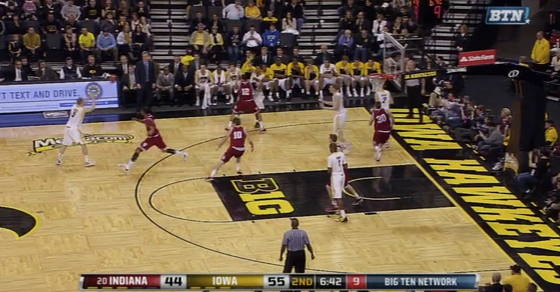 Gatens goes right: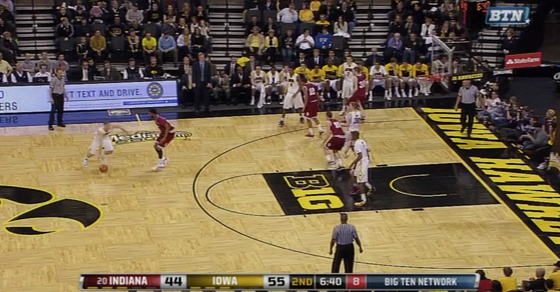 He pulls up a few feet beyond the arc, so Watford plays the 3-point line: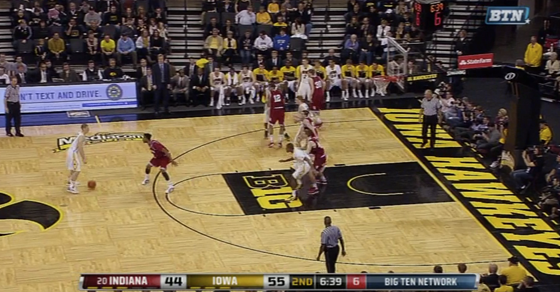 In a bit of a heat check and with limited options, Gatens decides to rise and fire from that distance. He connects: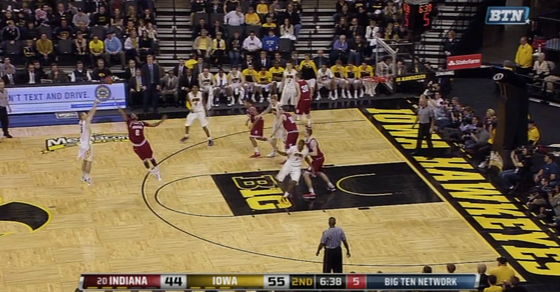 Not much Watford can do here. That's a guy starting to heat up, bombing and hitting.
VIDEO:
THE THIRD
Indiana plays good enough defense to knock 21 seconds off the shot clock, as Marble has the ball up top with Gatens down near the baseline of the strong side: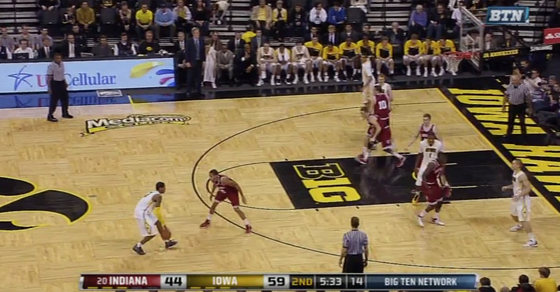 Melsahn Basabe sets a pick for Gatens on Victor Oladipo: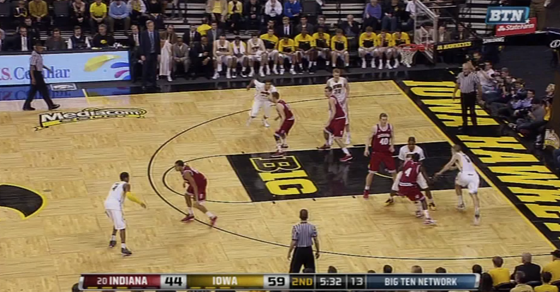 Oladipo chooses to  go over the top of the screen which allows 1) Gatens to get down into the corner unmarked and 2) Brommer to get some body on Oladipo: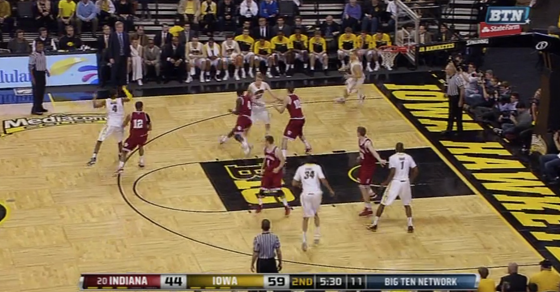 Gatens gets the shot off with ease and connects: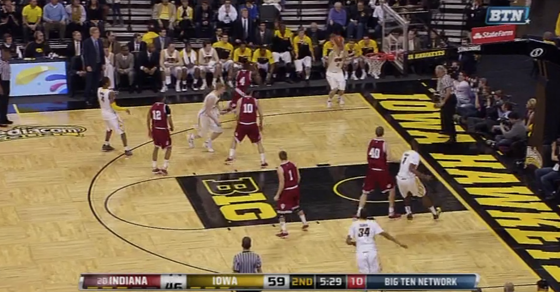 VIDEO:
 THE FOURTH
Again, decent D to start, as 22 seconds are left in this possession as Marble and Gatens are together on the strong side: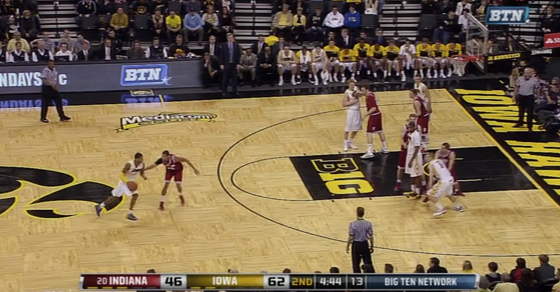 Gatens gets a handoff and swings the ball: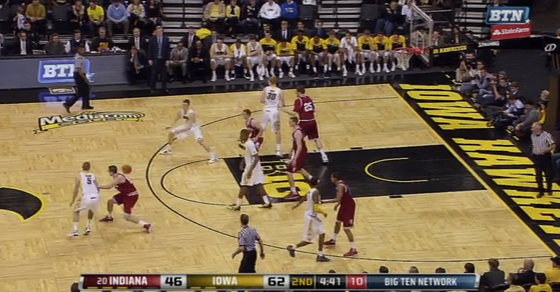 He moves towards the bucket: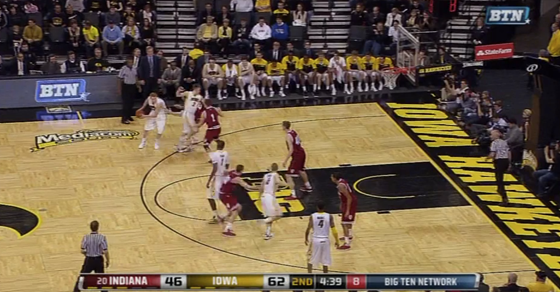 But he cuts back up top as Sheehey again meets hard with an Iowa pick: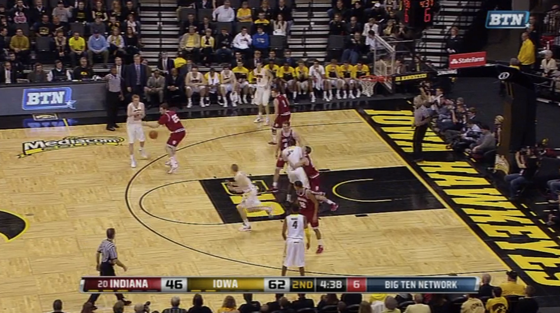 This gives Gatens room to get the ball beyond the arc and hit his fourth 3-pointer: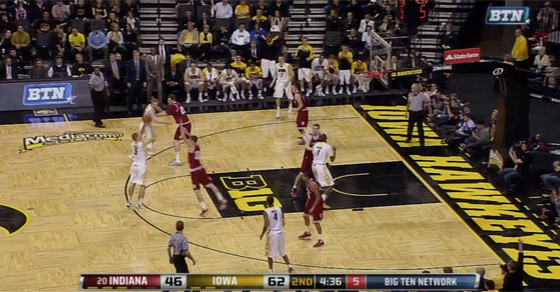 VIDEO:
Filed to: Iowa Hawkeyes