After a first half where it scored half its points in the paint and only made one 3-point attempt, Michigan flipped the script and mounted it's 22-point second half lead on the strength of a bevy of 3-point makes.
A look at Michigan's sharpshooting barrage in the latest edition of Film Session.
NO. 1) IN TRANSITION
The Hoosiers turn the ball over on their first offensive possession of the second half, as Jordan Hulls' pass to Tom Pritchard on a pick-and-roll runs afoul: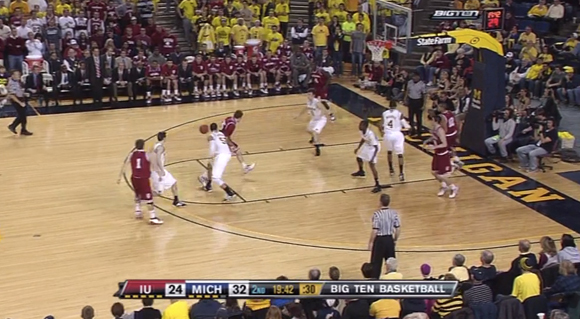 Zach Novak scoops up the loose ball and pushes it up the court: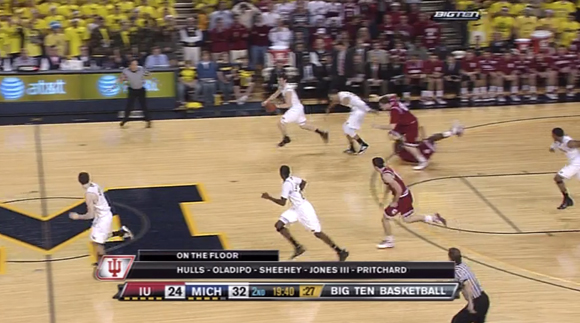 With nobody else back and  Hulls and Will Sheehey both looking to stop the ball, Novak has the option to pass to two open shooters on the left wing in Stu Douglass and Tim Hardaway Jr.: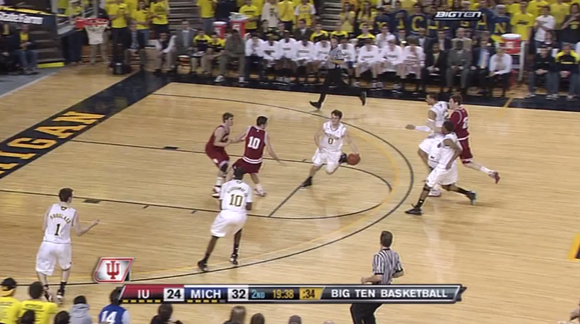 Novak opts for Douglass, who has room to rise, fire and connect on the triple: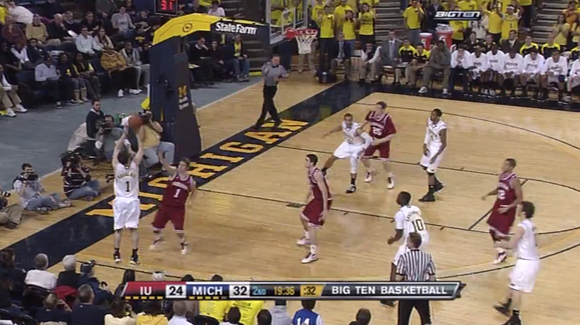 IN FULL:
NO.2) VERDELL SCREENED
Darius Morris dumps it off to Novak: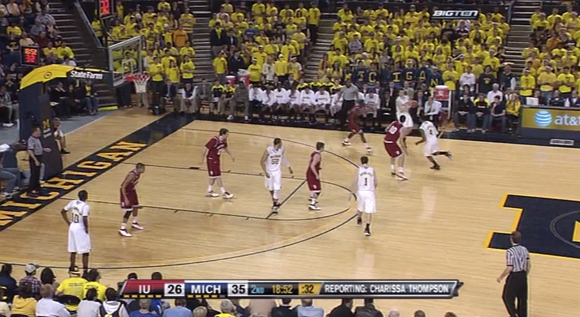 Novak swings it up to Douglass, as Jordan Morgan sets a pick on Verdell Jones for Hardaway: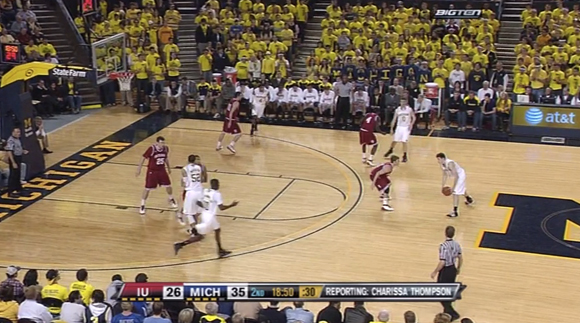 Novak cuts through as Douglass kicks it over to Morris on the wing:
Jones sinks into the lane while keeping an eye on Hardaway, which allows Morgan to get a body in front of him as Morris darts into the lane: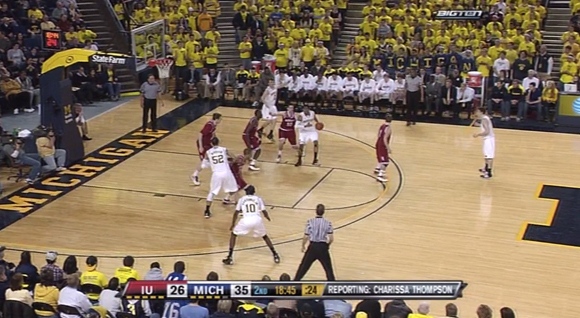 This gives Hardaway enough separation to get off a three over a closing-out Jones, which he connects on: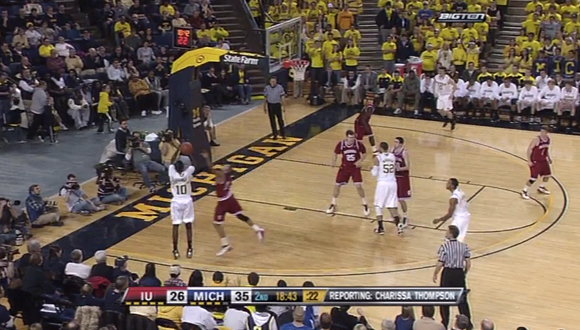 IN FULL:
NO. 3) VERDELL SCREENED, PART DEUX
Hardaway passes over to Morgan at the top of the key: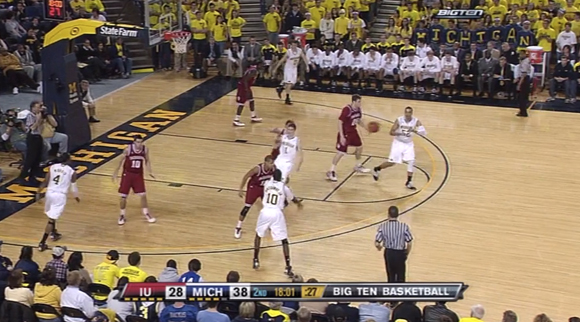 Morgan kicks it over to Novak, as Douglass sets a pick for Hardaway: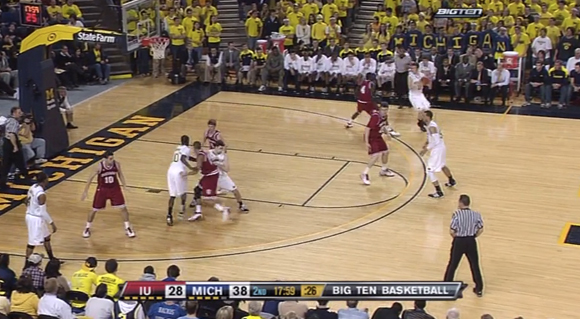 Jones and Hulls switch on the pick with Jones now marking Douglass: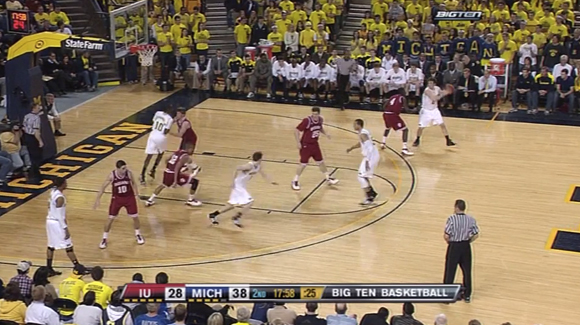 And here's Morgan again with the pick: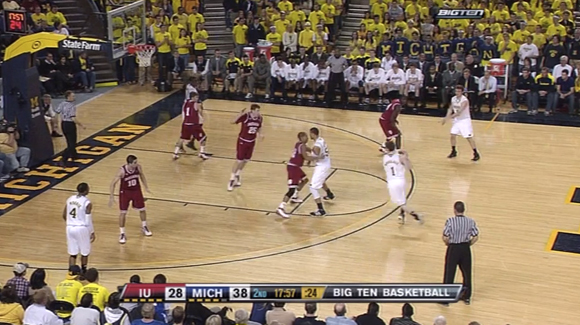 Which gives Douglass plenty enough room to fire and hit: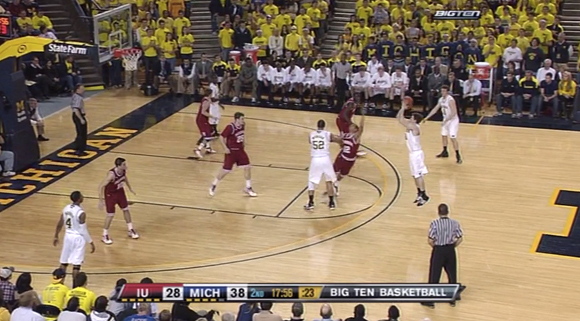 Three possessions to start the half here, and three straight makes from beyond the arc for the Wolverines, which led to a Tom Crean timeout.
IN FULL:
BONUS: MORE LONG-RANGE LOOKS
Here's a cut of three more open 3-point attempts the Wolverines got before the 10-minute mark in the second half, two of which they connected on. The first two by Novak and Hardaway came in transition as Indiana failed to pick either of them up. The last came because Matt Roth had to close out all the way from the rim on Douglass, allowing him space to shoot. (Apologies for the lack of audio on this.)
Filed to: Michigan Wolverines