Inside the Hall Twitter Mailbag: February 15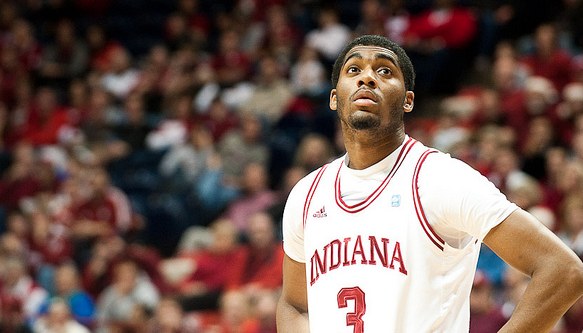 The Inside the Hall Twitter mailbag is a weekly collection of questions tweeted to us via our Twitter account, @insidethehall. Tweet us your questions each week and we'll answer as many as we can. Now, onward …
@JohnDMercer writes: will Mo get a medical redshirt?
Alex Bozich: Tom Crean said shortly after Maurice Creek's injury that he would petition the NCAA to get an extra year for his sophomore guard. Here's the quote on that situation by Crean from shortly after the injury: "Because he's basically right now played one year inside of two. I would hope that down the road we're going to get the leniency on that, because this has been through no fault of his own." But the rule for a medical redshirt (or hardship waiver, as it's sometimes called) is playing in less than 30 percent of your team's games with none coming after the second half of the season. In both seasons, Creek played in more than 30 percent of Indiana's games and this season, he played during the second half of the season. It obviously won't hurt to try the petition, but precedent says it's not likely to happen.
@MicahMcVicker writes: Has anything changed regarding McGary's status?
Alex Bozich: McGary, who told Inside the Hall back in December that he had an offer for 2011 from Indiana, has ruled out the possibility that he'll enroll in college after this school year. It seemed like a long shot that'd he stay in the 2011 class when I spoke with him a few months back as McGary was retaking courses at Brewster Academy in New Hampshire to improve on his core GPA. Indiana is still keeping tabs on him as far as I know, but with four commitments already secured in the 2012 class, it's not clear how he might fit into the Hoosiers' plan for that class. Gary Harris and Jeremy Hollowell appear to be higher priorities and the scholarship situation would have to change in order for IU to take more than five recruits.
@rick_park writes: What Big Ten teams have the best recruiting classes coming in next year?
Alex Bozich: On paper, Ohio State and Illinois welcome the two strongest classes. The Buckeyes will welcome a pair of McDonald's All-Americans — Amir Williams, a 6-10 center from Detroit Country Day and Shannon Scott, a 6-2 point guard from Alpharetta, Ga. Also in that class: small forward LaQuinton Ross (ESPN No. 46), small forward Sam Thompson (ESPN No. 45) and center Trey McDonald. ESPN ranks the class No. 4 nationally. In Champaign-Urbana, Bruce Weber will be joined by five recruits, four of which are rated among the top 100 by ESPN. There's no true standout in the group, but collectively, it should help aid in the losses of Demetri McCamey, Mike Davis, Mike Tisdale and Bill Cole.
@Garrettlawton writes: beyond the addition of Zeller and AE, what makes anyone think this team will compete better next year? more experience?
Alex Bozich: Great question and I'm sure it's one that many will be asking in the offseason. Indiana only loses Jeremiah Rivers and that could turn out to be a pivotal loss if the perimeter defense doesn't improve significantly by next November. The expectations out of Zeller will be immense due to the hype surrounding his recruitment, but like most freshmen, there will be a period of adjustment. I'm not sure Etherington will crack the regular rotation right away, especially if Maurice Creek is able to return by the start of next season. He'll also be competing with Matt Roth, Victor Oladipo and Will Sheehey for minutes. As you point out, experience will be one reason that Indiana will be expected to take a large leap, but probably more important is how much the Big Ten is losing. I published this list in the last mailbag, but here it is again:
Illinois: Bill Cole, Demetri McCamey, Mike Davis, Mike Tisdale
Iowa: Jarryd Cole
Michigan: No players graduating
Michigan State: Durrell Summers, Kalin Lucas
Minnesota: Al Nolen, Blake Hoffarber
Nebraska: Lance Jeter
Northwestern: Michael Thompson
Ohio State: Dallas Lauderdale, David Lighty, Jon Diebler
Penn State: David Jackson, Jeff Brooks, Talor Battle
Purdue: E'Twaun Moore, JaJuan Johnson
Wisconsin: Jon Leuer, Keaton Nakivil, Tim Jarmusz
And this list doesn't take any potential early NBA departures into account. Without going into too much detail, I think improvement, in terms of wins and losses in the Big Ten, will come down to establishing some sort of post presence and playing better defense. Indiana's offense this season isn't the problem. Has it struggled at times? Absolutely. But the defense has let this team down far more often. And until the Hoosiers learn how to consistently string their effort on defense, IU will struggle to win conference games, especially on the road.
@michugana writes: Picks for some end of year Big Ten awards? Any Hoosiers in the running?
Alex Bozich: Big Ten player and freshman of the year should go to Jared Sullinger of Ohio State. JaJuan Johnson of Purdue could grab some player of the year attention, but ultimately I believe Sullinger wins out, especially if Ohio State wins the Big Ten and Sullinger beats Johnson twice head-to-head. Jordan Hulls and Christian Watford both have a shot to be named to one of the all-conference teams (and if not, honorable mention). Jeremiah Rivers could get a look on the media's all-defensive team. Victor Oladipo and Will Sheehey will likely have a tough time landing on the all-freshman team as Sullinger, Aaron Craft (Ohio State), Tim Hardaway Jr. (Michigan), Melsahn Basabe (Iowa), Jereme Richmond (Illinois) and Jordan Morgan (Michigan) all have legitimate cases to make that team.
Filed to: Twitter Mailbag