Film Session: Defending the three
As I noted in TMA last night, the Hoosiers gave up several wide-open 3-point attempts in the first half against Penn State, ones that allowed the Nittany Lions to shoot 50 percent (5-of-10) in the first 20 minutes of the contest.
Here's a detailed look at three straight Penn State possessions which resulted in nine quick points. What was once an 8-7 lead for the Hoosiers quickly turned into a 16-8 deficit and Tom Crean called a timeout to try and pick up the pieces.
No. 1:
Tim Frazier brings the ball up for Penn State as David Jackson calls for a pick: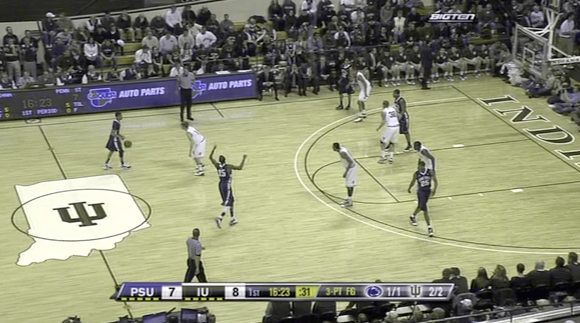 Jackson sets the pick for Frazier: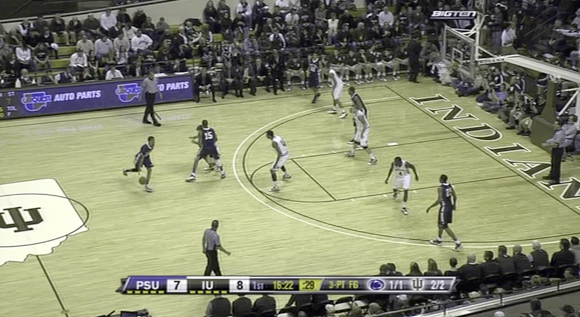 Christian Watford and Jordan Hulls both pursue Frazier: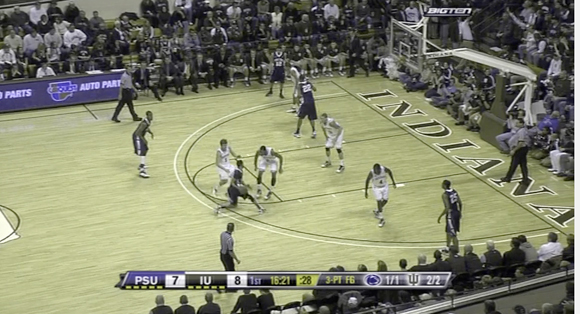 Frazier kicks to a wide-open Jackson, as Watford decides to fade back into the paint: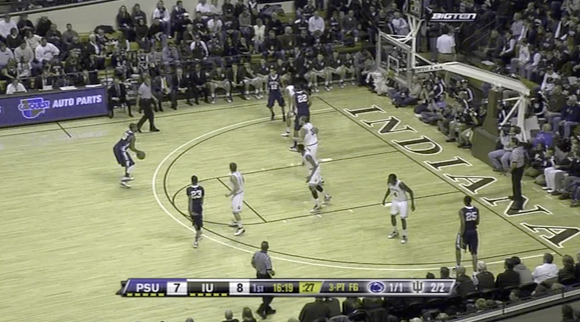 Nothing but the bottom of the net for Jackson: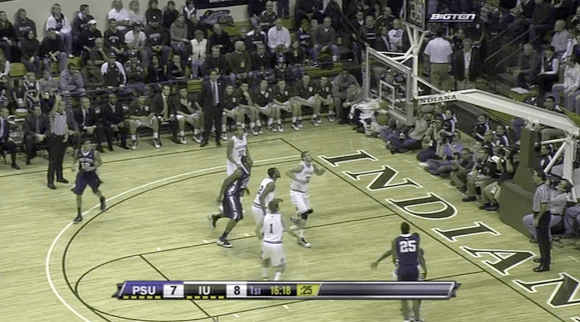 No. 2:
Off a missed Victor Oladipo three, Talor Battle pushes the ball up the floor: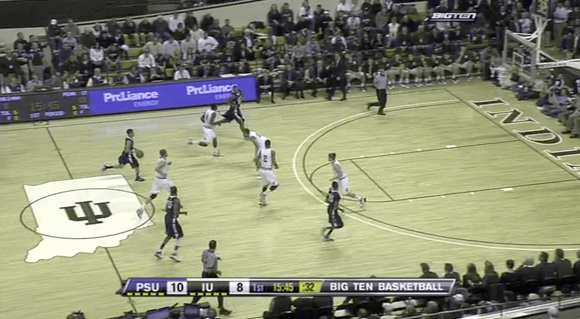 Jeff Brooks — who grabbed the rebound — is Battle's trailer on the left wing. Elston appears to passively motion to Oladipo to pick up Brooks: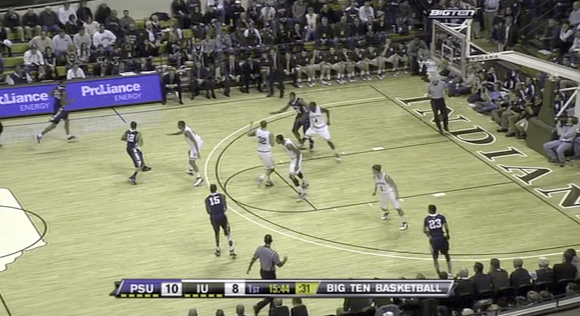 With neither picking up Brooks and both down on the block defending Andrew Jones, he's left wide open beyond the arc: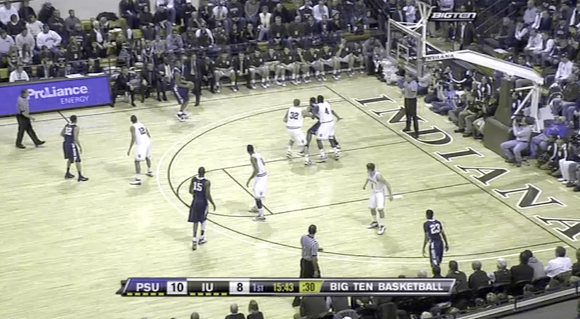 Elston does try to run out and get a hand in his face, but the gap is too wide: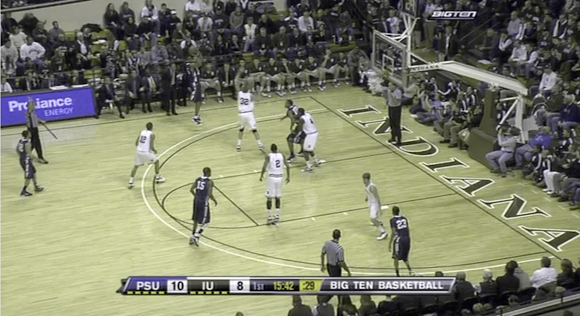 And it's nothing but the bottom of the net for Brooks: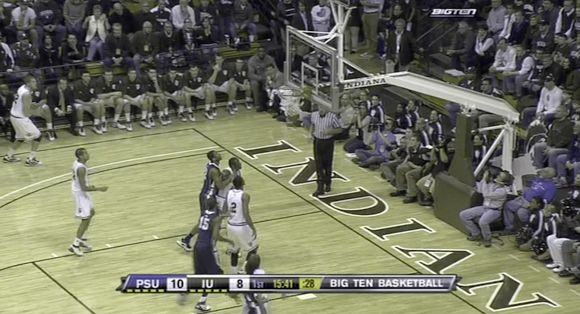 No. 3:
Battle drives into the defense, and rises in the air to hoist a shot: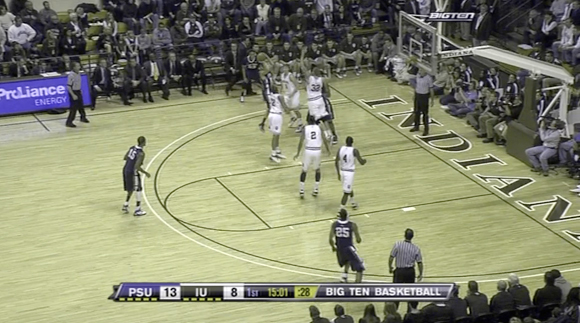 But surprise! With Watford looking to pursue a rebound and his man, Jackson, wide open beyond the arc, Battle kicks it back to him mid-air: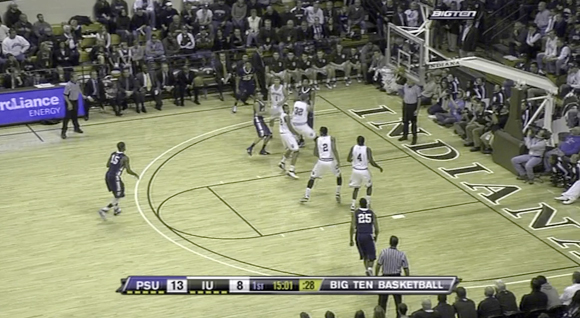 Watford runs out to pursue, but again, the gap is too wide to get a hand in Jackson's face: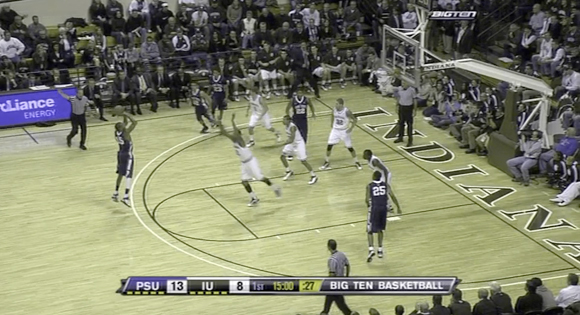 Buckets for Jackson: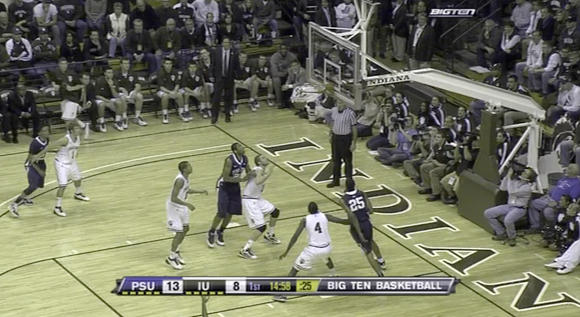 Filed to: Christian Watford, Penn State Nittany Lions, Talor Battle