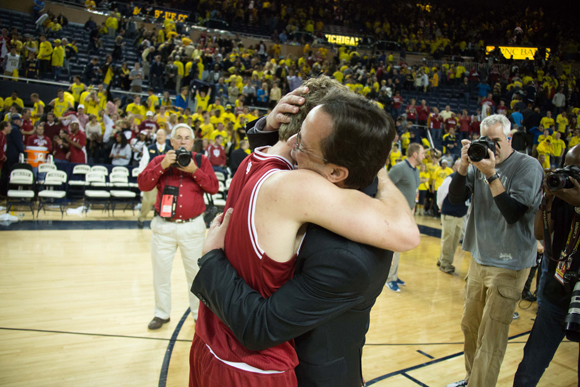 Welcome to "That's A Wrap," our recap of the 2012-2013 Indiana Hoosiers. Today: Head coach Tom Crean.
Tom Crean knew the Indiana job would be a challenge when he accepted it some five years ago. He had to rebuild the program from the very bottom, and he successfully restored it to a place where the Hoosiers could be the No. 1 ranked team in the preseason.
What Crean has accomplished has been truly remarkable and praiseworthy. But the difficulty of the head job in Bloomington didn't end when Crean got the top recruits to start coming to town or when he built a team that earned a No. 1 seed this season. Crean dealt with a number of different challenges this season.
The most difficult one was expectations. The Hoosiers had plenty of them this season, and they sometimes struggled to handle and live up to those lofty expectations. They were expected to win, and when their season ended early with a Sweet Sixteen loss to Syracuse in Washington D.C., it was viewed by some as a disappointment.
Indiana accomplished some great things this season. It won a Big Ten title outright for the first time in 20 years. Beat Michigan twice. Beat Michigan State twice. Won at Ohio State. Earned a No. 1 seed. Reached the Sweet Sixteen for the second consecutive year. But the Hoosiers didn't win it all, and when you play or coach at a school that has hung five banners, championships become the standard to which you are held.
In some ways, Crean handled the expectations well. He did numerous national radio and television interviews in which he was charismatic and engaging. He continued to develop his players throughout the season and constantly reminded the media that the team hadn't accomplished anything because of its preseason ranking.
But as the season went on, some of the outside criticism seemed to get to Crean, and it seemed to wear him down at times. He constantly mentioned some of the things people were saying about him and his team outside the locker room, and Crean too often came off as trying to defend his program rather than simply leading it. He faced a tough situation this year, one in which his team went from having little expected from it to suddenly regaining the spotlight and having the weight of the college basketball world on its back. That can't be easy for anyone to deal with.
But Crean received tons of criticism following the season, and most of it was unfair. The fact is Crean is a very good coach who is responsible for bringing the Indiana program back. He's not going anywhere anytime soon, and he shouldn't.
My opinion on Crean remains the same as it always has: Great recruiter, unbelievable motivator, superb player developer who sometimes struggles with in-game coaching. By no stretch is he a poor in-game coach, but he sometimes fails to adjust his gameplan when something goes awry within the game.
Bottom line: Crean has his flaws as every coach does, but he's the right man for the Hoosiers, plain and simple. Expectations will level off a bit next year, and Crean seems to be at his best when his team is doubted and he's an underdog.
If Crean can develop a guy like Victor Oladipo the way he did, what can he do with talents like Noah Vonleh and Troy Williams?
Previously: Hanner Mosquera-Perea, Peter Jurkin, Yogi Ferrell, Jeremy Hollowell, Cody Zeller, Remy Abell, Will Sheehey, Victor Oladipo, Maurice Creek, Derek Elston, Jordan Hulls, Christian Watford
Filed to: Tom Crean