Incoming class sees opportunity for early minutes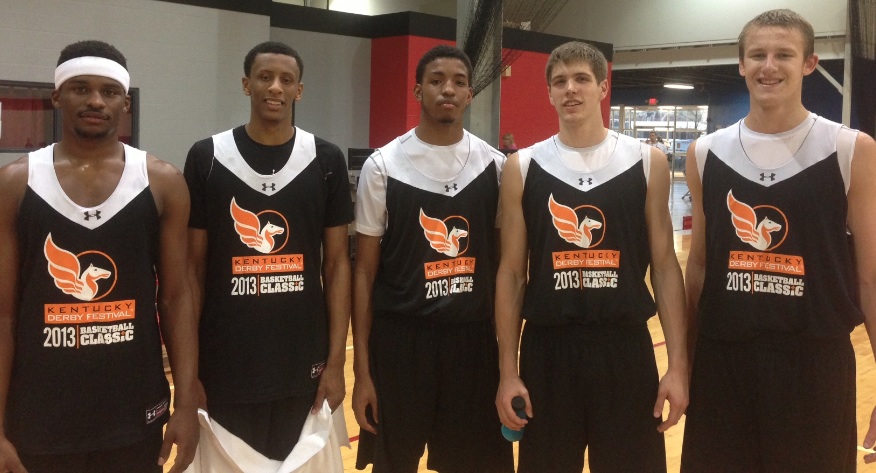 LOUISVILLE, Ky. — With two starters graduating and two departing early for the 2013 NBA Draft, no Big Ten team will have more production and experience to replace next season than Indiana.
The Hoosiers lose four 1,000-point scorers in Christian Watford, Cody Zeller, Jordan Hulls and Victor Oladipo, and a key reserve in Remy Abell, who opted to transfer for his final two seasons.
Those five, along with Derek Elston, accounted for 72.1 percent of Indiana's scoring and 65 percent of its rebounding.
If IU is to again compete for a Big Ten championship and advance to the NCAA Tournament, its six-man recruiting class, headlined by four ESPNU Top 100 recruits, will be a major factor. Rather than dwelling on who is leaving, the tone the incoming group is projecting this week at the Derby Festival Basketball Classic is one of opportunity for early minutes in what should be a fierce competition.
"It opens up spots for everyone on the team now," Luke Fischer, who was recently named Mr. Basketball in Wisconsin, said Wednesday. "Fighting for playing time is going to be real tough for anyone coming in or staying."
With Yogi Ferrell the projected starter at point guard and Will Sheehey, who Tom Crean has often called a "sixth starter," also figuring to move into the lineup, up to three starting spots and other rotation spots will be up for grabs.
"I look at it like, the people who left, they could have helped us," Stanford Robinson, who spent his senior season at Findlay Prep, said. "But at the same time, that's good for me as well because it's time for me to show people what I can do."
The offseason development of both Robinson and Fischer, along with the size and versatility of five-star forward Noah Vonleh, could be paramount to next season's success. The Hoosiers are short on ball handlers in the backcourt and also lack proven size on the front line.
Robinson, who has spent most of his prep career at the two-guard position, is preparing himself for college as a point guard and said he benefitted greatly from working alongside Washington signee and McDonald's All-American Nigel Williams-Goss at Findlay.
"I'm only 6-3, so therefore I am going to be a point guard somewhere down the line," he said. "Every day I'm just in the gym working on my ball handling and trying to be a primary point guard."
Fischer, who has drawn comparisons to Zeller because of his size and build, said he has grown used to it, but is focused on being himself.
"It's a good comparison and I don't mind it at all," he said. "But at the same time, I want to go out there and be my own player and not live in his shadow."
Overall, each player in the class has the opportunity to bring something different to the program.
Collin Hartman has the ability to stretch the floor as a shooter, which is another area of need given the losses of Hulls, Watford and Oladipo. Troy Williams can be an energy guy who will have the capability of whipping the Assembly Hall crowd into a frenzy with his ability to finish. Robinson can also bring energy and a knack for getting to the rim. Vonleh is a matchup problem because of his size and ball handling. Fischer finishes well with both hands around the rim and runs the floor well. And Devin Davis never takes a play off and can guard multiple positions.
As a whole, it's probably the most well-rounded class Crean has recruited to Bloomington over the past five years.
"Really we're just coming in and trying to make as big of an impact as they [the guys who are leaving] did," Williams said. "And if we can, an even bigger impact."
Filed to: Luke Fischer, Noah Vonleh, Stanford Robinson, Troy Williams