That's A Wrap: Christian Watford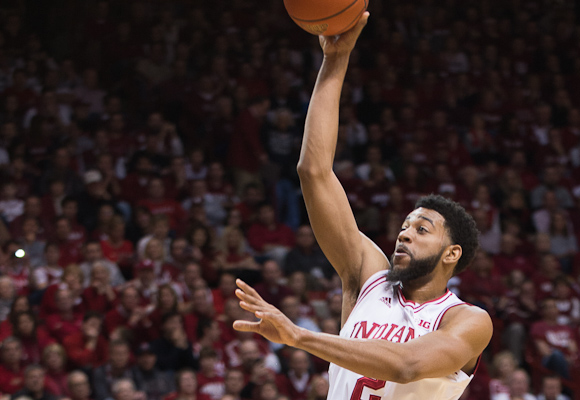 Welcome to "That's A Wrap," our player-by-player recap of the 2012-2013 Indiana Hoosiers. Today: Christian Watford.
Watford (36 games): 12.3 points, 6.3 rebounds, 2.4 rebounds, 0.9 assists, 43.2% FG, 48.4% 3PFG, 81.1% FT in 27.9 minutes per game.
They said Christian Watford, for all his talent and scoring ability, despite the biggest shot in Indiana hoops in some time, was too inconsistent.
Watford would disappear when he was needed — missing shot after shot during Big Ten games. His effort waxed and waned like the moon.
But in his final season in the cream and crimson, Watford shed that reputation. It didn't start that way. He had trouble fitting into the Hoosiers' uptempo transition style. Against North Carolina in Bloomington — perhaps the most dominant, entertaining performance by Indiana all year — Watford decided to play outside the team construct and hunt for shots. He had a dunk that looked nice, but it would be the only shot he'd make all evening (1-of-9).
Play like this simply wasn't going to fly.
Slowly, Watford found that conforming to the construct of IU's efficient offense had its benefits. He wouldn't be the one scoring at the rim in transition. He wouldn't be the one bringing the ball up the court, either. But Watford's trailer 3-pointer off the left wing was deadly. If we scratch Remy Abell's 48.5 percent mark which came on just 33 attempts, Watford led the team in 3-point percentage (48.4 percent on 125 attempts). And for a team that made it a point to get to the line often, Watford would use his ability on the block to get the charity stripe (a team-high 81.1 percent mark) or score otherwise if the foul didn't come. (Though, he wouldn't always find success there. His shot fell 55 percent of the time at the rim, tied with Yogi Ferrell for worst among IU's rotation players.)
As the Big Ten season rolled along, Watford's numbers were a model of consistency. Not only did he score in double-digits in 17 of the 20 games, but he was strong on the boards as well, tallying eight or more rebounds on seven occasions.
Rebounding like that doesn't come without consistent effort. Watford was finally bringing it game in and game out. He also hit one of the biggest shots of the season, a runner and-1 in the lane against Michigan State up in East Lansing that helped the Hoosiers win there for the first time in 22 years.
Senior Night came and Watford let the emotion and tears flow. Did you expect it from the laidback, often expressionless kid from the south? No. Did you love it after all he'd been through with his fellow senior brothers? Yes.
Watford would come up big for the Hoosiers in the NCAA Tournament as well. When things looked scary in the final minutes against Temple, it was Watford's tremendous block that kickstarted the Hoosiers' comeback.
Bottom Line: Watford's four years in Bloomington were memorable. He led the team in scoring as a freshman. He hit the Watshot, a Phoenix rising from the ashes moment for the program and winner of play of the year at the ESPYs. Watford's block against Temple was also a turning point in the round of 32, and helped bring the Hoosiers back to advance to the Sweet Sixteen.
He may never reach a roster in the NBA. But a second round selection — or more likely, a stint on a Summer League team — isn't out of the question. If nothing pans out in States, he figures to be able to continue his basketball career overseas for a professional squad.
Previously: Hanner Mosquera-Perea, Peter Jurkin, Yogi Ferrell, Jeremy Hollowell, Cody Zeller, Remy Abell, Will Sheehey, Victor Oladipo, Maurice Creek, Derek Elston, Jordan Hulls
Filed to: Christian Watford