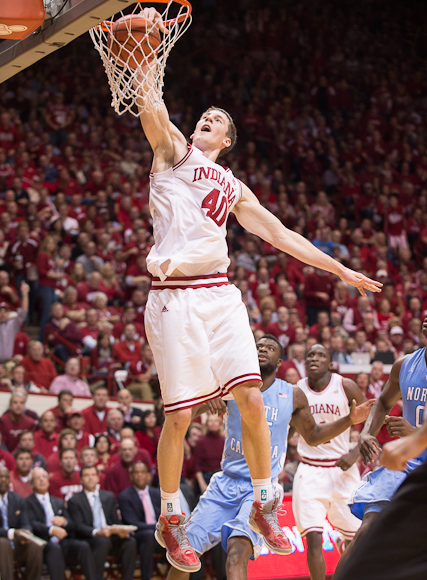 Welcome to "That's A Wrap," our recap of the 2012-2013 Indiana Hoosiers. Today: Indiana's offense.
Final stats (36 games): 78.6 ppg, 48.2 FG %, 54.8 eFG %, 40.3 3P FG%, 74.3 FT %, 45.9 % FTR.
Indiana's offense was once again elite in 2012-2013, and paired with a much improved defense that wasn't present in 2011-2012, the Hoosiers spent a majority of the regular season ranked No. 1 in the Associated Press top 25 poll.
Despite a tough last month in which it scored just 1.03 points per possession, Indiana finished the season with the nation's second best offense at 1.21 points per trip. That was up slightly over last season when IU finished at 1.206.
The improvement was a bit more defined in Big Ten play where IU scored 1.136 points per possession compared to 1.112 last season.
Once again, the efficiency was led by Cody Zeller's presence in the middle, getting to the foul line and IU's ability to find shooters on the perimeter. Zeller's biggest impact was in getting to the foul line, where he posted a free throw rate (FTA/FGA) of 73.2. Indiana shot 904 free throws and made 672 of those attempts compared to 563 attempted for its opponents. Offensive rebounding was a big area of improvement this season as Indiana rose from 59th nationally in on the offensive glass all the way up to seventh. Both Zeller and Victor Oladipo ranked in the top seven in the Big Ten in offensive rebounding.
The 3-point shooting percentage was down from last season, but was still fourth best nationally with four guys — Jordan Hulls, Christian Watford, Oladipo and Remy Abell — finishing at better than 40 percent. After shooting better than 41.2 percent in each month from November through February, the Hoosiers managed just 31.5 percent from behind the arc in March, which was a big reason the offense sputtered down the stretch.
The offense was again incredibly balanced with five guys scoring 9.5 points per game or more and a sixth, Yogi Ferrell, averaging 7.6. The two biggest movers year-over-year were Oladipo and Watford. After an up-and-down sophomore season, Oladipo put it all together as a junior and finished seventh nationally in effective field goal percentage (64.8). Watford shot a ridiculous 48.4 percent on threes, which was up nearly five percent from his junior season and almost 17 percent from where he finished as a freshman.
If IU's offense had a weakness, it was turnovers. The Hoosiers coughed up the ball on 19.2 percent of their possessions, which didn't impede winning in most cases. But those mistakes were costly in late losses to Wisconsin in the Big Ten Tournament and Syracuse in the NCAA Tournament. Against the Badgers in a halfcourt game, Indiana coughed it up on 20.8 percent of its possessions and against the length of Syracuse, that figure ballooned to 27.7 percent. Indiana also had an abnormally high number of its shots blocked (11.2 percent).
Bottom Line: Before the season, many wondered if Indiana could duplicate the amazing offensive output it enjoyed last season and for the most part, the Hoosiers delivered. Zeller and Oladipo were two of the most efficient players in the country and the dual perimeter threat of Hulls and Watford was as good as any in the country.
IU's struggles in the final month will be etched in the minds of many, but it's impossible to ignore the offense for what it truly was: elite and a big reason the program was able to capture its first outright Big Ten title in 20 years.
Previously: Hanner Mosquera-Perea, Peter Jurkin, Yogi Ferrell, Jeremy Hollowell, Cody Zeller, Remy Abell, Will Sheehey, Victor Oladipo, Maurice Creek, Derek Elston, Jordan Hulls, Christian Watford, Tom Crean
Filed to: Christian Watford, Cody Zeller, Victor Oladipo