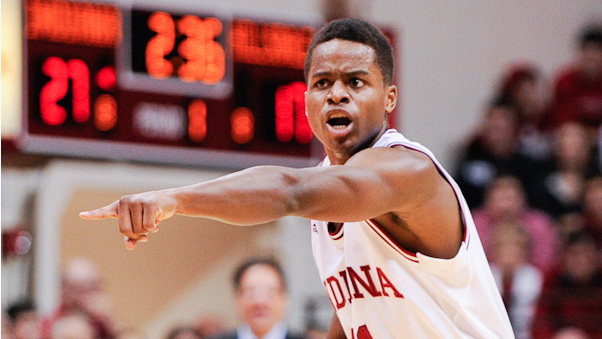 ROSEMONT, Ill. — The story goes Kevin Ferrell's mom nicknamed him "Yogi" as a child as an ode to Yogi Bear, the Hannah-Barbera character with a similar voracious appetite. He certainly lived up to the nickname last season, eating up 25 percent of Indiana's possessions in a year the team starved for any kind of offensive production.
But as the preseason first team All-Big Ten selection enters his junior year as the team's longest-tenured leader, he's due for a reinterpretation of the nickname and a role change on a squad with more shooting and playmakers. The root word of Yogi is yoke, which means "to unite" or "join together". After a disappointing 2012-2013 season where the Indiana Culture struggled at times, Ferrell is in line to do just that for these Hoosiers.
"That's how I feel like I have to start off each game, being more of a facilitator," Ferrell said late Thursday morning. "I feel a lot more comfortable, I feel like now I can balance my game out a lot more. So I'm definitely going to try and find these guys more. And once they take them away, I'm going to try and score myself.
"What I want to focus on is not turning the ball over so much. I want my assist-turnover ratio to be a lot higher. I want to have one of the highest ones in the league. So watching some film, seeing what I do here wrong. Not making jump passes. Not trying to force."