Summer League wrap-up: Bryant wins title, Williams among leading scorers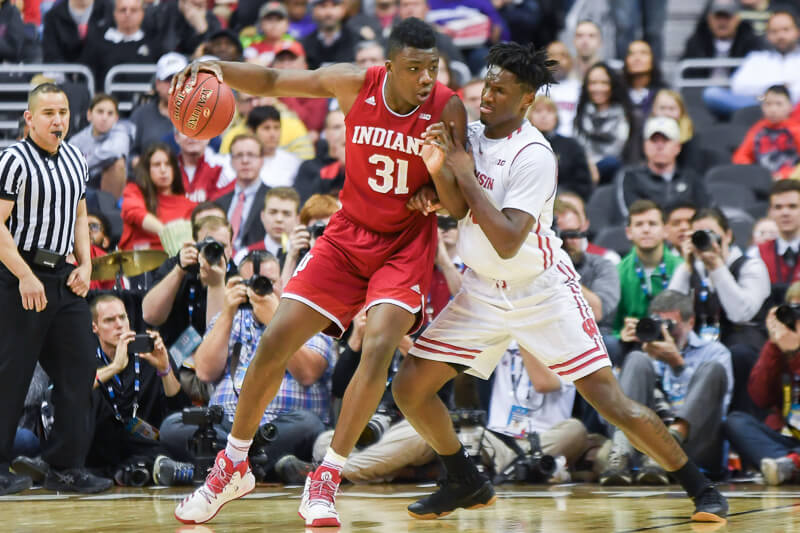 The NBA Summer League in Vegas concluded on Monday night with the Los Angeles Lakers and Thomas Bryant winning this year's crown.
Here's a final look at how all five Hoosiers who participated in Vegas (and Utah) fared this month:
· James Blackmon Jr., Philadelphia (Utah and Vegas Summer Leagues): Over five games in Utah and Las Vegas, the former Indiana guard averaged eight points, 2.6 rebounds and a steal in 16.3 minutes per game. From an efficiency standpoint, Blackmon Jr. posted an offensive rating of just 94.9 and shot just 43.2 percent from the field (26.3 percent on 3s).
In hindsight, the crowded backcourt situation for Philly – Isaiah Briscoe and Melo Trimble also played for the 76ers as undrafted free agents – may not have been the best situation for Blackmon Jr. to showcase his talent. Despite his moderate impact statistically, Blackmon Jr. still sounds confident in his chances to carve out a spot in the NBA, according to this piece from Philly.com:
The journey from undrafted rookie to making the 76ers' roster will be difficult this season – if not impossible.

Just don't tell that to guard James Blackmon.

"My mind-set is to make the roster," said the former Indiana standout, who's anticipating a training camp invite.
· Yogi Ferrell, Dallas (Vegas Summer League): Ferrell didn't shoot well in Vegas – just 38 percent – but he did manage averages of 13.3 points, 3.3 rebounds and 3.3 assists in 27.8 minutes per game.
Ultimately, the numbers don't matter much as the Mavericks have already picked up his contract next season and the time spent in Vegas playing with rookie Dennis Smith Jr. should be beneficial to both players.
Dennis Smith Jr. may be penciled in as the starting point guard, but we're only a few months removed from Yogi-Mania, and over the last few weeks, Yogi Ferrell has presented his case as to why he should continue to get minutes.

Ferrell went off against the Boston Celtics during a game in which Smith struggled, scoring 20 points (shooting 4-8 from 3-point range), leading the Mavs to a 91-74 victory.
· Troy Williams, Houston (Vegas Summer League): Williams was flat dominant at times in Las Vegas. He averaged 22 points over five games, despite shooting just 45.3 percent. His offensive rating of 118.9 was outstanding and he got to the foul line nearly eight times per game.
His play was enough to earn strong praise from Tim MacMahon of ESPN.com:
2. Who was the best veteran you saw at summer league?

MacMahon: Brandon Ingram looked like a No. 2 overall pick entering his second season is supposed to look against summer league competition, but he played only one game.

As a result, I'll go with Troy Williams, who lit it up for the Houston Rockets after splitting his rookie season between Houston and the Memphis Grizzlies. Williams is a wing with NBA athleticism, and he showed scoring ability (22.0 PPG) that was a bit surprising.
· Thomas Bryant, Los Angeles Lakers (Vegas Summer League): In eight games as a reserve for the Lakers in Vegas, Bryant averaged 5.1 points and 3.3 rebounds in 13.4 minutes per game. The Lakers won the Vegas Summer League title.
But what's next for Bryant? He hasn't been signed to a contract by the Lakers at this point and Bobby Marks of ESPN.com tweeted recently that limited cap space could make things interesting:
Interested to see what happens with Thomas Bryant. LAL only has $815K left in room and early 2nd rd picks have been starting at $1M+.

— Bobby Marks (@BobbyMarks42) July 14, 2017
Additionally, Joey Buss recently addressed the possibility that Bryant could be offered a two-way contract:
Bryant is averaging 7.7 points and 4.7 rebounds in 17.7 minutes during his three games in Las Vegas so far, and as the No. 46 pick in the 2017 NBA Draft who has yet to sign with the Lakers, Bryant looks like the type of player who could be a candidate for either assignments to South Bay or one of the new collective bargaining agreement's two-way contracts.

Players on two-way contracts can spend up to 45 days on an NBA roster while receiving "a maximum of $275,000 per season," but spend the rest of the time in the G League making G League money.

Buss wouldn't commit to either direction for Bryant just yet.

"The consideration in the draft was only for NBA purposes. However, what I will say is that we went from two draft picks to four draft picks, and that we currently have a lot of hope of signing players for the G-League," Buss said. "We're really excited to develop those players at the NBA level, and if there's an opportunity to assign guys that we draft not only this year but in (other) years as well, we'll make sure that we do that."
· Will Sheehey, Toronto (Vegas Summer League): Sheehey, who played with Raptors 905 in the D-League last season, averaged close to eight points in four games for the Raptors in Vegas.
He's currently playing with Armored Athlete in The Basketball Tournament. Two other former Hoosiers, Jordan Hulls and Christian Watford, are expected to join Sheehey on the roster on Saturday for a Round of 16 contest that will be shown on ESPN2 at 6 p.m. ET.
Filed to: James Blackmon Jr., Thomas Bryant, Troy Williams, Will Sheehey, Yogi Ferrell