Around the Hall: More preseason lists, Jadlow, Hoosiers in the NBA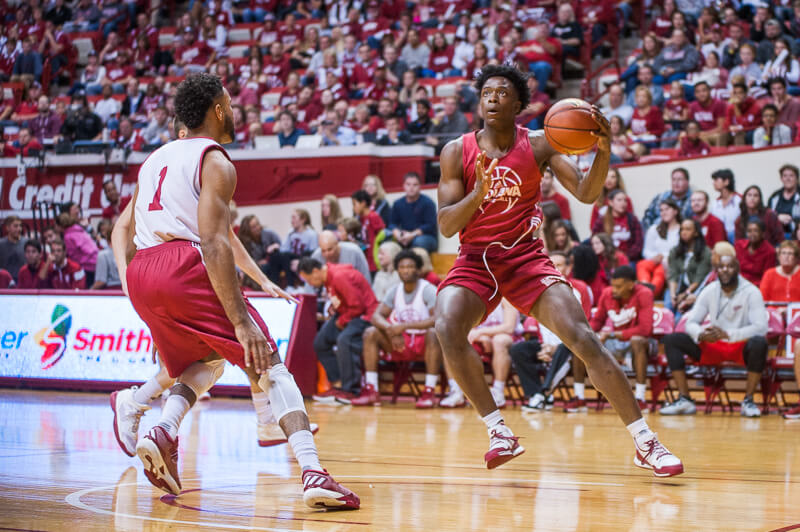 Around the Hall is recommended reading from the Inside the Hall staff.
Sports Illustrated released its Big Ten preview and picked Indiana to finish third in the league. Perhaps more surprising is that Thomas Bryant wasn't picked for the All-Big Ten first team:
All-Conference First Team & Sixth Man

PG: Melo Trimble, Maryland
SG: Malcolm Hill, Illinois
SG: Peter Jok, Iowa
SF: Nigel Hayes, Wisconsin
PF: Caleb Swanigan, Purdue
6th man: SG: James Blackmon Jr., Indiana
CBSSports.com ranked the top 100 players in college basketball and features three Hoosiers in the top 57:
17. Thomas Bryant | Indiana | Sophomore | C
Bryant would've been a first-round pick if he'd entered the 2016 NBA Draft. But he didn't. So now the 6-10 forward should compete for Big Ten Player of the Year honors as long as his sophomore season keeps Indiana near the top of the league standings. — GP
NBC Sports is also ranking the top 100 players in college hoops and also has three Hoosiers in the top 57:
9. Thomas Bryant, Indiana: If @IndianaMBB is going to repeat atop the @bigten, @nolimittb31 needs to be a force in the paint. #CBTtop100 pic.twitter.com/D9WUo8TyzM

— CollegeBasketbllTalk (@CBTonNBC) October 28, 2016
24. O.G. Anunoby, Indiana: A highly-regarded NBA Draft prospect, @OAnunoby will be a breakout star for @IndianaMBB. #CBTtop100 pic.twitter.com/DC8dAWwGin

— CollegeBasketbllTalk (@CBTonNBC) October 27, 2016
57. James Blackmon, Indiana: The @IndianaMBB guard was an elite shooter before a knee injury. @JBlackmon2's now healthy #CBTtop100 pic.twitter.com/QcyuGBfLGx

— CollegeBasketbllTalk (@CBTonNBC) October 25, 2016
Former Indiana player Todd Ladlow tells his story of abuse from Bob Knight to Bob Kravitz of WTHR:
Now, sitting here at Nick's with his daughter, Adriana, and a reporter, Jadlow knows there's going to be significant backlash. The Knight true believers will not accept Jadlow's version of events, or they will demean him as a recovering alcoholic and drug addict who is merely telling lies in order to sell a book. They will criticize him for lifting the curtain on Knight and life inside the IU program. He knows all of this. And he's ready.

"It's definitely going to be interesting," he said. "But the reason for this book was to be completely honest and transparent. I wanted to tell the whole story of my life, tell people all the worst things I've done in my life and how I've hurt people, especially the ones I love. I wanted to be honest about all of it, my time at Indiana, everything."
Michael Wallace of Grind City Media looks at the path Troy Williams took to make the opening night roster in Memphis:
MEMPHIS – Indiana coach Tom Crean had one request when he spoke to former Hoosiers standout Troy Williams, who was in the midst of an impressive stretch during training camp with the Grizzlies.

"Text me when you've made it," Crean recalled of the recent instructions to Williams. "And I got that text from him today. I can tell you it was followed by a bunch of I love yous back and forth. It's such an emotional time when you think back on everything he's gone through to get to this point."
Columnist Barry Tramel was critical of the shot selection of Victor Oladipo in the Thunder's season opener:
Victor Oladipo: Didn't like. I get it. Oladipo is having to get accustomed to a new role and a new system. But the guy's shot selection is awful. It was bad in the preseason, it was bad against Philly. Oladipo made just four of 16 shots, and while he was better in the second half and made a couple of clutch baskets in the fourth quarter, he can't take bad shots.
A Confident and assertive Noah Vonleh is earning a role in Portland, writes Mike Richman of OregonLive.com:
Last year, the Blazers prioritized getting Vonleh on the floor. This season he's earning every minute on the court thanks to a strong work ethic and an impressive preseason.

Vonleh's teammates have raved about his potential and practice production leading up to the season. It was only a matter of time, his teammates said, before the 6-foot-9, 260-pound 21-year-old made a splash in the NBA. Ed Davis, Vonleh's closest confidant on the team praised Vonleh for putting in so much work behind the scenes.

"He's hungry, man," Davis said, peeking over at Vonleh, who was still on the court shooting while Davis was talking to reporters.
Filed to: James Blackmon Jr., Noah Vonleh, O.G. Anunoby, Thomas Bryant, Todd Jadlow, Troy Williams, Victor Oladipo