Through three games, Troy Williams is dominating the NBA Summer League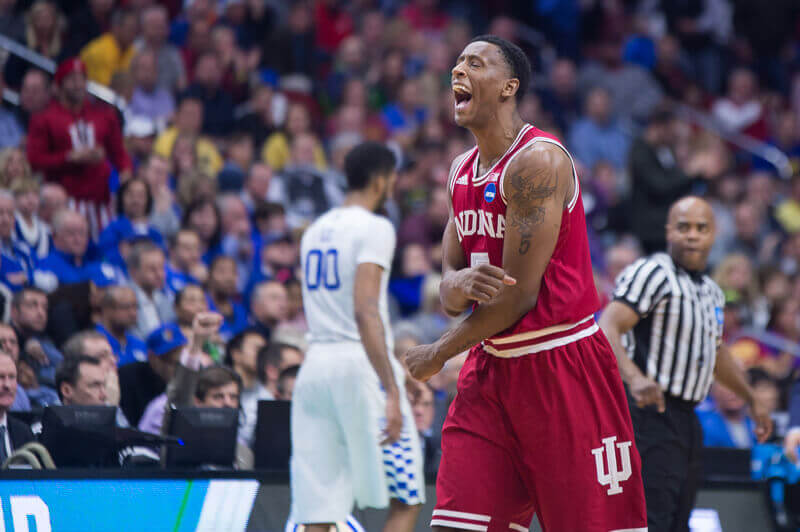 Former Indiana forward Troy Williams doesn't have a guaranteed contract for next season in the NBA, but he's looking to change that with his play in the NBA Summer League.
Williams, who left Indiana in the spring of 2016 after his junior season, was not selected in the 2016 NBA Draft. But Williams played his way onto the opening day roster last fall for the Memphis Grizzlies and then signed with Houston later in the season.
The 6-foot-7 forward is spending this summer with Houston in the Vegas Summer League and is third overall in scoring through Monday's games.
Williams, who scored 27 points on Monday in a 99-94 win over Phoenix and No. 4 pick Josh Jackson, is averaging 25.6 points for the Rockets. He's shooting close to 47 percent from the field, 38.5 percent on 3-pointers and 85.2 percent from the foul line in 26.4 minutes per game.
The Hampton (Va.) native is also averaging four rebounds and 1.7 steals per game.
With the recent trade of Sam Dekker to the Los Angeles Clippers, NBA.com wrote early Tuesday that Williams may be setting himself up for a roster spot in Houston next season:
The Rockets surrendered a young, athletic wing player this summer in Sam Dekker but perhaps will replace him with Williams, who's making a strong impression in Las Vegas. His latest was a 27-point, six-rebound effort against the Suns. But what made it more impressive: This came against Josh Jackson, the Suns' lottery pick who's recognized as a solid defender. Williams played only 30 games last season as a Rockets rookie, a victim of depth. Yet, after a summer of major moves, Houston will look to elevate someone such as Williams into the end of the rotation.
In addition, The Houston Chronicle is bullish on the former IU forward's chances of making an NBA roster next season:
Troy Williams described his first half on Monday as "terrible." For a player that could feel as if he is playing for a contract, that can be a different sort of summer league pressure. Williams probably should not feel that way. The Rockets were not going to judge him just by summer league, much less a half of one game. But Williams has seemed to attack the summer league schedule as if determined to prove he belongs. As a player that does not have to rely on his shooting touch to produce, Williams got going with his customary energy plays and then got his shooting going, too. Williams went from making 2 of 10 shots in the first half to 5 of 8 in the second half when he scored 20 of his 27 points. Through three games, he has averaged 25.6 points. He looks the part of an NBA player putting in summer league work. He might not have realized it, but he looked that way even when he was missing.
Houston, 2-1 in the Summer League, won't play again until Wednesday.
Filed to: Troy Williams