Weekend recap: Hoosiers in NBA Summer League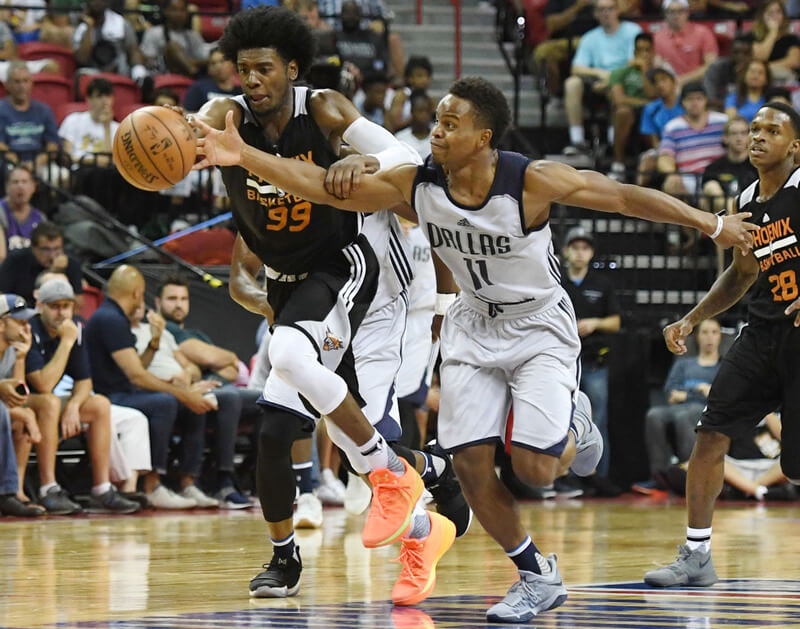 Five former Hoosiers are competing in the Las Vegas NBA Summer League. Through Sunday evening, each team has played two of at least five guaranteed games. Here is how the former IU players that are participating have fared:
Thomas Bryant, Lakers:
Bryant shined in his Summer League debut, scoring 13 points on 4-of-5 shooting to go along with five rebounds and a block in 17 minutes. The big man finished with a team-high +6 in the overtime loss to the Clippers.
The Lakers played the Celtics on Saturday, and Bryant wasn't much of a factor. In 15 minutes, Bryant had a non-descript performance as he failed to score and accrued one rebound in the loss.
Next up: The Lakers will play the Sacramento Kings on Monday night at 10:30 pm ET on NBA TV.
Yogi Ferrell, Mavericks:
Ferrell is playing to retain his starting spot with the Mavericks after they elected to draft point guard Dennis Smith Jr. in the first round.
In the Mavericks Summer League opener Saturday, Ferrell put up 14 points on 5-of-7 shooting and added five rebounds, four assists and a steal.
On Sunday, Ferrell helped boost the Mavs to a 2-0 record in Summer League as he finished with a line of eight points, two rebounds, three assists, five steals and three turnovers in 25 minutes.
Next up: The Mavericks play the Heat on Tuesday night at 8 p.m. ET on NBA TV.
Troy Williams, Rockets:
Williams ended last season with the Rockets after being waived by the Grizzlies and is not currently under contract. Based on his play over the first two games of Summer League, Williams may be close to earning a roster spot for next season.
In game one on Friday, Williams dropped 29 points on 8-of-15 shooting, along with two rebounds, an assist, two steals and four turnovers in a win over Denver.
Against the Cavaliers on Saturday, Williams poured in 21 points, shooting 7-of-14 from the floor and 3-of-8 from three. In addition, Williams accumulated four rebounds, an assist, two steals and a block.
Next up: The Rockets take on the Phoenix Suns on Monday evening at 6:30 p.m. ET on NBA TV.
Will Sheehey, Raptors:
The oldest former Hoosier in the Summer League, 25-year-old Will Sheehey is attempting to earn an invite to training camp.
Sheehey struggled in the Raptors first game on Friday, scoring four points on 1-of-6 shooting, grabbing three rebounds, dishing two assists and turning it over three times in 18 minutes.
The Raptors defeated the Timberwolves on Saturday, and Sheehey finished with a line of six points, two assists, one steal, two blocks and two turnovers in 19 minutes.
Next up: Toronto faces Denver on Monday night at 8 p.m. ET on ESPN U.
James Blackmon Jr., Sixers:
Playing on a loaded Sixers Summer League squad, Blackmon Jr. has had a hard time finding many minutes in Summer League.
Blackmon was a DNP-Coaches Decision in Saturday night's win over Golden State.
In a loss to San Antonio on Sunday, Blackmon saw 13 minutes of action, scoring seven points on 3-of-7 shooting, securing two rebounds, recording three steals and turning it over three times.
Prior to Vegas Summer League, the Sixers took part in the Utah Summer League. Over the course of three games in Salt Lake City, Blackmon played a total of 35 minutes and scored 15 points on 6-14 from the field.
Next up: Philadelphia will battle the Boston Celtics on Tuesday night at 6:30 p.m. ET on ESPN 2.
OG Anunoby, Toronto:
Anunoby officially signed with the Toronto Raptors on Sunday but is not playing as he continues to rehab from a torn ACL. The soft-spoken wing spoke to Raptors.com about the contract, and, per usual, didn't say much.
(Photo credit: Ethan Miller/Getty Images North America)
Filed to: James Blackmon Jr., O.G. Anunoby, Thomas Bryant, Troy Williams, Will Sheehey, Yogi Ferrell