Troy Williams, Thomas Bryant shine in Vegas Summer League openers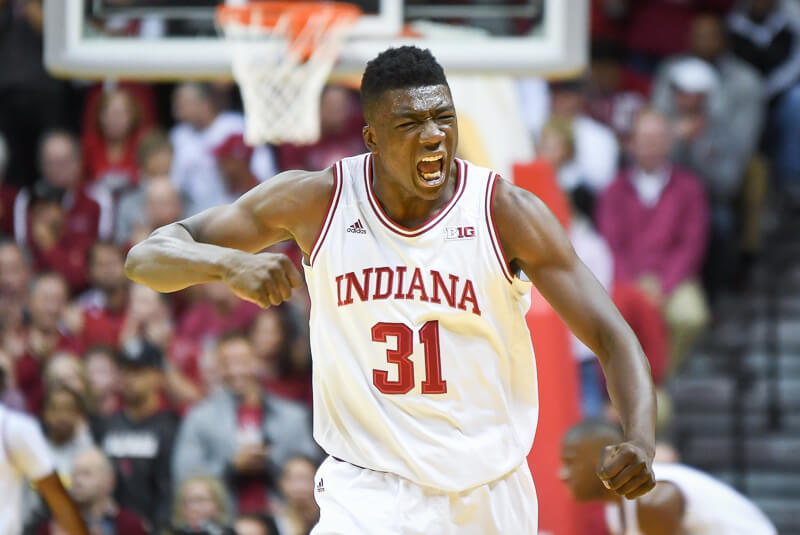 Two former Indiana standouts looking to land guaranteed NBA contracts for next season got off to a positive start on Friday in the Las Vegas Summer League.
Troy Williams, who spent his rookie season with Memphis and Houston as well as two Development League teams, scored 29 points for the Rockets in a 102-99 win over Denver.
Williams was 8-of-15 from the field and 4-of-7 from behind the 3-point line. He was also 9-of-12 from the free throw line and added two rebounds in 24 minutes.
The former Indiana forward averaged 6.2 points and 2.3 rebounds in 18.3 minutes per game last season.
The performance by Williams was enough to land him on NBA.com's list of Day 1 standouts in Vegas.
Thomas Bryant, the No. 42 pick in last month's NBA draft, also got off to a solid start with the Los Angeles Lakers.
The 6-foot-10 forward came off the bench to score 13 points and grab five rebounds in 17 minutes as the Lakers fell 96-93 to the Clippers in overtime.
Bryant was 4-of-5 from the field, including a 3-pointer and hit four of his seven free throw attempts. He also had a block and the Lakers were +6 with him on the floor.
Former IU forward Will Sheehey, who is playing with Toronto in the Summer League, finished with four points, three rebounds and two assists in 18 minutes in a 96-93 win over New Orleans.
Bryant, Williams, Sheehey, James Blackmon Jr. and Yogi Ferrell will all be in action on Saturday. Here's a list of when you can see each player:
Blackmon Jr.: Saturday, July 8 vs. Golden State (10:30 p.m. ET, ESPN), Saturday, July 9 vs. San Antonio (10:30 p.m. ET, ESPN2), Tuesday, July 11 vs. Boston (6:30 p.m. ET, ESPN2)
Ferrell: Saturday, July 8 vs. Chicago (4:30 p.m. ET, NBA TV), Sunday, July 9 vs. Phoenix (4:30 p.m. ET, ESPN), Tuesday, July 11 vs. Miami (8 p.m. ET, NBA TV)
Williams: Saturday, July 8 vs. Cleveland (10 p.m. ET, ESPNU), Monday, July 10 vs. Phoenix (6:30 p.m. ET, NBA TV)
Bryant: Saturday, July 8 vs. Boston (8:30 p.m. ET, ESPN), Monday, July 10 vs. Sacramento (10:30 p.m. ET, NBA TV)
Sheehey: Saturday, July 8 vs. Minnesota (6:30 p.m. ET, NBA TV), Monday, July 10 vs. Denver (8 p.m. ET, ESPNU)
Filed to: Thomas Bryant, Troy Williams, Will Sheehey