Troy Williams ready to begin NBA career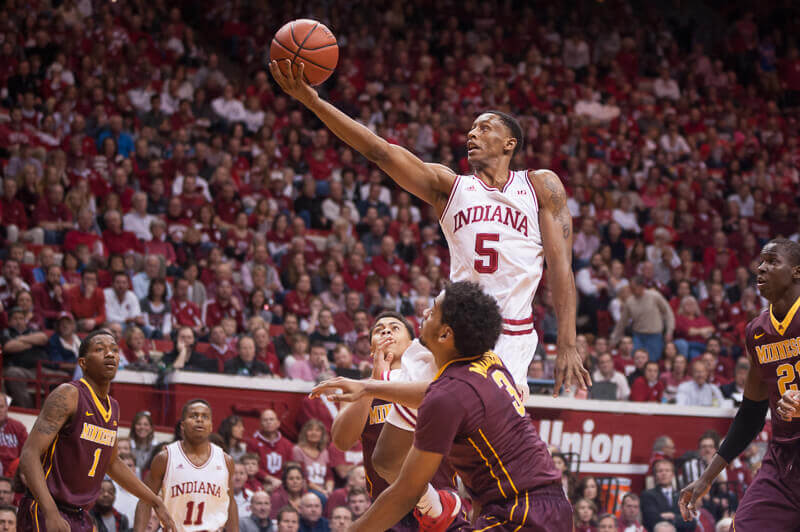 When the Grizzlies signed Troy Williams to partially guaranteed deal back on July 24th, expectations were low.
Sure, Williams was coming off a strong Summer League performance for the Suns, averaging 12.3 points 4.3 rebounds and 1.7 steals over the span of six games, but the Grizzlies already had 15 guaranteed contracts on the roster.
"He didn't have the best of odds," Joe Mullinax, site manager of Grizzly Bear Blues on SBNation, told Inside The Hall. "He was a player who was brought in to really try to potentially be an end of the bench player. He's a talented player, we knew that when he came in. We knew that he had athleticism, that he could play above the rim."
As injuries piled up for the Grizzlies, Williams was given an opportunity, one he quickly relished.
Williams ended the six-game preseason slate as the leading scorer among all rookies. After shooting just 35 percent on 3s as a junior at Indiana, Williams flourished from distance in the preseason. The former IU forward shot 42 percent from deep for the Grizzlies, including a 5-11 night in a double overtime victory over the Rockets.
With Grizzlies coach David Fizdale and his staff (which includes former IU guard Keith Smart) putting an emphasis on fast-paced play and the ability to shoot from deep, keeping the young athletic wing became too hard to pass up.
"At the end of the day, keeping Troy was the only move to make," Mullinax said. "If the Grizzlies had waived Williams, there would have been four or five other NBA teams lining up to sign him to their roster. If he wasn't a Grizzly, he would be somewhere else."
Even with the praise Williams has received for his preseason play, it has not been without faults. In the win over the Rockets, Williams committed three turnovers, the most egregious of which came on the final possession of regulation, when he slipped to the floor trying to drive through the lane. Near the end of the first overtime period, with the Grizzlies up by three, Williams fouled a 3-point shooter, allowing Houston to tie the game and force a second overtime.
"You can see him maybe trying too hard in some spots," Mullinax said. "His best games were games where he played within himself. We've seen him have a couple turnovers. We've seen the good and the bad with Troy. But what we saw from him in limited action, just six games in Memphis, he showed the coaching staff enough that he was worth a roster spot."
It is unclear what Williams' role on the Grizzlies will look like in the long term. However, with Chandler Parsons, Brandan Wright and Tony Allen all ruled out for Wednesday night's opener against Minnesota with various injuries, Williams will be on the 13-man active roster and could receive significant minutes.
"He's going to be there to eat minutes, to be there for Vince Carter if he needs a night off or if Troy Daniels struggles," Mullinax said. "He is going to be there, but won't be depended on so much that a team is going to gameplan for him."
Filed to: Troy Williams