Ferrell, Bryant still in hunt for Vegas Summer League title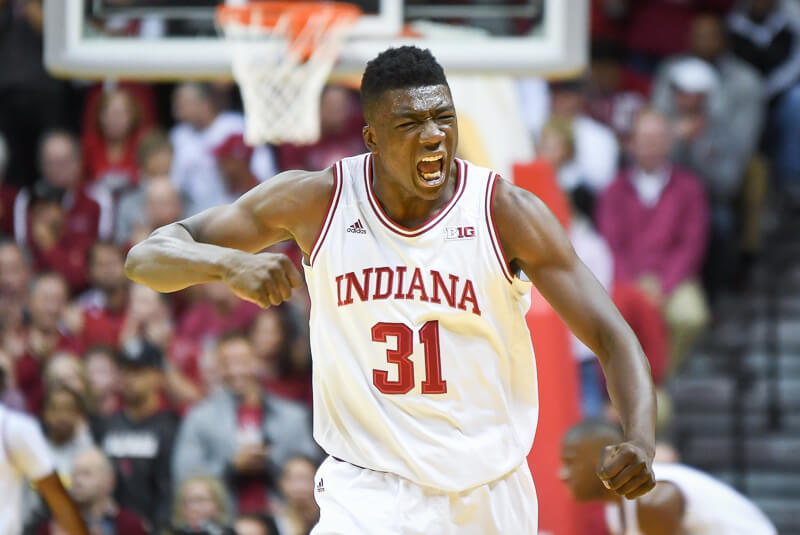 With the quarterfinals set, the Las Vegas Summer League is in the home stretch. All five Hoosiers still have at least one more game to play, and both Yogi Ferrell and Thomas Bryant are in contention for the Las Vegas Summer League crown.
Here's an updated look at how each Hoosier has performed so far:
Troy Williams (4 games): 24.3 points, 3.8 rebounds, 1 assist, 2.3 steals and 0.5 blocks and 2.8 turnovers per game on 46 percent shooting (36 percent from three) in 28 minutes per game
Only four players have a higher scoring average in Las Vegas than Williams, who has been tasked with carrying the offensive load for Houston. In a loss to Denver on Wednesday, the sophomore scored 20 points and recorded four steals.
Williams is not currently signed to a team for the upcoming season, but it's only a matter of time until either the Rockets or another team signs him.
Next up: The Rockets conclude Summer League with a consolation game against the Hawks. Tip is scheduled for today at 4:00 p.m. ET on ESPNU.
Yogi Ferrell (4 games): 11.3 points, 4 rebounds, 2.5 assists, 2.5 steals and 2 turnovers per game on 35 percent shooting (22 percent from three) in 27.3 minutes per game
Ferrell has had a decent Summer League despite poor shooting numbers, but it might not be enough to prevent rookie Dennis Smith, Jr. from taking his spot in the starting lineup.
The point guard went scoreless in a win over Sacramento Thursday, missing all 10 shots he attempted. Ferrell still has a guaranteed spot on the Mavericks roster and has a solidified role in the rotation.
Next up: The Mavericks play the Celtics this Saturday at 8:00 p.m. ET on ESPN2 for a spot in the semifinals.
Thomas Bryant (5 games): 6.8 points, 4.2 rebounds, 0.4 assists, 0.2 steals, 0.6 blocks and 0.4 turnovers per game on 68 percent shooting (25 percent from three) in 16 minutes per game
The only Hoosier to have played in five Summer League games so far, Bryant has been a steady contributor for the Lakers, who reached the quarterfinals by downing the Cavaliers on Thursday evening. Bryant scored six points on 3-of-3 shooting in the win including an alley-oop from Lonzo Ball.
Bryant has not signed a contract yet, but Lakers co-owner Joey Buss has said he may be offered a two-way contract.
Next up: The Lakers meet the Nets Saturday night at 10:00 p.m. ET on ESPNU.
James Blackmon, Jr. (4 games): 8.5 points, 2.3 rebounds, 0.3 assists, 1 steal and 1.5 turnovers per game on 48 percent shooting (31 percent from three) in 15.7 minutes per game
Blackmon had by far his best performance on Wednesday. In a nail-biting loss to Thomas Bryant and the Lakers, Blackmon scored 12 points, hit two triples and made a go-ahead layup with five seconds remaining.
The sharpshooter is not currently under contract and is likely searching for a training camp invite.
Next up: Philadelphia will finish up Summer League with a consolation contest against Chicago. The game is set for 8:30 p.m. ET today on NBA TV.
Will Sheehey (3 games): 6.3 points, 1.7 rebounds, 1.3 assists, 0.3 steals, 0.7 blocks and 2.3 turnovers per game on 30 percent shooting (20 percent from three) in 19.1 minutes per game
Playing in his third Summer League since leaving Bloomington, Sheehey has found ample playing time with the Toronto Raptors. Sheehey played the most minutes of all bench players on Thursday in a loss to Portland, scoring eight points in 19 minutes.
Next up: Toronto takes on Cleveland in a consolation game tonight at 10:30 p.m. ET on WatchESPN and NBA League Pass.
Filed to: James Blackmon Jr., Thomas Bryant, Troy Williams, Will Sheehey, Yogi Ferrell