IU's lack of a playmaker hurts in late clock situations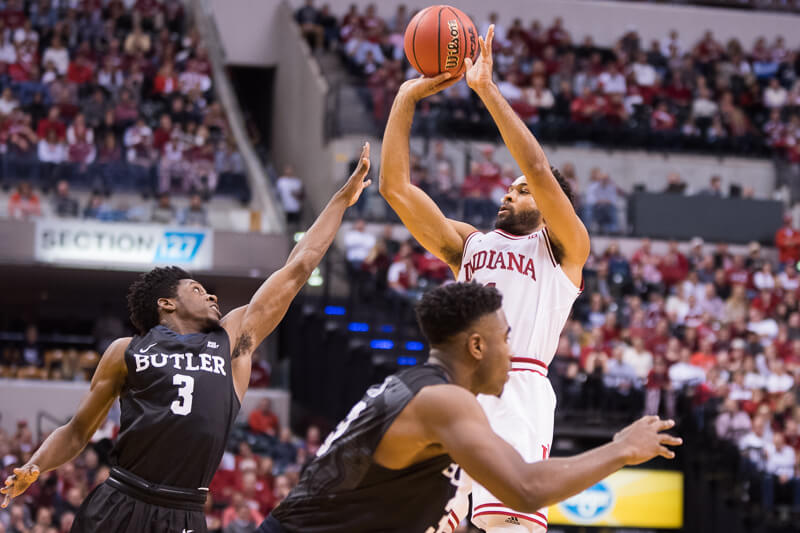 Seventeen games into the season, Indiana has the nation's eighth best offense in the country according to KenPom.com. If the Hoosiers can stay in the top 10, it would be the fifth time in sixth seasons the program finishes with a top ten offense nationally.
It's been well established that much of Indiana's struggles of late can be attributed to defense. The Hoosiers have yet to hold a Big Ten opponent under 1.14 points per possession in four conference games. Last season, Indiana held opponents under a point per possession in nine of its first ten conference games.
Digging back into the offense, there are a few obvious areas where the Hoosiers need to show improvement as the season rolls along. One is turnovers, where Indiana ranks 311th nationally and last in conference games in turnover percentage. The other is finishing more 2s without being blocked. Through four league games, Indiana is having 15.8 percent of its 2-point attempts blocked, which ranks 13th in the conference.
One other theme that has developed, perhaps unsurprisingly when looking at the personnel lost from last season, is Indiana's lack of success in late clock situations. With the help of Synergy Spots, which defines these possessions as having fewer than four seconds left on the shot or game clock, it's clear that Indiana has regressed significantly from last season.
That probably shouldn't come as a surprised when you consider that Indiana lost its two best late clock players from last season in Yogi Ferrell and Troy Williams. Here's a look, via Synergy, at how Indiana performed in late clock situations last year as both a team and individually (players with 15 or more possessions in these situations last season are included):

Williams and Ferrell were both elite in this regard a season ago during IU's run to the Big Ten title. In late clock situations, both could create and knock down shots to bail the Hoosiers out of broken possessions.
Much of the offseason discussion around this team centered on replacing Ferrell and how effectively the Hoosiers would be able to do so. Wins over Kansas and North Carolina were certainly encouraging, but those performances currently look like more than the exception than the rule.
Against Kansas, the Hoosiers scored 103 points and won on the strength of strong 3-point shooting (15-of-31). And against North Carolina, Indiana won because of its defense. The Hoosiers held the Tar Heels to less than a point per possession. That's still the only major conference opponent that Indiana has held to under a point per trip.
Despite the defensive struggles, Indiana has been in nearly every game it has lost to this point. Five of its six losses have come by seven points or less. The Hoosiers lost the Fort Wayne, Butler, Nebraska, Wisconsin and Maryland games by a combined 22 points.
We know Indiana's turnovers have been costly, but struggling to score in late clock situations has also been an issue. In seven such possessions against Maryland, Indiana scored just one time. In six against Butler, Indiana scored just once. Overall, Indiana has only scored (or drawn a foul) in 14 of 45 late clock possessions in its six losses.
This is where the loss of Ferrell and Williams, coupled with Indiana's lack of a point guard, is causing problems. Here's a look, via Synergy, at how Indiana has performed in late clock situations as both a team and individually so far this season (players with 10 or more possessions in these situations this season are included):

When possessions break down and Indiana needs someone to go to for a bucket, it simply doesn't have a clear option.
As well as Blackmon Jr. has played in some key spots, he hasn't been great in late clock situations. Bryant's efficiency in these situations is way down from where he finished last season. Some of that can probably also be attributed to the loss of Ferrell and Williams, who were good at finding him late in possessions for easy scores.
Not included in the chart above are Josh Newkirk, OG Anunoby and Juwan Morgan, who have combined to score seven points in 21 late clock possessions. Morgan has five of the points.
So what's the answer to improving these numbers?
There might not be one. Sure, Indiana could have games coming up where it makes the one or two plays needed to pull out close games. A couple of them against Butler and Maryland and wins in those games would make the season look completely different at this point. But more than halfway into the season, Indiana's reality is that it doesn't have the late clock playmakers it had a season ago. And in close games, it's been tough to overcome.
Filed to: James Blackmon Jr., Robert Johnson, Thomas Bryant, Troy Williams, Yogi Ferrell