What's wrong with Indiana? It's mostly the defense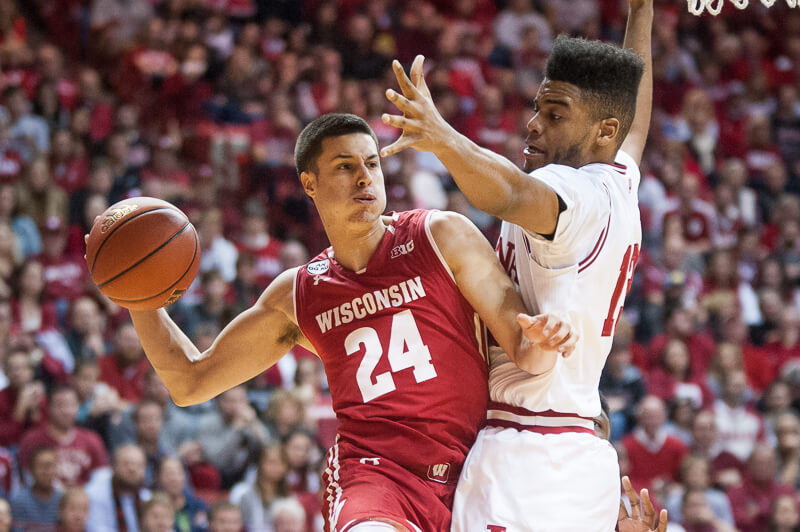 Fifteen games into last season, Indiana's defense was spearheading a turnaround. The Hoosiers were 12-3 overall and 2-0 in the Big Ten. Both of those wins came on the road. Indiana was two games into a stretch in which it would go seven straight (and nine of 10) holding conference foes under a point per possession.
As brilliant as the offense was, it was Indiana's defense that could be relied upon (for the most part) when the shooting numbers dipped.
This season, that hasn't been the case. Entering the conference opener against Nebraska, the Hoosiers ranked 36th nationally in Ken Pomeroy's adjusted defensive efficiency rating at .96 points per possession allowed. Three losses later, Indiana is all the way down to 75th nationally at .99 points per possession allowed.
It's been a complete free fall and only seems to be getting worse as the Hoosiers have had three of their four worst defensive games of the season in their current three-game skid.
The Hoosiers are being exposed in a few keys areas, some of which obvious to the naked eye and some of which require a deeper dive into advanced statistics.
Let's start with the basics.
Currently, Indiana sits at 41st nationally in 3-point field goal defense. There's obviously a luck factor involved in defending the 3-point shot, but it's probably not a coincidence that Indiana is getting burned from distance in its losses and against better competition. Overall, teams are shooting 30.7 percent from deep against the Hoosiers. In their five losses, opponents are shooting 40.4 percent. In terms of made 3s, Indiana is allowing 6.5 per game overall, but 8.8 per game in losses. During the three-game losing streak, opponents are shooting 47.3 percent on 3s against Indiana (27-of-57).
Things haven't been much better inside the arc. Indiana's 2-point field goal percentage allowed for the season is 45.1. That ranks 74th nationally. In losses, that number is 51.3 percent. Indiana's shot blocking has also taken a dip, albeit slightly, in losses. The Hoosiers are averaging 5.4 blocks per game, but just 4.4 in losses. Indiana's season-to-date block percentage is 13.1, but just 11.4 percent in losses.
Besides the aforementioned slides, Indiana's inability to force turnovers has been a season long problem. But it's a lot worse in losses. Overall, the Hoosiers are scoring 14.5 points off of turnovers. In losses, they're scoring just eight. Indiana's turnover percentage forced (16) is the worst of any Big Ten team and 318th nationally.
So where, specifically, is Indiana getting burned defensively? In transition and guarding pick-and-roll ball handlers.
According to Synergy Sports, Indiana's transition defense is the second worst among all Big Ten teams. The Hoosiers are 251st nationally in transition defense, allowing 1.05 points on transition possessions. Only Illinois at 1.07 allowed is worse.
The Hoosiers are better in pick-and-roll possessions, according to Synergy, but still have plenty of work to do. Indiana is seventh among Big Ten teams and 142th in the country in guarding ball handlers out of the pick-and-roll.
And although it's not a huge component of defense at the college level (only 7.1 percent of all defensive possessions the Hoosiers have played), IU is just 315th nationally in guarding isolation situations, according to Synergy. In 82 isolation possessions, Indiana has allowed 77 points. Of Big Ten teams, only Northwestern is worse. Indiana is also in the bottom half nationally in guarding off of screens and hand offs, according to Synergy.
Add it all up and it becomes clear that, for all the complaints about Indiana's offensive struggles and stagnation at times, the defense is a bigger source of the problem. Indiana has dropped off offensively from a season ago, but that was somewhat expected given the personnel losses in Yogi Ferrell, Troy Williams, Max Bielfedlt and Nick Zeisloft. The expectation was that the Hoosiers, with a bigger frontline and more length, would be able to make up for it with a better defense. Fifteen games in, that hasn't been the case.
Filed to: Defense