What to Expect: Rutgers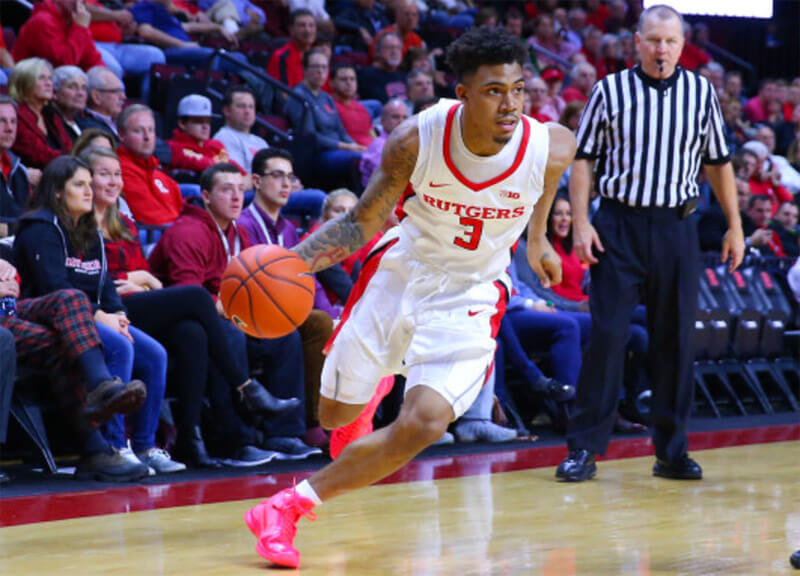 Indiana returns home on Sunday for a matinee matchup with Rutgers at Simon Skjodt Assembly Hall. The Scarlet Knights are 11-7 overall and 0-5 in the Big Ten.
The game will be broadcast at 12 p.m. ET on BTN with Jeff Levering and Shon Morris on the call:
It's a new era for Rutgers basketball and there may finally be light at the end of the tunnel for a program that's been the doormat of the Big Ten since arriving for the 2014-2015 season. The Scarlet Knights are unlikely to avoid finishing in the cellar of the Big Ten, but they may finally have a coach capable of producing a successful rebuild.
Steve Pikiell, who built Stony Brook into a power in the America East Conference, already has Rutgers far more competitive in the Big Ten. The conference record thus far isn't indicative of that, but Rutgers is coming off losses to Iowa and Northwestern that were both very competitive.
Indiana, meanwhile, is just 1-3 in the Big Ten and in desperate need of a win. The Hoosiers have dropped five of their last eight games. Indiana's league schedule is road-heavy the rest of the way, so it's a must for the Hoosiers to take care of home court to have a shot at finishing better than .500 in the league. It's not the position Indiana expected to be in at this point, but it's the current reality with this group.
MEET THE SCARLET KNIGHTS
Rutgers has balanced scoring with four different players averaging in double figures.
The starting backcourt is junior Nigel Johnson, a Kansas State transfer, and sophomore Corey Sanders (pictured) who looked at his professional options before opting to return to Piscataway.
Johnson is the team's leading scorer (11.9 ppg), but has been horribly inefficient in Big Ten games. In five Big Ten losses, Johnson is shooting 30.2 percent on 2s and 23.8 on 3s. He's taking 26.3 percent of the team's shots while on the floor, the 13th highest percentage in the Big Ten.
Sanders is incredibly talented, but also struggles with efficiency. He's got the ninth best assist rate in conference play (22.2 percent), but is hitting just 30 percent of his 3s and 37.7 percent of his 2s. He's using the fifth highest percentage of possessions of any Big Ten player in league play.
Junior guard Mike Williams comes off the bench and averages 10.5 points per game. Like Johnson and Sanders, he's a low efficiency shooter. In Big Ten games, Williams is shooting just 31.8 percent on 3s and 33.3 percent on 2s.
Deshawn Freeman, a 6-foot-7 junior forward, is the anchor in the frontcourt. Freeman averages 11.7 points, second on the team, and a team-high 8.8 rebounds per game. Freeman is finishing 50 percent of his 2s in Big Ten games and ranks in the top 20 in both offensive and defensive rebounding percentage.
Senior CJ Gettys, a 7-foot, 280 pound graduate transfer from UNC-Wilmington, has been decent on the glass and an adequate shot blocker through five Big Ten games, but is converting just 40.7 percent of his field goal attempts. Gettys is a plodding big man who IU should look to expose in transition.
Other names to know in the Rutgers rotation are Candido Sa, Issa Thiam and Jonathan Laurent.
Sa, a 6-foot-9 native of Portugal, is 20th in the league in block percentage. Thiam, a 6-foot-9 native of the Senegal, isn't afraid to shoot, but is just 3-of-18 from the field in conference games. Laurent is a 6-foot-6 sophomore wing that can finish at a decent clip (57.1 on 2s in Big Ten play).
TEMPO-FREE PREVIEW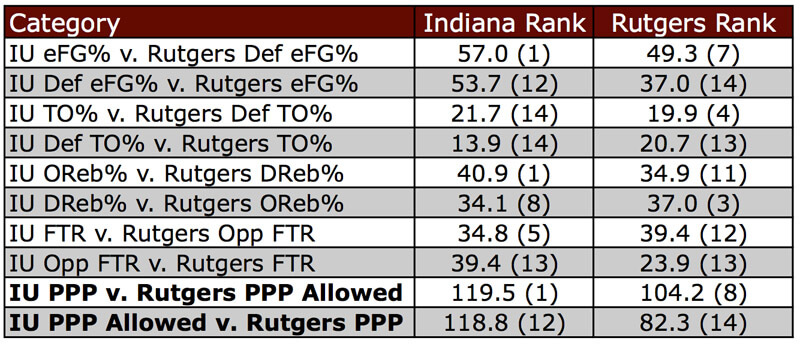 We've transitioned to conference-only stats for these charts moving forward and it really lays out some of the extremes on IU's overall profile.
The Hoosiers are the Big Ten's best offensive unit despite having the league's worst turnover percentage. That's driven by elite shooting and offensive rebounding. Defensively, Indiana is 12th in points per possession allowed, 13th in opponent free throw rate and 14th in opponent turnover percentage.
The standout on the Rutgers profile is the offensive rebounding. The Scarlet Knights are third in the league in offensive rebounding percentage. Rutgers has the Big Ten's worst offense at just .82 points per possession. Given that Indiana's defense has yet to give up fewer than 1.14 points per possession in a league game, it's worth tracking how much resistance the Hoosiers put up against a mediocre offensive team.
WHAT IT COMES DOWN TO
Indiana is a 15-point KenPom favorite and a 16-point favorite according to the Sagarin ratings.
It probably goes without saying, but this is a must-win for Indiana. A 1-4 Big Ten start, including three home losses, would be a catastrophe. If you believe in the theory of building momentum going into the next game, the way Indiana plays on Sunday is far more important than just getting a win.
The Hoosiers have a season defining stretch coming after the Rutgers game: at Penn State, Michigan State at home, at Michigan and at Northwestern. Anything less than 2-2 in those games and the prospects for a winning record in the Big Ten begin to look slim. And a subpar performance against Rutgers, even in a win, isn't a way to springboard the Hoosiers into that stretch with any confidence.
Yes, it's still early in Big Ten play, but time is running thin on Indiana to turn this season around.
(Photo credit: Rich Graessle, Rutgers Athletics)
Filed to: Rutgers Scarlet Knights