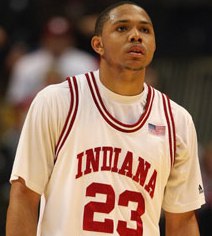 I'm sitting on my couch now — I tend to do that a lot in the evening — and I'm watching Eric Gordon for the first time this season, as his Clippers are taking on my Bulls. I had almost forgotten how he played, but his first drive to the bucket snapped my memory back to its right place: he's so strong, so smooth, he just looks like he belongs on a basketball court. This is what he was born to do. I love his game.
So, it was sort of random happenstance that Jeff Rabjohns of the Indianapolis Star dropped this exclusive interview with Eric Gordon this evening. And, in agreement with that Sports Illustrated article from October, it looks like a lot of kids were doing drugs on the team.
"It was the guys that were doing drugs that were separate," Gordon told The Indianapolis Star in an exclusive phone interview this week, speaking publicly for the first time about the issues that played a part in a once top 10 team failing to win a single postseason game.

[ … ]

Gordon didn't disclose which players used drugs, but he said D.J. White and two others still on the team were among those who did not. Attempts to reach White and several other former players were not successful.

Gordon said Sampson "tried to stop it," but the coach "was just so focused on basketball and winning and everything."

Gordon said he spent considerable time with a family friend in Bloomington because the atmosphere around some players was so bad he didn't feel comfortable on campus.

"Sometimes it felt like it wasn't even a real basketball team because of all the turmoil that went on," said Gordon, now a starting guard for the Los Angeles Clippers. "I was just thinking about that the other day. It was so crazy that all that stuff threw off a good season and made it a waste, basically.

"It was really tough for us to be around each other all the time off the court because we were so separate."
OK: So, Alex sent over this Dan Wetzel column this morning, and then we got it e-mailed in, and you've all been talking about it in the comments. This one needs its own post. When I finally got to reading it just a bit ago, I was expecting some over-the-top "IU needs to be punished way more" bit that had little –if any –sound reasoning. This is what I garnered from how it was being discussed.
But I don't know. That's not what I got out of it. Though Wetzel did sort of skip out on the fact that Kelvin Sampson and Rob Senderoff got completely served with the show cause, and thus some people involved got hit pretty hard — unlike IU, who at the end of the day just got self-imposed sanctions (part of his argument) — it seemed to be more of a rant against the NCAA practices in disciplining large vs. small schools than against IU for not getting harshly penalized enough. He's just looking for equal treatment. Also: He argues the NCAA using the fact that our program is in disarray for the moment should have nothing to do with how the sanctions played out.
The NCAA just didn't have to base its satisfaction with IU on an illogical (and inaccurate) standard.

[ … ]

The statement spoke to the NCAA's history of going easy on powerhouse programs while burying small schools.

Few places have more power than Indiana. Its basketball program is one of the NCAA's top television draws. Its former campus leader is current NCAA president Myles Brand.

Maybe that's why the NCAA feels bad for Indiana's current condition.

[ … ]

If the NCAA had limited its explanation to praising the school's efforts and noting its 50-year record of compliance, that would've been fine. But it didn't.
There's no shortage of reaction to today's announcement from the NCAA Infractions Committee. As always, the guys over at The Hoosier Scoop are right on top of it.
— Kelvin Sampson's official statement
— Audio: Tom Crean reacts to NCAA ruling
— Greenspan and McRobbie reaction
— Kent State backs Senderoff
You can also listen to the entire NCAA teleconference that took place this afternoon by clicking here.
At 4PM EST this afternoon, the NCAA officially released its findings of an investigation involving Kelvin Sampson, Rob Senderoff and the Indiana University men's basketball program.
You can read the 60-page report by clicking here.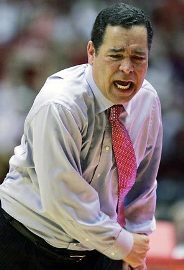 Take a deep breath. And then take a sigh of relief.
After a lengthy investigation, the NCAA Infractions Committee has decided that Indiana's self-imposed sanctions are sufficient and that no further penalties to the men's basketball program are warranted.
IU will have a probationary period of three years in which it will need to maintain a clean slate in order to avoid further sanctions.
The story was first reported by Terry Hutchens of The Indianapolis Star and Doug Wilson of the H-T/Hoosier Scoop.
The self-imposed sanctions, announced in October 2007 by Rick Greenspan and Grace Calhoun, included the following:
A second year of restrictions on recruiting calls tighter than is permitted by the NCAA.
Reduced Kelvin Sampson's off-campus recruiting opportunities and took away a basketball scholarship for 2008-09. The off-campus recruiting penalties were extended to Tom Crean after he took the job in April, but IU opted to allow Crean 10 days to recruit off-campus.
The basketball staff also had one less coach available for recruiting during the 2007-08 recruiting year.
Sampson also voluntarily agreed to forego a $500,000 compensation increase for the 2007-2008 season.
Sampson and former assistant coach Rob Senderoff were not as fortunate. Sampson received a five-year show cause order and Senderoff a three-year show cause order.
Under a show cause penalty, a school must show cause for hiring a coach to avoid being sanctioned. Since Senderoff is currently an assistant at Kent State, it's unclear what his future will be as a member of their coaching staff after this ruling.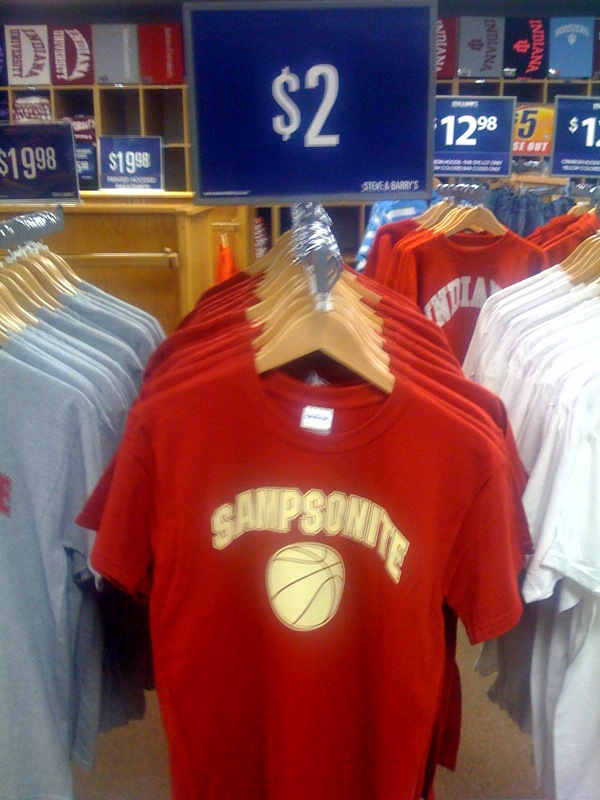 I almost bought a few of these, but opted for two longsleeves for $15 instead. What a deal!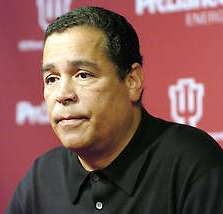 Not that you don't already despise Kelvin Sampson enough (at this point, what IU fan doesn't?), but the legal bills are starting to roll in from Ice Miller and a tuition hike is on the horizon if things keep up at this pace.
The diligent Chris Korman of the H-T/Hoosier Scoop has the details:
Indiana has been charged $249,806.39 by the Indianapolis law firm Ice Miller for its work on investigating violations committed by the men's basketball program and assisting the university in its dealings with the NCAA regarding the matter.

But that tab — calculated using billing records obtained Thursday by The Herald-Times through a public records request — covers only charges accumulated between the months of July 2007, when the investigation started, and March 2008.
It's anyone's guess where this tab will end up when it's all said and done, but IU is already well over a million if you include Sampson's buyout. Anyone got a guess on a final number that this fiasco will end up costing the school we love? If the over/under is $2 million, I'm taking the over.