Gordon talks about Sampson; Chad Ford talks about his draft position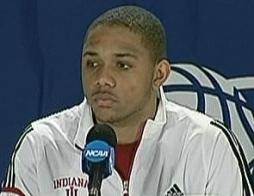 With all of the NCAA allegations/recruiting news going on in Bloomington over the past month, we haven't had a chance to update you on Eric Gordon and his NBA Draft stock. Gordon is down in Orlando participating in the "combine" portion of the pre-draft camp. Rather than working out, he's being tested for strength, agility, speed and size.
He's also going through some interviews and here's what he told Jeff Rabjohns of The Indianapolis Star about his old buddy Kelvin Sampson:
"We had a real good relationship. After all the stuff I've been through in college with Illinois and Indiana and all that and for me to play for him my first year of college, we got pretty close. It'd be neat (to play for him in the NBA), but there's a lot of other good coaches out there. I don't want to just be specific on playing for him."
Let me translate. Since I'm a really nice kid and don't want to throw Kelvin under the bus, I'm going to say that I enjoyed playing for him, but I'm really looking forward to a fresh start. If I was Gordon, the last thing I'd want during my rookie season is to answer questions about IU and Sampson.
Meanwhile, ESPN draft guru Chad Ford has the latest on Gordon's wrist and a list of teams that are interested in his services:
Gordon said his wrist is totally healed and he's back to being a dead-eye behind the arc. The thing that stuck out to me about Gordon was his size. He is so wide for a guard. He looks like a 6-foot-4 power forward. Given his athleticism and quickness, that size will serve him well in the pros. He's significantly bigger than Mayo or Jerryd Bayless.

Sources say that Gordon will likely fall to either Seattle at No. 4, the Knicks at No. 6 or the Clippers at No. 7. On potential, he could be the third- or fourth-best player in this draft. If his jumper is falling in workouts, his stock will be quickly repaired.
If Gordon shows that his wrist is 100% and has the range he exhibited early in the season, I see no reason why O.J. Mayo or Jerryd Bayless would go ahead of him. Gordon might be the best pure scorer in the draft and his body is more than NBA ready. Let's just hope he doesn't go to the disaster also known as the Knicks.
Filed to: Eric Gordon, Kelvin Sampson, NBA Draft