Kelvin Sampson responds to NCAA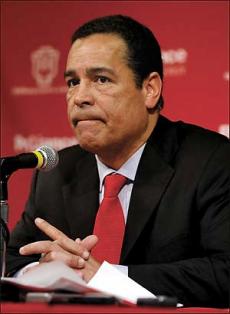 With IU responding to the NCAA today — and agreeing with all the investigators had to present — Gary Parrish of CBS Sportsline provides Kelvin Sampson's response to the allegations. Apparently, he wrote a nice little letter to Myles Brand and company.
Here's my favorite bit:
When I arrived at Indiana University, I hired an experienced staff and made my expectation of strict compliance with NCAA rules and with the restrictions imposed upon our staff very clear. As set forth in detail in the body of my Response, each member of my staff confirms that my expectations were made clear. I endorsed and cooperated fully with the monitoring systems set in place by Indiana's athletics compliance staff. I relied upon the monitoring program that was set in place. Again, the statements of my staff as set forth in my Response confirm this. I told my staff repeatedly that I never again wanted to go through an experience like I had in the Oklahoma case and that we as a staff needed to completely buy into the monitoring systems implemented by Indiana's compliance program.

[ … ]

Accordingly, I cannot adequately describe in words how stunned I was to learn from Mr. Greenspan later that summer that the compliance office's review of my staff's phone records had revealed possible violations. First, I could not believe that if in fact the records showed violations, some since my staff's earliest days at the University, the matters had not been detected and brought to the attention of Mr. Greenspan and myself much earlier so they could have been addressed in a timely fashion. And second, given how strongly and frequently I had communicated to my staff that I expected 100 percent compliance – I could not believe that NCAA rules and Committee on Infractions' imposed restrictions had apparently been disregarded.
Look: Kelvin could very well be right here. (Not likely, though.) But knowing what we know, for him to have the audacity to try and pin this on the compliance staff, that he "relied" on them to do their job, that there was really nothing wrong from his end, well, that's just some weird logic.
When this stuff originally hit, he said he didn't "knowingly" violate any rules. And in this letter, again, he didn't really place anything on himself. At some point — especially when you've been caught for this stuff before — you have to at least place some of this on yourself. Even if you didn't think you were doing anything wrong, you were still doing something wrong.
Or I guess you can take a buyout, get a job in the NBA and peace out of the college game for good. That works pretty well, too.
Filed to: Kelvin Sampson, NCAA allegations