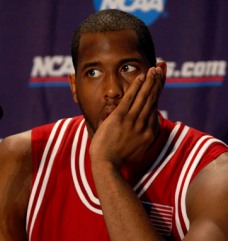 Now that I've had a couple of hours to digest the debacle earlier this afternoon at Penn State, I've collected my thoughts on the game, the direction of this team and the program.
E will weigh-in with more in The Morning After, but this was a game the Hoosiers needed for NCAA seeding purposes as well as confidence. Five games in, it is clear that the Dan Dakich era is not going well. A lot of people are commenting that Ray McCallum should have been the choice to replace Sampson, but that move wasn't made because IU didn't want to chance having McCallum's name show up later in any NCAA allegations.
Dakich suspended Jamarcus Ellis for today's game in a move that many are interpreting as the coach trying to "get control" of the team. Ellis was somewhat of a loose cannon in the Northwestern game and just hasn't been disciplined since Sampson left the program. It'll be interesting to see how he responds to the suspension and if he's in uniform on Friday. IU is certainly a better team with Ellis, but if he's a detriment to the team, it's hard to justify keeping him around. No one, after all, is bigger than the program.
This team still has a chance to salvage the season, but to be perfectly honest, how can we expect this to end well? The energy and enthusiasm on the court has plummeted since Sampson departed. This is clearly a different team. The intensity on defense is sporadic at best and there is no sign of a structured offense being executed. Perhaps more concerning is the body language of the players during timeouts. Even Adam Ahlfeld has lost some pep in his step. The "us against the world" attitude that many of us expected to kick in has yet to materialize. Most of the players look like they're ready for the nightmare to be over.
Looking to the future, it is clear that Indiana needs to make a home run hire this time around. Mike Davis and Kelvin Sampson both set the program back and another mistake would be catastrophic. Out of respect to the team, we've done our best to keep the coaching talk to a minimum. We'll get into it full bore once the season ends and when speculation merits discussion.
For now, I'm interested in hearing how you feel about where this team is headed. Do you have any optimism that this team can make a run? Or is a first round loss in the NCAA Tournament on the horizon? Thoughts in the comments, por favor.
Filed to: Dan Dakich, Jamarcus Ellis, Kelvin Sampson, Mike Davis, Ray McCallum