The Morning After: Penn State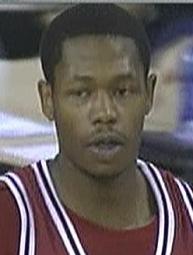 Bad decisions. If you can boil down IU's entire struggle with injured little meek please-govnah-don't-hurt-us Penn State yesterday, that was it. Bad decisions.
Bad decisions from the three-point line. Bad decisions in the post. Bad decisions on defense. Whatever bad decision Jamarcus Ellis made in between now and last Wednesday. Most especially, bad decisions in the final minutes of overtime, a time when inside buckets could have helped keep the Hoosiers afloat. Bad decisions when IU opted for three-pointer after three-pointer. Bad decisions that neglected D.J. White too often and made IU look too little like the team it could have been on the eve of the Big Ten Tournament.
— The optimist in me wants to ignore the various deficiencies today. Instead, it would be just as easy to chalk this game up to late-season fatigue and apathy, similar to the ugly first 30 minutes of Wednesday's win over the Tubby Gophers. Sunday's first half was a display of rampant sluggishness, followed by a second half of disorganized frenzy. Both halves yielded very few made shots for IU. Neither of those things are necessarily an indictment of the team if they happen once or twice in a row, but now, since Kelvin Sampson was fired, they have happened five straight times.
We've been over this before, but let's look at it again:
— Win at Northwestern, in a game that makes NU's gimmicky offense and Kevin Coble look like UNC and Tyler Hansbrough. Lucky that Northwestern's defense is just incompetent enough to keep IU in the game throughout.
— Win over Ohio State at home in a game that, as you were watching, felt like the Hoosiers should have been playing far more convincingly. That's gut-feeling stuff and admittedly not very tangible, but you know what I'm talking about. (Though with Ohio State's win over Michigan State, at least the Buckeyes look like a tournament team again.)
— The drubbing at Michigan State. Let's not review that one again.
— Ugly 30 minutes vs. Minnesota. Eventual win thanks to briefly revived offense.
— Sunday's loss.
See what I mean? There's a trend there, a trend of serious systemic defensive problems, of sporadic offensive lapses, and of playing down to the level of the opponent. To chalk that up to bad shooting is to do a disservice to just how mediocre IU has been over the past three weeks. Three in a row is a trend. What does that make five?
— With that disclaimer aside, IU did shoot really, really poorly. In a game that saw IU chuck up 33 threes, even a slightly better performance — an extra two or three shots — would likely have assured victory. Instead the Hoosiers went 7-33 for three (including 1-7 in overtime), a performance that doomed their chances.
What's especially frustrating is not that IU missed a lot of shots. That happens. What's worse is that after the first two halves, IU still felt it necessary to take most of their shots from three. One would think that 40 solid minutes of perimeter futility would encourage a team to get their All-American center — who was 8-11 Sunday — a few more touches. Apparently not.
— Despite the disappointing result ("Disappointing result?" This stuff is making me write in boring coachspeak) there were a few positives. Chief among them: With another five or six or 15 touches, D.J. might have had a career night. After a few weeks of shaky shooting, Eric Gordon found, at least for a time, his shooting touch. And most of all, Kyle Taber was the role player IU needs. Finally. He exists.
Taber has been doing this for a while now, but it was on display more than ever Saturday. He rebounded. He kept plays alive. He defended the off-post position well. He was everything Lance Stemler was expected to be over the past year and a half.
What's the difference? Taber has an extra inch or so of height on Stemler, but he isn't stronger, can't jump higher, and isn't more skilled. Why is he effective and Stemler (usually) isn't?
My quick, maybe half-baked theory on why Taber works in this role and Stemler doesn't: Throughout Lance Stemler's basketball upbringing, he was a shooter. His three-point shooting at the JUCO level was not only impressive, it was prolific. When he came to IU, he was supposed to be an outside shooter with a dash of hustly role player to boot. When it was clear that Stemler wasn't hitting the open three's he was brought on to hit, Sampson converted him almost entirely to an off-post role player. (This is after Ben Allen made it clear he had no interest in the job, though Sampson bungled Allen's handling in equal measure.) Anyway, Stemler became the role guy in his first year of Division I basketball.
Lots of players have to make this adjustment, but Kyle Taber isn't one of them. For two (three? LOOK UP) years now, he's had a few things hammered into his head in practice. It's your job to rebound. it's your job to tip balls and keep them alive. It's your job to defend. It is not your job to shoot or contribute in any way offensively besides wide-open, putback layups.
Some players are cut out for this role. Kyle Taber appears born for it. Stemler never really quite got it. The differences are obvious.
— There's Big Ten Tourney analysis to be done, but the time is not at the end of this particularly long piece of drivel. Heads up for that. In the meantime, enjoy your thoroughly tempered expectations. And as always, thoughts in the comments.
Filed to: Ben Allen, D.J. White, Eric Gordon, Jamarcus Ellis, Kelvin Sampson, Kyle Taber, Lance Stemler, Penn State Nittany Lions