Hoosiers fall to Penn State in Happy Valley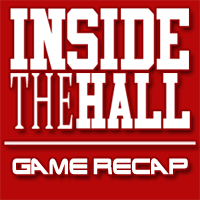 A game that Indiana hoped would be a tuneup for the Big Ten Tournament turned into a nightmare Sunday afternoon at the Bryce Jordan Center in University Park, Pennsylvania.
The Hoosiers (25-6, 14-4 Big Ten) shot a dismal 21 percent from three-point range and committed 17 turnovers in a shocking 68-64 overtime loss to Penn State.
The loss dropped Indiana to third place in the Big Ten and sets the Hoosiers up for a 9PM quarterfinal Friday in the Big Ten Tournament at Conseco Fieldhouse in Indianapolis.
Eric Gordon scored 26 points, but shot just 8 of 24 from the field including 4 of 16 from behind the three-point line. Gordon also committed five turnovers. D.J. White posted another double-double with 20 points and 12 rebounds.
Jamarcus Ellis did not travel with the team and reports indicate that he was suspended for disciplinary reasons. Jordan Crawford started in place of Ellis and scored five points on 1 of 8 shooting.
For Penn State (15-15, 7-11), D.J. Jackson had 13 points, Jeff Brooks added a career-high 12 and Talor Battle had 10. Ed DeChellis' club was playing with its leading scorer, Jamelle Cornley, who sat out with a knee injury.
Related:
Filed to: D.J. White, Eric Gordon, Jamarcus Ellis, Jordan Crawford, Penn State Nittany Lions, Talor Battle