Around the Hall: Dakich, Meyer, Greenspan and more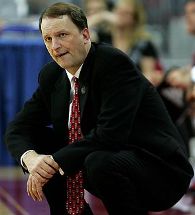 — Dan Dakich talked to Terry Hutchens of The Indianapolis Star and the former interim coach addresses Kelvin Sampson, Armon Bassett, Jamarcus Ellis and the overall state of Indiana basketball. Dakich will get $180,000 promised to him by the university and hopes to coach somewhere next season. Dakich was criticized for kicking Bassett and Ellis to the curb, but ultimately, we're all finding out that he was just looking out for a program in desperate need of discipline.
— Former assistant Jeff Meyer denies intentionally violating rules in his response to the NCAA obtained by The Indianapolis Star.
— Bob Kravitz raises some excellent points about Rick Greenspan and wonders how the AD is still employed by IU. Here's my favorite part:
Let's not engage in selective amnesia: former coach Kelvin Sampson was hired by Greenspan. Now, were former school president Adam Herbert and trustee Jeff Cohen the people who most strongly supported Sampson's hiring? Sure. Greenspan had his own favorite — sources tell me it was former West Virginia and current Michigan coach John Beilein — but Sampson was among the three candidates Greenspan sent to the trustees.

Ultimately, Greenspan signed off on this terrible hire, and on the day Sampson was introduced, Greenspan happily stood out front and sang Sampson's praises.

You can't have it both ways.

Or can you?
— Eric Crawford of The Louisville Courier-Journal writes that the self-imposed sanctions are not sufficient and that IU should pay for hiring Kelvin Sampson.
— And finally, Terry Hutchens has an update on IU's self-imposed sanctions. Tom Crean has seven days of off-campus recruiting to use in July, IU has added two paid official visits and the staff will lower its frequency of correspondence with Derek Elston (who was named in the NCAA's report) from seven times to six times for the upcoming school year.
Filed to: Bob Kravitz, Dan Dakich, Jeff Meyer, Kelvin Sampson, link dump