Report: Spurs hire Sampson as an adviser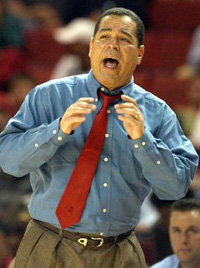 According to a report by theIndyChannel.com, the defending NBA champion San Antonio Spurs have hired former Indiana coach Kelvin Sampson as an adviser. Here are the details:
The San Antonio Spurs have hired Kelvin Sampson as an adviser, days after he resigned as Indiana University men's basketball coach amid allegations he committed major NCAA rule violations, 6Sports Director Dave Furst reported Thursday. Sampson was in San Antonio's arena during the Spurs' 108-97 win over the visiting Indiana Pacers. He is expected to advise the defending NBA champions for the next few weeks, Furst reported. Hiring advisers is nothing new for Spurs head coach Gregg Popovich. He has hired several coaches in this capacity through the years.
I'm not exactly sure what an "adviser" does on an NBA team. Considering most NBA players don't even like to be coached, the role of an "adviser" can't be too important. There had been speculation ever since Sampson's resignation/firing that he'd land in the NBA and if this report is indeed accurate, it sure didn't take long. Sampson is said to be a good friend of Popovich and this gig should keep him occupied until he faces the music in front of the NCAA in June.
The Indianapolis Star also has a report on this with some quotes from Sampson. In usual Sampson fashion, the quotes reveal next to nothing. Shocking!

Filed to: Kelvin Sampson, San Antonio Spurs