Report: Crean to go on the road for 10 days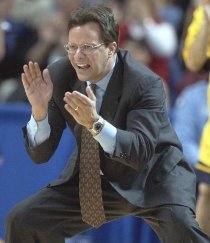 Forgive the delay in getting to this, it was a busy day of travel for yours truly, but Chris Korman of the H-T/Hoosier Scoop is reporting that IU has amended its self-imposed sanctions and is allowing Tom Crean to go on the road recruiting for 10 days.
Indiana University has amended the sanctions it imposed on the men's basketball program, according to a source close to the athletic department. The school has granted new coach Tom Crean ten days to go on the road and recruit.

When Indiana put the punishment in place last fall, it limited Kelvin Sampson to 10 recruiting days from Oct. 5 2007 through July 31, 2008. Sampson used most of those days. Dan Dakich used the rest of them.
This is a bit surprising to me simply because one has to believe that IU is doing everything in its power to stay in line leading up the NCAA hearing in June. I'm not suggesting that this is specifically "out of line," but it does go against what IU put in place last fall.
Perhaps the idea was "floated" to NCAA officials and got a favorable response from the powers that be. Whatever the case may be, if Tom Crean can pull three recruits from his office in B-town, he's going to be really dangerous for the next 10 days.
Filed to: Kelvin Sampson, Sanctions, Tom Crean