McCallum Jr. to Detroit Country Day?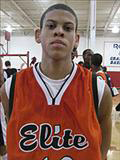 With Ray Sr. headed to Detroit, Ray McCallum Jr.'s days at Bloomington North appear to be numbered and the buzz is that his destination will be Detroit Country Day to finish out his high school career.
McCallum Jr. is currently playing AAU with Indiana Elite along with 2009 commitment Bobby Capobianco as well as Stephan Van Treese, D.J. Byrd (Purdue), Mason Plumlee (Duke) and Colt Ryan.
If Detroit Country Day sounds familiar, it's because the school also produced Shane Battier and Chris Webber.
Filed to: Ray McCallum, Ray McCallum Jr