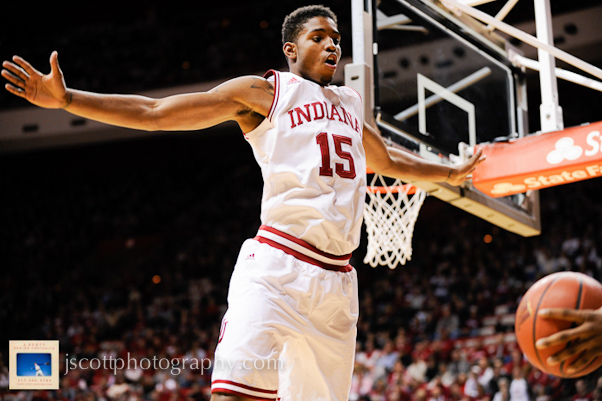 With the start of college basketball season on the horizon, we're taking a long look at the conference at large as well as Indiana's roster this month. Today, we continue our look at Indiana's roster with Devin Davis.
As questions still linger about just what Hanner Mosquera-Perea will bring to Indiana's frontcourt, Devin Davis enters the 2014-2015 campaign as perhaps the Hoosiers' closest thing to a known commodity.
Offense wasn't a strong suit of his game last season as a freshman, and it's unlikely Davis will be in line for a featured offensive role this year. What Davis may lack in height, he makes up for with a strong frame — putting on about 10 pounds of muscle this offseason — to bang in the post and muscle for rebounds. Which, along with finishing the opportunities he's given, might be all the Hoosiers really need out of him in the frontcourt this season with its host of scoring options on the perimeter.
Davis attempted just 18 field goals over five games in Canada, but made an impressive 14 of them to shoot 77.8 percent for the trip. He also returns as the team's top offensive (11.4 offensive rebounding percentage) and defensive (21.5 defensive rebounding percentage) rebounder among regulars. Davis ripped down 16 boards in 19 minutes during Indiana's first game in Canada. With Indiana lacking in the rebounding department heading in this season, it's an encouraging sign. Though, Davis would have just three rebounds in 22 minutes the next game.