Indiana planning for return of Devin Davis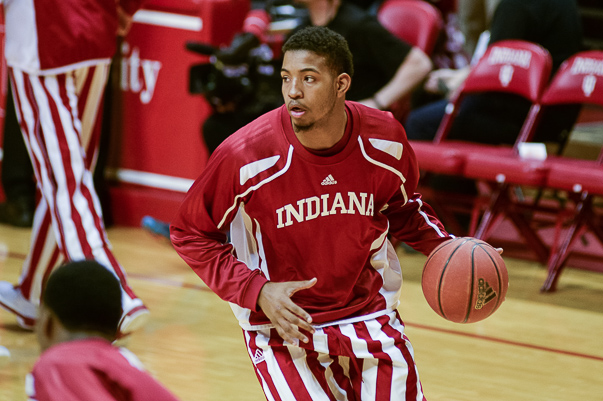 Indiana's frontcourt will get a major boost with the addition of McDonald's All-American Thomas Bryant next fall. But the Hoosiers also hope a familiar face will return as a significant contributor.
Devin Davis, who missed the 2014-2015 season following an accident in the early hours of Nov. 1, continues to make progress in his rehab, Tom Crean said Wednesday.
"He's doing everything everybody else is doing except he does not play and he doesn't get any contact," Crean said. "But we won't know probably – we'll know a lot better in the summer, but we may not totally know until we get into the school year, but am I projecting him to be here? Well, certainly in my own mind I am, but does that mean he is completely? Not yet. Medically speaking not yet."
During IU's foreign tour last August, Davis looked like a player who was ready to take a major step forward in his sophomore season.
He'd put on 10 pounds of muscle and seemed much more comfortable playing away from the basket with the ball while still maintaining his aggressiveness around the basket. His 7.6 rebounds per game over five contests in Canada led the Hoosiers. In a 95-85 win over perennial Canadian power Carleton, Davis had 13 points and six rebounds. He also had a 16-rebound performance on the trip.
"You saw him in Montreal," Crean said. "You guys saw the Carlton game, right, and I've said this numerous times in the past, he was coming off his best week that he'd had at Indiana, last guy off the court that Friday afternoon, and then Friday night it all changed, right. I mean, it's very easy to say he could have been a starter last year, right, based on where he was heading."
With Bryant officially on board, a senior in Hanner Mosquera-Perea returning and Emmitt Holt, who showed flashes of what he's capable of as a freshman, Indiana's frontcourt could develop into a strength rather than the weakness it was at times last season.
The Hoosiers were a below average team nationally in defensive rebounding and also were just 13th in Big Ten play in shot blocking percentage. Bigger teams like Purdue and Michigan State bullied Indiana at the rim and the Hoosiers simply had no answer. Adding Bryant and a healthy Davis could change that.
"We've got a chance to be a different type of team," Crean explained. "When we lost hard, tough, physical games, the other team was a little bit more physical, a little bigger, sometimes a lot bigger, and better at those things. Was it age and inexperience and body size? Probably some. But some of it was also length and being able to match up with those guys better."
While Crean stopped short of saying Davis would be able to play for certain next season, there's plenty of optimism as he continues to heal from the traumatic brain injury that hospitalized him for several weeks.
Davis, who averaged 2.4 points and 2.6 rebounds as a freshman, has three years of eligibility remaining.
"I'm certainly hoping. Nothing has changed in the sense that he's not getting contact," he said. "But I'm certainly hopeful that he will be."
Filed to: Devin Davis