Indiana adds "transformative" piece in Thomas Bryant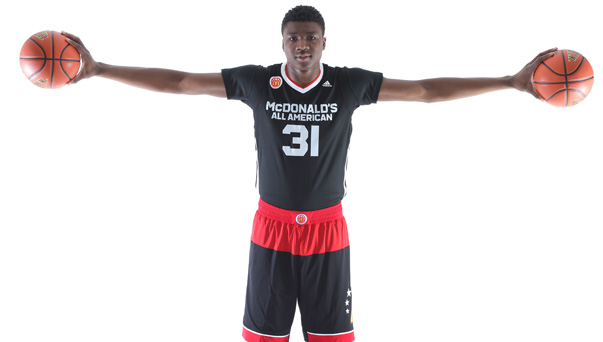 Indiana coach Tom Crean believes the Hoosiers finally have their big man.
Speaking on Wednesday afternoon at Assembly Hall, the Hoosiers coach couldn't hold back his enthusiasm and excitement about the future.
Thomas Bryant, a 6-foot-10 center from Huntington Prep (W.V.), had officially signed his National Letter of Intent with Indiana.
"It's a transformative sign for us," Crean said. "Going into another part of the country and getting a guy that is not only an excellent player, but getting somebody that comes in here with an infectious attitude and an infectious energy, that's exactly what we needed.
"We needed the presence of an inside player. That's obvious. But he's so much more than that."
Just one day prior to Crean's announcement on Wednesday, the Hoosiers' coach and assistant Chuck Martin were in West Virginia, meeting with Bryant. It completed the long recruitment Indiana committed toward Bryant, one that Crean said he was fully invested in from the first time he saw Bryant on tape.
Yes, this 6-foot-10, 225-pound center "pounded the ball," whether it be dunking or blocking the ball. Yes, he was a highly rated recruit. What stood out to Crean more than anything, though, was his demeanor on the court.
"In Thomas's case, it was how excited he got for his teammates," Crean said. "Watching the game tapes and watching how he was with his teammates, watching how he responded to coaching, it all started with a tape."
Throughout last summer, Crean said he made it a commitment to watch Bryant. In Las Vegas. In Augusta, Ga. In Colorado Springs, Colo. "We didn't miss a thing that he did," Crean said.
He saw Bryant as someone that could bring "personality and energy to this program." Someone that was just as excited by his teammates' successes as his own.
"You've got to find something that makes you passionate about them, and it shouldn't just be their talent, it shouldn't just be their size, it shouldn't just be that," Crean said. "There's got to be something, because you've got to have a reason to separate yourself from them, as well, on how you're going to make them better.
"And we saw a guy that we thought we could really, really help get where he wants to go."
As excited as Crean was to land a player with an "infectious" personality like Bryant's, he admitted the addition meant so much more to the Hoosiers.
He said Bryant, with his size, can run the floor and through the middle of the court — something he said the Hoosiers haven't been able to do since the days of Cody Zeller. He said Bryant gives them a shot blocking threat in the paint — meaning the Hoosiers can utilize the press more. And he said Bryant provides energy — a quality Crean wants in all of his players.
"He comes in with an ability right off the bat because he's a winner, because he's got an attitude of improvement and because he's got an attitude of winning," Crean said. "And he's got that infectious personality and energy that you want in people.
"I think he's going to migrate to these guys right away. I think that he already has in some ways because they're going to see he is a great teammate."
Before Crean spoke with the media on Wednesday, just hours after his return from Huntington Prep, he spent time with former Hoosier Victor Oladipo, who is in town for the week. He reminisced about not only how good of a basketball player the current Orlando Magic starting shooting guard is, but also how great of a teammate he was at Indiana.
As he revelled in the signing of Bryant, a player who Crean believes will be "transformative"  for the Indiana men's basketball program, he couldn't help but already compare the two.
Crean was elated. And he was not shy about it, either.
"I just finished up meeting with (Victor), and when you get around those personalities that are infectious like that and make everybody that much more excited to be doing what they're doing, that's what Thomas is like," Crean said. "And I was with him yesterday, and that's exactly how it is when you're watching him play or sitting there talking with him about what he needs to get better at.
"He's a great teammate. … People just gravitate to him. And I think that's going to be exciting for all the people here."
Filed to: Thomas Bryant