Crean on Devin Davis: "It's going to take time"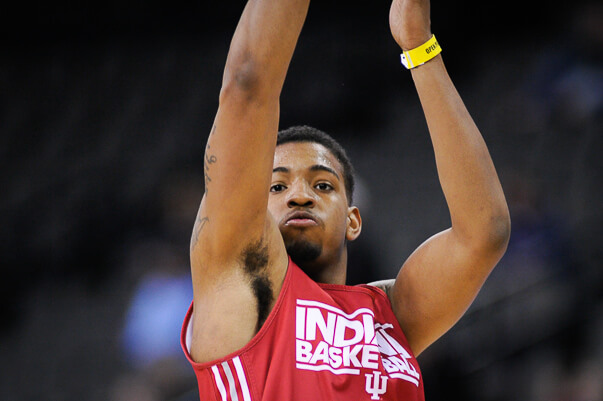 Indiana sophomore Devin Davis, who missed the entire 2014-2015 season after an accident on Nov. 1 that resulted in a traumatic brain injury, is continuing to make progress in his rehab, but there's no firm timetable on his return according to Tom Crean.
On the ESPNU college basketball podcast earlier today with Andy Katz and Seth Greenburg, Crean said that he expects Davis to play again, but added that he still has a long way to go.
"I think the chances are good (that he can return). It's still a long road," Crean said. "He's back doing workouts. We've started our individual workouts yesterday. In fact it's almost 70 degrees here so I walked outside to take this call and he was down in the gym just now when I walked out of there. He just turned 21 the other day, so that was great to see him celebrate a birthday after everything that we went through in November.
"But it's going to take time. We're nowhere near the contact. We're nowhere near where we can get up and down the court. We're pushing him hard, we're trying to get him better with his shot, keep building his conditioning, his strength, but we're still a long ways off before he's going to be able to play but we've been given no indication to believe that we wouldn't be able to do that. But to put a timeline on it, still, even all of these months later, it's still impossible to do."
Davis was hospitalized for 19 days following the accident last November, but was able to return to school for the second semester and even dressed for IU's final regular season game against Michigan State. He also traveled with the team for several games during the second semester.
The Warren Central product has three years of eligibility remaining and averaged 2.4 points and 2.6 rebounds in 8.8 minutes per game as a freshman.
Filed to: Devin Davis