Devin Davis surprise sparks Indiana to 85-72 win over Lamar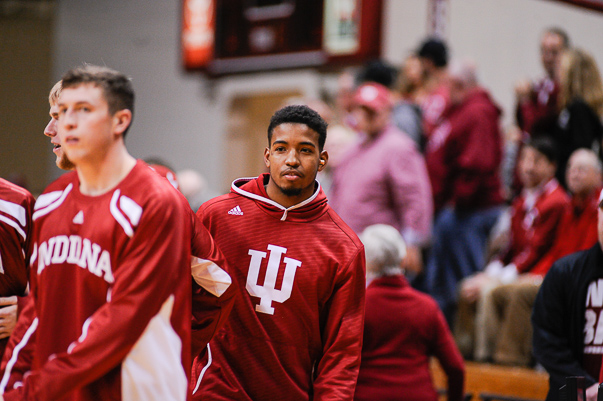 Less than an hour before Indiana's game against Lamar on Saturday evening, sophomore Devin Davis made his way into the Hoosiers' locker room. The event staff, standing just outside, could not help but grin at the occasion.
Just three weeks after a car crash that left Davis seriously injured with a "traumatic brain injury," the Indianapolis native made his first appearance in Assembly Hall since the accident and watched the Hoosiers go on to win, 85-72, over the Cardinals.
As Davis walked in to the locker room, his teammates were on Branch McCracken Court warming up. They had no idea who would be waiting upon their return to the locker room.
So when the Hoosiers routinely jogged off the court and made their way into the locker room, they unexpectedly found Davis inside. The mood instantly changed.
"We were all jumping on him, like dog-piling him kind of," junior Yogi Ferrell said. "We were all happy to see him."
Most of the team had not seen Davis since he was transferred from the IU Health Bloomington Hospital to a facility in Indianapolis nine days ago. He was released from the hospital in Indianapolis on Wednesday and felt well enough to make the trip to Bloomington on Saturday.
Only Indiana coach Tom Crean knew Davis was coming beforehand. The players were all surprised.
"It was really a surprise for him to be here because he's not just a teammate to us, he's like a brother to all of us," freshman James Blackmon Jr. said. "So we were really excited, and it actually gave us a little boost for the game."
When the Hoosiers took the floor for their second set of warmups, each player carried a smile on his face. Davis followed close behind with associate head coach coach Tim Buckley and watched from center court.
On Saturday night, Davis was once again a part of the team.
Despite wearing a sweatshirt and jeans in contrast to the Indiana jackets and candy-striped pants, Davis stood with his teammates on the court during the national anthem. He took part in huddles. He was back with his brothers.
"I wish he could have sat on the bench, but he sat behind," Ferrell said. "He got in the huddles, so it was good to see somebody like that, go through an injury like that, and still out there supporting us and everything, giving everybody pointers. That just makes you real happy.
"Like James said, he's like a brother to us, I've known him for forever. I'm just glad to see him back out there with a smile on his face."
In a game in which the Hoosiers admittedly said they were "slow," in which they allowed an effective field goal percentage of 54, Davis helped provide a spark to get the Hoosiers to their fourth win in as many games.
And despite the uncertainty that Davis will be around for future games in the near future, his teammates were simply grateful Davis was around for a night. Even if it were for just one.
"It was great to have him, and we're looking forward to hopefully having him more," Crean said. "But I don't think that it's anything that we're right now looking to have on a continual basis. But we're proud of the progress that he's making, and it meant a lot for everybody to have him here. It really did."
Filed to: Devin Davis