Right call made in dismissals of Davis, Mosquera-Perea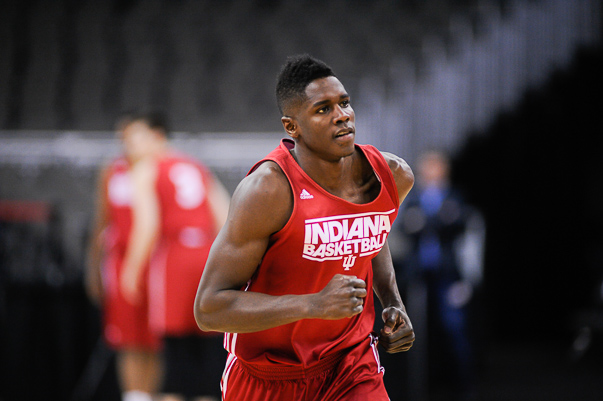 The message sent from IU announcing the dismissals of Devin Davis and Hanner Mosquera-Perea on Thursday was succinct. It needed no further explanation.
Enough is enough.
In less than 35 words, the program announced Davis and Mosquera-Perea failed to live up to their responsibilities. Effective immediately, they were no longer part of the team.
Both players were given second chances by Tom Crean to remain with the program after making mistakes that exhibited a lack of judgement. In Mosquera-Perea's case, it was operating a vehicle under the influence of alcohol on Feb. 14, 2014, which could have resulted – but fortunately did not – in a serious injury. And in the case of Davis, it was a disregard for Crean's advice for 20 minutes earlier that night of what to steer clear of on Halloween night. In the early morning hours of Nov. 1, 2014, Davis was involved in a serious accident that also involved alcohol.
With their poor decisions this week, when Davis was cited for possession of marijuana in an on-campus housing building with Mosquera-Perea also present, both players showed that getting a second chance meant more to Crean than it did to them. And in the process, Davis and Mosquera-Perea lost their futures in Bloomington.
The decision to dismiss them had to be made. They had run out of chances to remain a part of the program.
When Crean reached Sweet 16's in consecutive seasons in 2012 and 2013, his program was led by high character players like Christian Watford, Cody Zeller, Jordan Hulls and Victor Oladipo, who never made headlines for their off the court issues.
But dating back to February of 2014, when Mosquera-Perea was arrested, the program has dealt with arrests and multiple suspensions stemming from an assortment of off the court incidents. All of it came to a tipping point last fall when Davis was hospitalized for 19 days after being struck by a car driven by Emmitt Holt near Memorial Stadium.
But for six months, the focus surrounding Indiana basketball was primarily on the court as the Hoosiers finished 20-14 and made the NCAA tournament after their absence from the postseason in 2013-2014.
This offseason began with great optimism as Thomas Bryant signed with the program and Yogi Ferrell, James Blackmon Jr. and Troy Williams all opted to return to school after exploring their NBA draft options.
As a result, the Hoosiers find themselves in the top 15 in several preseason polls. All of that positive news was apparently not enough for either player to realize that a special season could be on the horizon and both could have been a part of it by simply staying out of trouble.
Those preseason accolades are unlikely to change as a result of either dismissal, but IU's depth certainly took a hit. Now the focus, unnecessarily, has again shifted from on the court to off of it.
There are, of course, no winners as a result of today's news. Crean undoubtedly wants what is best for the players, but ultimately must do what is best for the program as its leader. And for Davis and Mosquera-Perea, the new reality is that both will be looking for new homes to complete their careers.
Filed to: Devin Davis, Hanner Mosquera-Perea, Tom Crean