That's A Wrap: The Other Guys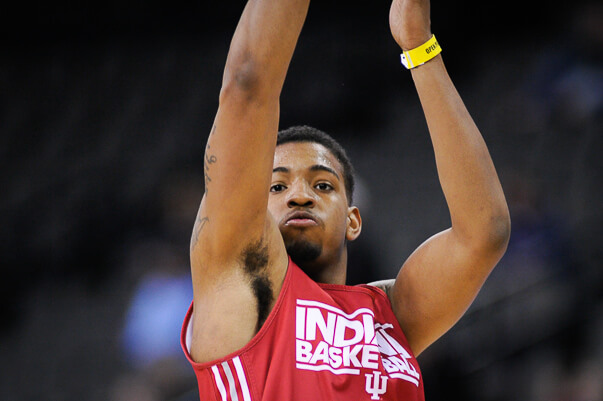 Welcome to "That's A Wrap," our player-by-player recap of the 2014-2015 Indiana Hoosiers. Today: Indiana's minor contributors, including Devin Davis, Tim Priller, Jeremiah April, Nate Ritchie, Jordan Fuchs and Ryan Burton.
Devin Davis: The 2014-2015 season for Davis started as one of potential and hope, as he proved to be a significant contributor and the Hoosiers' leading rebounder during the team's preseason tour of Canada. But days before the Hoosiers' first exhibition game of the season, Davis was involved in a car accident that left him in serious condition with a traumatic brain injury. Not surprisingly, his long-term and short-term health took precedence over making a return to action this season. He is back in classes this semester and is participating in practices with his teammates, but he remains limited in contact drills — still with no guarantees on his long-term basketball playing future.
Tim Priller: It was clear that early on in his Indiana career, Priller was going to be a fan favorite. Maybe it was his hair, maybe it was his (slow) speed, but whenever the 6-foot-9 Texas native touched the ball this season, the Hoosiers faithful begged for Priller to shoot. That said, Priller did not play often and showed little of what he can contribute to Indiana, as his lack of athleticism and lack of offensive prowess kept him sidelined for much of the season.
Jeremiah April: Indiana lacked plenty of size on the court this season, but it wasn't necessarily because it didn't have it on its roster. The 7-foot April was used sparsely this season, and though he showed a flash of what he could do when he scored four points and grabbed two rebounds in three minutes of action during a win against Rutgers in February, he never got consistent minutes in his freshman season. Perhaps he was not ready in Tom Crean's eyes, or he was not giving the effort — both offensively and defensively — that Crean desired, but the Hoosiers' lone 7-footer rarely played in his first season in Bloomington.
Nate Ritchie: Perhaps the highlight of Ritchie's freshman season came during Hoosier Hysteria, when the 6-foot-7 walk-on beat the likes of Hanner Mosquera-Perea and Troy Williams to win the annual dunk contest. But when game time rolled around, Ritchie rarely saw action on the court — earning a total 15 minutes in six games this season.
Jordan Fuchs: More than halfway through Indiana's season, the Hoosiers announced the addition of Fuchs, a scholarship football player who earned a walk-on spot on the men's basketball team. Fuchs played at Christ the King (N.Y.) and in AAU basketball, but his contribution to Indiana was minor in his first season with the Hoosiers. He was coming off a football injury suffered at the end of the season in late November and was thrown into the mix during Big Ten action. Perhaps with an offseason of work on both the basketball court and the football field, he could make more of an impact next season.
Ryan Burton: A walk-on transfer from Bellarmine (Ky.) University, Burton had been a little-known name in the first couple months of his first season at Indiana. But Hoosiers fans quickly learned who Burton was during Indiana's game against Penn State, when Crean inserted the 6-foot-7 junior forward to provide a spark of toughness against the Nittany Lions in the critical moments of the second half. And his three offensive rebounds in that stretch helped spark the Hoosiers to a win. Crean played Burton a few other times after that game with less success, but regardless Burton found a way to make an impact in his first season in Bloomington.
Bottom Line: For several of the Hoosiers' bench players, this season served as an opportunity to earn some playing time while build on their game heading into the 2015-2016 campaign. Burton proved critical in the Hoosiers' win over Penn State. April even made an impact against Rutgers in Piscataway. But overall, several of these players simply weren't a part of Crean's plans for this season. The one exception, of course, is Davis — as he continues his recovery from that critical brain injury with hopes of returning for his redshirt sophomore season in November.
Previously: Robert Johnson, Max Hoetzel, Emmitt Holt, James Blackmon Jr.,Stanford Robinson, Troy Williams, Collin Hartman, Hanner Mosquera-Perea, Nick Zeisloft, Yogi Ferrell
Filed to: Devin Davis, Jeremiah April, Jordan Fuchs, Nate Ritchie, Ryan Burton, Tim Priller