That's A Wrap: Hanner Mosquera-Perea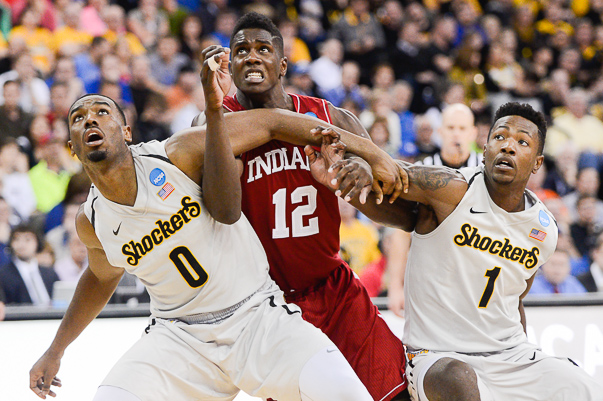 Welcome to "That's A Wrap," our player-by-player recap of the 2014-2015 Indiana Hoosiers. Today: Hanner Mosquera-Perea.
Mosquera-Perea (26 games): 6.5 points, 4.3 rebounds, 1.3 blocks, 8.7 OR%, 59.4 2PFG% in 19.4 minutes per game.
The spotlight was thrust onto Hanner Mosquera-Perea.
Heading into the 2014-2015 season, Mosquera-Perea, who had never started a game in his Indiana career, was slated to start from the five position. At 6-foot-9, he was the Hoosiers' best option at the position — after playing off the bench in his first two seasons behind the likes of Cody Zeller and Noah Vonleh.
Ready or not, it was Mosquera-Perea's time to make a contribution.
And throughout much of the 2014-2015 season, he did just that.
After developing his game through his first two years in Bloomington, Mosquera-Perea showed that the Hoosiers could not only play to him on offense, but through him, as well. He ran the court. He played through the paint. He got to the free throw line. And as his footwork improved significantly, as well, so too did his jump shot.
But in a season that he could have utilized a full 34 games of development, during a practice on Jan. 12, Mosquera-Perea dislocated his right knee. Right in the thick of Big Ten season, he was forced to be sidelined for seven games.
When he returned, he had to be slowly brought back into the rotation — and even then he was forced to miss a game in the Big Ten tournament after reaggravating the injury against Northwestern.
Despite the positives and the injury troubles, there were aspects of Mosquera-Perea's game that hampered his success this season, too. In multiple games, he found himself picking up fouls at far too quick of a pace — which forced him to be sidelined for long stretches.
On defense, too, he never was able to resolve one of his biggest defensive issues — jumping too early. Several times this season, opposing players simply shot-faked, coercing Mosquera-Perea to jump, and then converting an easy layup once Mosquera-Perea was on his way down. That said, his 33 blocks this season are nearly double the amount that he had in his freshman and sophomore years combined (18).
In fact, really all aspects of Mosquera-Perea's on-court contributions skyrocketed in his junior year at Indiana. Now, it's just a matter of finding consistency with his production.
Bottom Line: It was well-known heading into the 2014-2015 season that Mosquera-Perea needed to make a significant contribution to the Hoosiers. Indiana coach Tom Crean had been unable to land a college-ready big man in the 2014 recruiting class, and the 6-foot-9 Mosquera-Perea was the best option he had. And throughout the season, Mosquera-Perea showed aspects of his improvement — mixing his typical array of highlight-reel dunks with offensive rebounds, blocks, footwork and even a jump shot or two. But Mosquera-Perea still showed struggles with defensive timing and foul trouble. And a knee injury kept him sidelined for eight games, too. That said, there is progress. And heading into his senior year, there is optimism, too.
Quotable: "It was a tough season for us. We went through a lot of things, but at the end everybody did their best and we really ended up with a good season." — Mosquera-Perea following Indiana's loss to Wichita State
Previously: Robert Johnson, Max Hoetzel, Emmitt Holt, James Blackmon Jr.,Stanford Robinson, Troy Williams, Collin Hartman
Filed to: Hanner Mosquera-Perea