That's A Wrap: James Blackmon Jr.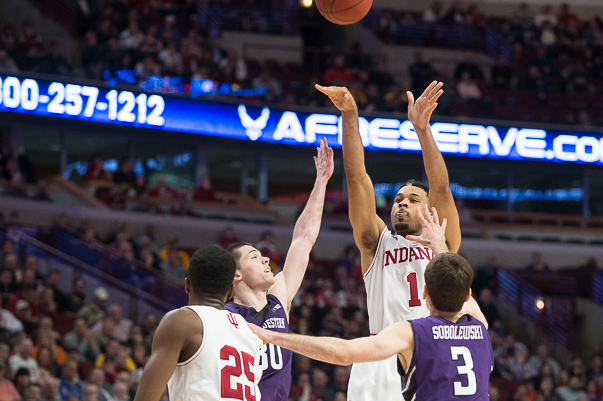 Welcome to "That's A Wrap," our player-by-player recap of the 2014-2015 Indiana Hoosiers. Today: James Blackmon Jr.
Blackmon Jr. (33 games): 15.7 points, 5.3 rebounds, 51.2 eFG%, 38.7 3P% in 30.0 minutes per game.
If there was anything clear about James Blackmon Jr.'s game from Day 1, it's the freshman could score the basketball.
The McDonald's All-American stormed out of the gate in the non-conference schedule by posting 25 points (7-of-10 from the field, 3-of-4 from 3-point range and 8-of-9 from the line) in IU's season opener against Mississippi Valley State. Two games later in the Hoosiers' win over SMU, Blackmon Jr. went for 26 — which included a 5-of-10 mark from distance and a perfect performance from the line (7-of-7). It ended up being his season-high.
He looked smooth, confident and possessed a wide-range of offensive ability.
But as the season went along, Blackmon Jr. also posted some forgettable lines. In a neutral court win against Butler on Dec. 20 and the conference opener against Nebraska on New Year's Eve, Blackmon Jr. finished 2-of-9 respectively in both games. In a matchup where Michigan State's D knocked the Hoosiers on their heels in East Lansing, the freshman finished only 2-of-14. There were similar lines littered throughout the conference schedule: 4-of-13 in Indiana's loss at Purdue, 2-of-14 at Maryland, 1-of-10 at Northwestern, 2-of-12 vs. Maryland in the Big Ten Tournament.
So what happened?
The cliched answer here is the "freshman wall", but it was more complicated than that — if that was even it at all. With better talent and scouting, the Big Ten's defenses were more of a challenge for Blackmon Jr. He was no longer going against high schoolers or the dregs of the non-conference schedule. The freshman also doesn't have a ton of size or strength (for now) and lacks elite-level athleticism. So his drives to the rim often looked like a seasoned bowler: Same path over and over again down the right side of the lane. If he was met by any sort of size at the rim on these drives, his shot was often swatted.
It's a good thing for a scorer to keep firing — as Blackmon Jr. did in games he struggled — especially in Tom Crean's system this year. But he seemed to also compound his shooting woes by maybe forcing the issue on some shot attempts in those games instead of letting it come in the flow of the offense. As such, his efficiency suffered.
By season's end, Blackmon Jr.'s 3-point shooting percentage of 37.5, though respectable, trailed of several of his teammates. Collin Hartman (47.5%), Nick Zeisloft (45%), Yogi Ferrell (41.6%) and Robert Johnson (38.8%) all bested him, as did Troy Williams (46.2%) in limited attempts.
And his effective field goal percentage of 51.2 percent — an efficiency metric that factors in the value of a 3-point shot — also trailed many of the regulars. Zeisloft (67.4%), Emmitt Holt (65%) Hartman (64.2%), Hanner Mosquera-Perea (59.4%), Williams (55%), Ferrell (53.8%), Johnson (52.8%) and Max Hoetzel (51.7%) finished ahead of Blackmon Jr.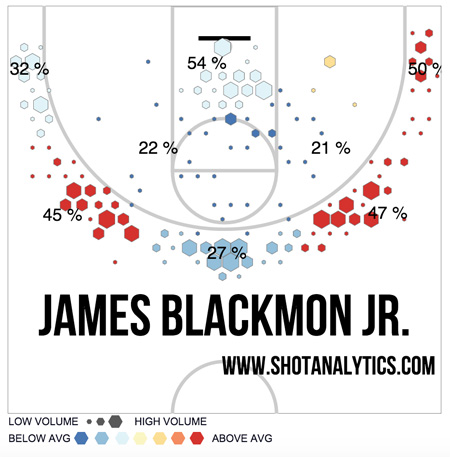 That said, neither mark would be considered poor. And Blackmon Jr. did play alongside teammates on the ninth most efficient offense in the country this year that shot the ball extremely well from distance. He also finished the year with the third most freshman points (518) in Indiana history behind Eric Gordon (669) and Cody Zeller (563). That's not bad company.
Blackmon Jr.'s defense could stand some improvement and we highlighted some of his issues in this Northwestern Film Session. It was a team wide issue this season, but Blackmon Jr. stood out. The freshman often lacked basic defensive awareness. It's been said Indiana's perimeter defense was the main culprit this season as far as letting opponents bust a move to the rim, and Blackmon Jr. was part of the problem.
Bottom Line: For all his defensive issues and nights he struggled on offense, it's important to remember Blackmon Jr. was just a freshman this season. And there's no doubt he's a special talent and a possible NBA draftee in the future. Tom Crean has proven to develop players that come to his program with promise and a work ethic. Blackmon Jr. possesses both of those things. If he puts in the work this summer, expect more efficiency on the offensive end and better defense in his sophomore campaign.
Quotable: "I think it went real well. Me myself, I had bigger expectations for myself. But as a team we fought together and we were doubted from the beginning — so I think that we had a great year." — Blackmon Jr. on the season after Indiana's final game.
Previously: Robert Johnson, Max Hoetzel, Emmitt Holt
Filed to: James Blackmon Jr.