Film Session: Northwestern
While Indiana's 10:06 scoring drought was the lead storyline from its loss to Northwestern on Wednesday evening, its atrocious defense wasn't far behind. It was especially bad in the first half, as the Hoosiers allowed the Wildcats — who entered the game with the league's 8th best offense — to post 1.41 points per possession.
Indiana switching from man to zone often left Wildcats completely unaccounted for or with more space than they had just seconds before, while other times IU's defenders made some head-scratching decisions or showed little effort.
We'll take a look at six of Indiana's defensive lapses from the first half in the latest edition of Film Session:
James Blackmon Jr. holds up "2", as do some of the Hoosiers on the bench. Indiana will switch defenses mid-possession and sink back into a 2-3 zone: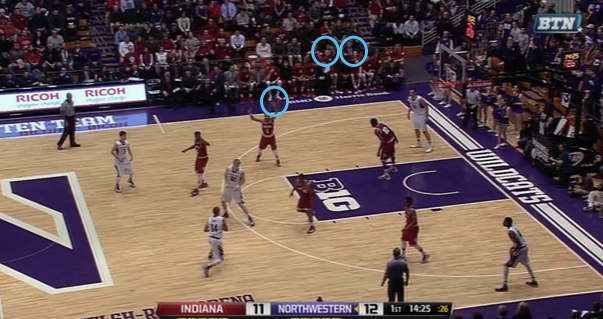 Blackmon Jr. initially has the left wing locked down: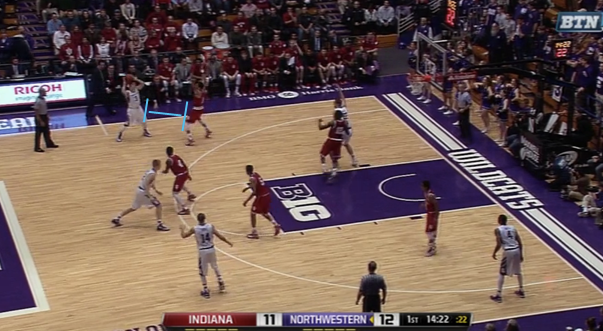 As he heads back down to the baseline, Dave Sobolewski takes a ball screen from Nathan Taphorn:
With the wing not occupied defensively because Blackmon has evaporated out of man-to-man and sunk into the back line of the defense, Sobolewski turns and passes to Taphorn in some pick-and-pop action. He's got room to shoot the triple:
On his closeout, Blackmon Jr. never leaves his feet. He simply glides out and it allows Taphorn to work into his shot and release unobstructed. He hits the 3-ball to give the Wildcats a four-point lead: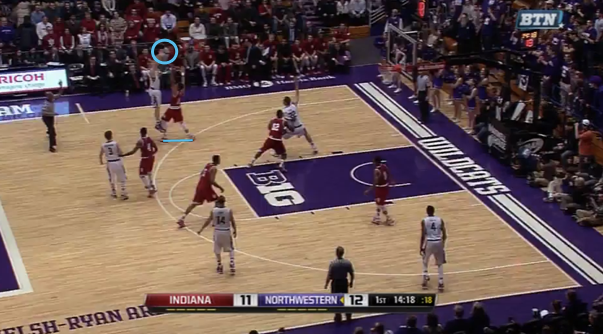 Video:
Northwestern took exactly what Indiana gave them here and it went down as three points on the scoreboard.
Filed to: James Blackmon Jr., Northwestern Wildcats