That's A Wrap: Robert Johnson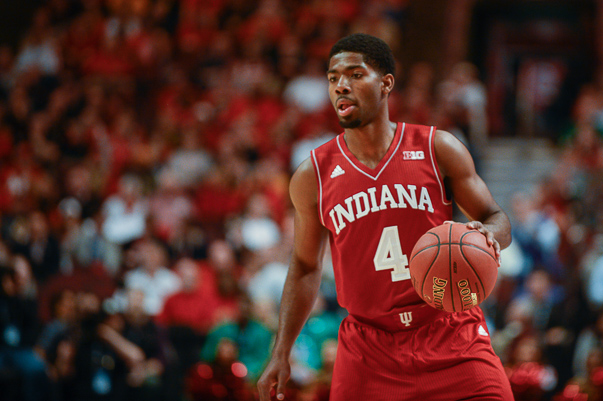 Welcome to "That's A Wrap," our player-by-player recap of the 2014-2015 Indiana Hoosiers. First up: Robert Johnson.
Johnson (34 games): 8.9 points, 2.9 rebounds, 2.3 assists, 52.9% eFG, 65.1% FT, 38.8 3PFG% in 27 minutes per game.
A top 50 recruit from Richmond, Virginia, Robert Johnson came to Bloomington and made his impact felt immediately. We had our first glimpse at the role Johnson would occupy back in August during IU's trip to Montreal when he did a little bit of everything in averaging 9.8 points, 4.6 rebounds, 3.8 assists and 2.2 steals per game over five exhibition games.
The coaching staff showed confidence in Johnson from the season's onset as he started in a three-guard set alongside Yogi Ferrell and James Blackmon Jr.
His second game in an IU uniform produced his best offensive output of the season as he torched Texas Southern for 21 points at Assembly Hall on 8-of-13 shooting. He also had three other key offensive performances in Big Ten play as he went for 14 at Nebraska in the conference opener, 20 at home in a win over Penn State and 19 at home in a win over Minnesota.
But while Johnson was effective as a scorer when he asserted himself, his role was more complementary than that of a featured piece of IU's offense. With plenty of other offensive help around him, Johnson never forced the issue and often chose the role of facilitator rather than looking for his own shot. His overall numbers reflect that as he took 162 fewer shots than Blackmon Jr. despite playing only 72 fewer minutes on the season.
His numbers for the season were solid all-around, but Johnson seemed to lose some of his explosiveness when he went down with a knee injury in IU's loss at Ohio State in late January. Although he didn't miss a game as a result of that injury, he appeared to be limited as times because of it.
"I was definitely in a good position this year," Johnson said after IU's loss to Wichita State. "I played a lot of basketball. Coach (Crean) believed in me, played me a lot of minutes, so that's definitely going to help for next year."
In preparing for his sophomore season, there's plenty for Johnson to build on and also improve upon. As shown below by Shot Analytics, his midrange game and finishing at the rim are areas to work on between now and the start of practice: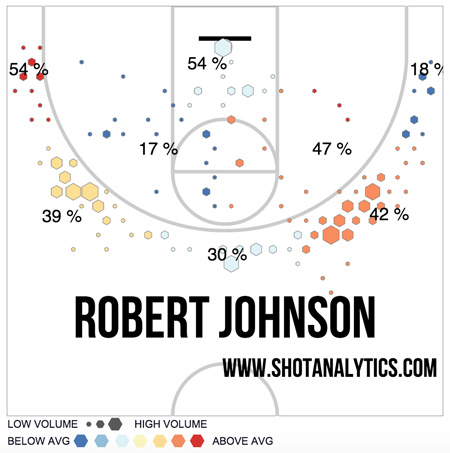 Additionally, Johnson needs to work on becoming more explosive off of one foot to finish better at the rim and improve his handle to play better in traffic as his turnover percentage (24.2) was the worst on the roster. And like most everyone on Indiana's roster, Johnson's defense, particularly his ability to contain ball penetration, must also improve.
Bottom Line: Like most freshmen, Johnson's season had its share of ups and downs, but the experience he gained as a starter who played heavy minutes on a NCAA tournament team will be invaluable to his future. While there's uncertainty on whether IU will return its entire backcourt next season, Johnson is clearly a building block for the program moving forward as he should only continue to grow as a player. And if his path of improvement at this level is anything like the one he took as a high school player, an appearance on one of the All-Big Ten teams will be in his future.
Quotable: "Any time you lose in the first round of the (NCAA) tournament, that's not something to be satisfied with. So looking forward as a player and a team, we need to get better and stronger and just continue to develop a tougher mindset." – Johnson following IU's loss to Wichita State.
Filed to: Robert Johnson